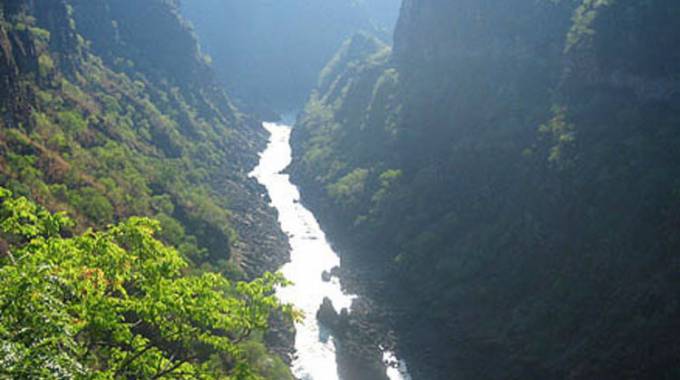 The Sunday Mail
The Batoka Gorge Hydro Electricity project, which is set to generate 2 400MW on completion, is on course amid indications that the Council of Ministers from Zimbabwe and Zambia are expected to meet soon after the July 30 elections to tie loose ends.
The US$4,5 billion power project is being consummated jointly by the two countries and the electricity will be shared equally.
President Mnangagwa recently said he had agreed on the principles of the deal with his Zambian counterpart, President Edgar Lungu.
Technocrats from the countries were expected to meet a few weeks ago to agree on some intricate details of the mega power project.
However, Energy and Power Development Minister, Ambassador Simon Khaya-Moyo told The Sunday Mail Business last week that discussions to seal the project would commence immediately after elections.
"Everything is on course, it is only that we don't want to mix up things. You know we have elections in the next few days and we agreed that we are going to be meeting after elections," said Ambassador Khaya-Moyo.
"When I say we agreed, I am talking about the Council of Ministers of what we call the Zambezi River Authority (ZRA) and this Council of Ministers comprises of the two ministers of Energy and then the two ministers of Finance and the two Attorneys General.
"That is the Council of Ministers. So we agreed when we met not long back that we would be meeting specifically on Batoka soon after the elections."
Ambassador Khaya-Moyo is the current chairman of the ZRA Council of Ministers.
Chairmanship of the Council rotates annually and Zimbabwe recently took over.
About 6 000 jobs are set to be created from the Batoka Gorge project.
The Batoka Gorge is along the Zambezi River.
The project is expected to reduce electricity shortages both in countries, and potentially supply neighbouring countries.
Feasibility studies for the Batoka Gorge project have been completed.
Engineering and legal assessments for the project were carried out in 2016, but there have been delays in implementation.
Centrality of Batoka power project
The Batoka power project comes at a time when Zimbabwe has declared that it is open for business, and has attracted over US$20 billion worth of firm foreign direct investment commitments since December last year.
The Zimbabwe Investment Authority (ZIA) recently said it had approved investment applications worth over US$16 billion between January and June, the highest figure since 1980.
Experts say the country requires a lot of electricity to power the projects, most of whom are envisaged to take-off after elections.
Karo Resources, which has signed a massive US$4,2 billion platinum and chrome project, says it requires about 250MW of electricity for its operations.
The firm, which has started bringing in yellow equipment as it angles to start operations, plans to generate 300MW of energy from solar.
Excess power will be fed into the national grid.
Several other investment deals require substantial amounts of electricity at a time when the country is generating an average 1 200MW of electricity against a national demand of 1 600MW per day.
This creates a deficit of 400MW, which is met through imports from Mozambique and South Africa.
Zimbabwe has 2 245MW of installed generation capacity but constraints in water supply for hydro-power generation at Kariba and coal supply challenges have impacted on power generation.
The Batoka power project is gaining traction at a time when Zimbabwe has upped the tempo regarding power generation.
President Mnangagwa officially commissioned the US$533 million Kariba South Hydro Power Expansion project, which added 300MW to the national grid.
Prior to the expansion project, Kariba South had an installed capacity of 750MW.
President Mnangagwa has also officiated at the ground-breaking ceremony for the Hwange Thermal Power Station Expansion project which, on completion, will add 600MW to the grid.
The US$1,5 billion expansion project will take 42 months to complete.
Hwange Thermal Power Station currently has an installed capacity of 920MW.
Top US firm primed to land the tender
Three companies, including United States of America firm, General Electric, and China Energy Group, are believed to have applied to undertake the project and are front runners to land the deal.
Officials from Zimbabwe and Zambia are currently assessing the capacity of the firms. General Electric's asset base was worth US$378 billion as at December 31 last year while its revenue was US$122 billion last year.
The conglomerate's top officials were in Harare early this year and appeared before Parliament, where they expressed interest to invest in the project.
General Electric Africa director (originations) Mr Reginald Max said, "We have a clear track record and we have the financial muscle to undertake the project. We believe that power assets such as Batoka should be owned by the State.
"We will invest to develop the power station, but ownership will be retained by Zimbabweans (and Zambians)."
Similarly, China Energy has representatives based in Harare that are understood to be pushing to land the Batoka project.
Once the outstanding issues on the project are settled and work begins, employment will be created in both countries.
Job creation dovetails with Zanu-PF's 2018 elections manifesto.