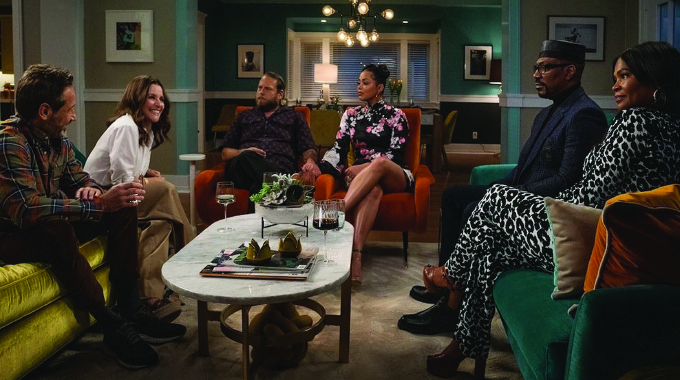 The Sunday Mail
Film Review
Tinashe Kusema
THERE is so much to love about Netflix's new romantic-comedy "You People" that it is almost impossible to find where exactly one can start.
With all the great movies currently lined up for release, getting 2023 off on the right foot is essential.
And, what a way to do so than with the comic stylings of one Johan Hill!
Hill — who co-wrote the movie, alongside Kenya Barris — stars as Ezra Cohen, a Jewish investment banker who meets an African-American designer Amira (Lauren London) and the two fall in love.
Jump six months into their relationship and Ezra is already geared up to pop the question.
However, before he can do that, he sets about meeting Amira's parents, played by the incomparable Eddie Murphy (Akbar) and Nia Long (Fatima), but things do not go as planned.
Amira comes from a largely Muslim family and Ezra happens to be under the delusion that he is in touch with the African-American culture or, as he puts it, "the Culture".
Chaos ensues as these two religious families seek to find common ground, all of which results in some comedy gold.
Granted, it is not the most original premise, especially when you consider that it has been done countless times before in films like "Guess Who's Coming for Dinner" and "Guess Who?" as well as the two flicks "Meet the Parents" and "Monster-in-Law".
However, the whole Jewish versus Muslim culture was a nice touch. Hill and Barris get a pass for at least attempting to add a new dimension.
Hill and London drive the movie forward with their great chemistry.
The pair is also blessed with Hill's comic timing and, well, Lauren London.
And no, that was not a typo.
It was great to see London back on the screens. The little tributes to her late partner Airmiess Joseph Asghedom, aka Nipsey Hussle, were nothing short of heart-warming.
Leads aside, the film has a great supporting cast, all of whom bring their A game.
Murphy and Long are menacing as Amira's parents, who simply do not approve of Ezra, while the duo of David Duchovny (Arnold) and Julia Louis-Dreyfus (Shelly) play the role of clueless parents rather well.
While Murphy, in particular, spends the entirety of the movie grunting and hating everything about life, Dreyfus and Duchovny represent the clueless racists from the latter's obsession with rapper Xzibit to pretty much everything that Dreyfus' character says and does.
The two pairs kind of work in a yin-yang model, in that they are polar opposites but also complement each other rather well.
For those up to date with their stand-up comedy, you will enjoy the many cameos scattered throughout the movie.
These include the likes of Andrew Schulz, Jordan Firstman, Andrea Savage, Say Jay and more recognisable names like Deon Cole, Mike Epps, Elliot Gould, Rhea Pearlman and, of course, the G.O.A.T. (the greatest of all time) himself Murphy.
All in all, this is a very good family movie that not only entertains, but also has a hidden lesson.