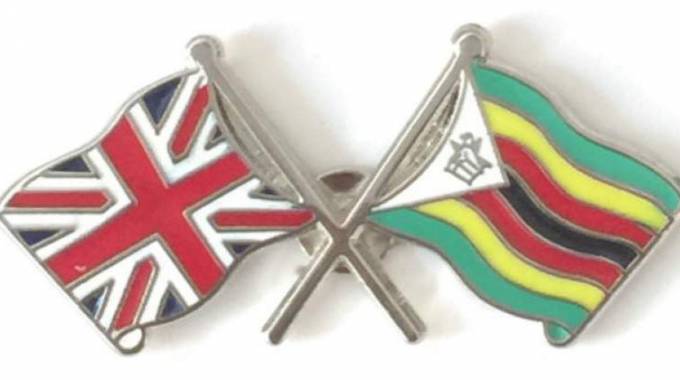 The Sunday Mail
Lincoln Towindo
Senior Reporter
Zimbabwe and Britain have begun laying the ground for formal political dialogue to normalise relations, it has been learnt.
Despite domesticating the European Union stance on Zimbabwe on February 20 this year — following its departure from the bloc on January 30 — Britain has reportedly been making high-level overtures designed to replicate the Zim-EU dialogue platform at a "more individual country" level.
The Sunday Mail has gathered that after nearly two decades of estrangement, the two parties are reaching out to open "formal" bilateral discussions aimed at turning the page on hostile relations.
Harare opened formal political dialogue with Brussels last year, which has culminated in a measured thawing of relations.
The third round of talks between the two parties is expected in May.
Last month, the EU suspended sanctions against three senior Government officials — Vice President Dr Constantino Chiwenga; Zimbabwe Defence Forces (ZDF) Commander General Philip Valerio Sibanda; and Lands, Agriculture, Water and Rural Resettlement Minister Perrance Shiri.
Foreign Affairs and International Trade Deputy Minister David Musabayana said mending relations with Britain and the United States is at the centre of Government's re-engagement drive.
"The President (Emmerson Mnangagwa) is saying we should continue to engage," said Deputy Minister Musabayana.
"So, we are engaging Britain separately and the EU separately also. It is a conversation, so we continue to talk to them.
"Two weeks ago, I had a meeting  with part of the British Embassy staff and some of the issues we discussed included formal dialogue and mending our relations.
"So our engagement will continue, but we will now be following a parallel arrangement where we engage them separately, though Britain is still bound by the agreements we have with the EU."
Britain technically remains part of the Zim-EU dialogue until Brexit is formalised.
Relations between Harare and London soured at the turn of the millennium after Zimbabwe undertook the Fast-Track Land Reform Programme, culminating in the imposition of sanctions by the European Union at London's behest.
Deputy Minister Musabayana said: "With the EU, around May we should be having another engagement and then with Britain, we are yet to agree on the proper platform, but we continue to engage with them.
"We, however, recognise Britain as a key stakeholder in our re-engagement. Britain and America are high on the agenda in terms of re-engagement."
Engagement with America, he added, is being made increasingly difficult by Washington's insistence on Harare to expeditiously implement all political and economic reforms.
The recent extension of sanctions by the Trump administration was retrogressive and failed to acknowledge the progress that has been made by the new political administration, he said.
"We are yet to have a formal discussion platform with the Americans like we have with the EU, but we are engaging them.
"You know they extended sanctions, we were disheartened, yes, especially with the statement where they said there is no movement in terms of reforms, yet we believe a lot of reforms are already being implemented.
"We expected them to acknowledge the progress that has been made so far.
"But we will continue to engage them and we feel that they are warming up; they are very positive."
He said Government will redouble its re-engagement efforts and constantly apprise stakeholders on the nature, form, substance and progress in the implementation of ongoing far-reaching political and economic reforms.
"Our challenge has to do with the speed at which reforms are being implemented, we seem to have disagreements on the speed at which reforms are implemented.
"They want a faster process, but we have to go through the processes as laid out in the Constitution, we cannot short-circuit it because there are procedures laid down in the Constitution that have to be followed.
"The President cannot make decrees, so he has to allow different arms of Government to play their part, even the consultations with citizens, which is important," he added.
Justice, Legal and Parliamentary Affairs Minister Ziyambi Ziyambi similarly noted that Government cannot possibly short-circuit the reform process.
"The legislative process is done through Parliament and you cannot tell parliamentarians to stop debating," he said.
The US Congress last week extended sanctions on Zimbabwe by another year, alleging lack of political will by Government to implement reforms.
Washington also labelled Zimbabwe a threat to its foreign policy.
However, in a statement, Foreign Affairs and International Trade Minister Dr Sibusiso Moyo described the US decision as regrettable.
"Of particular regret, and where we must register our deep concern, is that the narrative accompanying the renewal order makes no reference to, nor does it acknowledge or recognise any of the notable progress made in implementation of the political, economic and legislative reform programme outlined by His Excellency the President when he assumed office in November 2017, and further reinforced following the harmonised elections of July 2018," he said.
"Notwithstanding the unfortunate stance, we will continue to seek meaningful re-engagement with the United States authorities on a mutual respect basis and we will, of course, continue to pursue the reform agenda we have set ourselves at a pace which is responsible, manageable and sustainable."
Attempts to get a comment from the British Embassy were fruitless by the time of going to print.