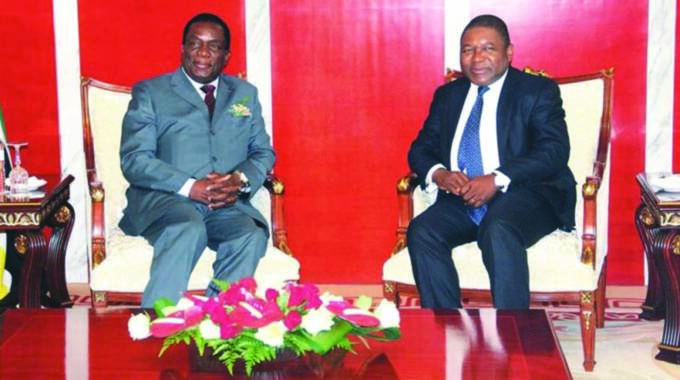 The Sunday Mail
President E.D. Mnangagwa
This week, we reproduce ZANU PF's First Secretary President Mnangagwa's speech to mark Mozambique's ruling party FRELIMO's 60th anniversary, which also coincided with the liberation movement's 12th congress.
***************
On this occasion of FRELIMO's 12th Congress, I convey warm, revolutionary and fraternal greetings from the Central Committee, Politburo and general members of my party, ZANU PF.
I am honoured to be addressing you at this historic congress, which also coincides with the 60th Anniversary of FRELIMO.
ZANU PF is honoured and privileged to share this historic event with you, our revolutionary brothers and sisters. We have a shared history and culture, cemented by the blood and sacrifices made to liberate our two countries.
We are neighbours and comrades in arms, who can never be separated.
I would have preferred to be with you in person at this historic congress and anniversary celebrations.
However, prior commitments have inhibited me from attending.
ZANU PF and the people of Zimbabwe remember with a deep sense of gratitude how FRELIMO warmly welcomed and accommodated cadres of our struggle during our hour of need. You availed your territory, opened your doors and hearts to us, as we sought to regain our freedom and independence from the brutal white colonial regime.
You selflessly made our cause and our struggle your own, sharing our dangers and sacrifices.
Personally, along with many luminaries of Zimbabwe's struggle for independence, we stayed in your country and worked closely with the majority of the current and past leaders.
Like most of you, these are shamwari dzeropa. Together, we witnessed sad moments in your country, characterised by death, destruction and devastation as a result of the countless cross-border raids mounted by the racist Rhodesians. Your precious peace and new-found democracy was constantly destabilised.
This did not discourage FRELIMO.
You remained determined to fight alongside us, to the very end.
Zimbabwe is forever indebted to you, our brothers and sisters.
After the independence of Mozambique, your country chose to close its borders with Rhodesia as a gesture of solidarity with the liberation movements fighting for the independence of Zimbabwe.
That decision was upheld until 1980, when Zimbabwe attained independence.
I also recall the far-reaching decision by FRELIMO, under the leadership of the late President Samora Moises Machel, when the party deployed units of its fighters into Zimbabwe to join us in direct combat against the Rhodesian forces.
The blood of many Mozambicans was shed on Zimbabwean soil.
This rich legacy and the love you showed to our people will never ever be forgotten. As we go forward and continue to deepen the relations between FRELIMO and ZANU PF, Mozambique and Zimbabwe, let us build on this intricately linked history for a better future and higher quality of life for our two peoples.
As you convene at this 12th congress, 60 years after the historic inaugural 1962 congress, it is an opportune time to celebrate, introspect and craft new strategies to regenerate your colossal revolutionary party.
We note with a great sense of pride, the socio-economic transformation in Mozambique under FRELIMO leadership.
That first congress in 1962 was held in Tanganyika, now Tanzania, under the leadership of Cde Eduardo Chivambo Mondlane, around this same month.
Hence, this particular FRELIMO congress is both commemorative and forward-looking. We congratulate FRELIMO for its commitment to the preservation of our liberation war history. The congress took place at a critical time in the history of the decolonisation of our continent, and, in particular, for our Southern African region.
It was a time when the great "wind of change" was blowing across Africa.
State after state, nation after nation and people after people, our continent broke the shackles of colonial rule to gain political independence, beginning with Ghana in 1957.
Thereafter, in the 1960s and beyond, many more African countries gained independence.
However, for Mozambique, Angola, Zimbabwe, Namibia and South Africa, the struggle was far from over.
Colonialism in our countries had taken settler form, which had become deep-rooted at the collective expense of the black majority. A different strategy was, thus, needed to make that happen.
Hence, the importance of the resolutions and decisions of FRELIMO's 1962 congress.
Zambia and Malawi gained independence soon after the Federation ended in 1963.
However, Zimbabwe continued to face brutal misrule under the hard-line Rhodesia Front.
In November 1965, barely a year after FRELIMO had launched its armed struggle, Ian Smith declared the Unilateral Declaration of Independence (UDI) in Rhodesia.
Thereafter, Mozambique and Zimbabwe suffered together. The two right-wing brutal and racist white regimes in our territories collaborated militarily to prolong colonial occupation of our countries.
Fortunately, FRELIMO had already adopted decisive and robust strategies to guarantee success of our struggles.
Your revolutionary party, thus, provided the much-needed leadership at a critical phase in our struggle. No matter how long it would take, victory was certain. FRELIMO embarked on the armed struggle to end Portuguese colonial rule.
In Zimbabwe, political parties were being banned, beginning with the Southern Rhodesia African National Congress in 1959 and the National Democratic Party (NDP) a year after.
In 1962, the Zimbabwe African People's Union (ZAPU) suffered the same fate.
Despite these discouraging events, FRELIMO continued to provide the needed inspiration for our struggle to continue.
By 1964, FRELIMO already had, within its rank and file, trained men ready to launch the armed struggle, which began in earnest that same year.
The trailblazing nature of FRELIMO is evident in the fact that when we opened a new military training camp at Bagamoyo in 1963, the camp consisted of FRELIMO, ANC and ZANU cadres. Among the FRELIMO cadres who opened Bagamoyo Camp was former President,
Cde Joachim Chissano, who is among us.
The late Cde Samora Moises Machel and a few other comrades had already completed their training in countries such as Algeria, Egypt and Tanganyika.
Sporadic acts of sabotage in the then Rhodesia began in 1964.
Our struggle for liberation in Zimbabwe was, undoubtedly, motivated by the bravery and unflinching determination of our comrades in FRELIMO to expunge colonialism in Mozambique.
Allow me to highlight facts about FRELIMO's inaugural congress of September 1962, which must inspire us as we re-ignite the ideals of our revolution, in present times.
The landmark congress was, indeed, a turning point for the course of the struggle for independence in our region and throughout the continent.
Dubbed "the Congress of National Unity", the congress drew participants from all regions of Mozambique, and from different political movements, as a show of national unity and broad consensus.
The revolutionary and visionary leaders of FRELIMO proclaimed, and I quote, "the union of all Mozambicans regardless of ethnic origin, financial means, religious and philosophical beliefs, or gender."
This had a transformational impact, given that colonial regimes always sought to fragment our people.
The liberation movements in Zimbabwe took a lesson from this landmark resolution.
Additionally, sensitivity to the plight of the ordinary masses was evident at that first congress as the party committed to, I quote, "the social and cultural development of Mozambican women", as well as to "raising the literacy levels of the Mozambican people through expanded education".
As we celebrate this 60th anniversary of the founding of FRELIMO, may we never forget these cardinal principles that guided the founding fathers of this revolutionary and people-centred party.
The participation of women and the youth in governance, as well as their empowerment in the entire social and economic spectrum, should remain a priority for our political parties. Opportunities must continue to be created so that our young people realise their full potential, riding on our abundant natural resources and the present digital revolution.
The same congress committed the Mozambican people to the mechanism of armed struggle under the banner of FRELIMO, as a principal tool for ending Portuguese colonial rule and oppression. To that end, the 1962 congress resolved, and I quote, "to accelerate the training of cadres" and to utilise "energies and capacities of each and every member of FRELIMO" to attain independence.
The congress further declared independence as an essential condition for the realisation of our legitimate aspirations for freedom, justice and the well-being of the people of Mozambique.
This revolutionary and militant declaration by FRELIMO also resonated with other peoples and countries still under the yoke of colonialism. As we shape the way forward, it is important for us as former liberation movements to learn from history and to rekindle our collective solidarity against the looming threats from neo-colonialists, who want to see our revolutionary parties out of power.
None but ourselves can jealously guard and protect the independence and freedom we fought for. Further, the common vision outlined in both the SADC Vision and the African Union Agenda 2063, demands that we work in closer collaboration for tangible and sustainable development. We owe it to our heroes and heroines to lift many more of our people out of poverty and into prosperity.
Turning to the rest of Africa and to our Southern African region, FRELIMO's 1962 congress "affirmed its solidarity with the peoples who were waging the struggle against all forms of colonialism and imperialism".
On Zimbabwe, or Southern Rhodesia, the congress "condemned the retrogressive policies of the Southern Rhodesian white supremacists" and assured "the people of Southern Rhodesia of its total solidarity with their struggle for National Independence".
As such, peace, unity and respect for the tenets of democracy and independence are embedded in FRELIMO's DNA.
This is who you are as FRELIMO; this is part of the soul of FRELIMO; part of ZANU PF; and part of all former liberation movements in our region. Therefore, as our countries scale up efforts to "Silence the Guns" on the African continent, in our region and in particular within Mozambique, against the terrorist insurgency in northern parts of Cabo Delgado, let us remain emboldened by this rich legacy bequeathed to us by our founding fathers.
Between 1973 and 1974, FRELIMO facilitated ZANU fighters to use Tete as a launchpad for operations into Rhodesia.
Joint operations were mounted against the Portuguese as our own forces fought their way into Zimbabwe.
With the independence of Mozambique under FRELIMO in 1975, our own struggle escalated, resulting in the independence of Zimbabwe on April 18, 1980.
It was our war, our victory and, therefore, our independence together.
ZANU PF and FRELIMO, Zimbabwe and Mozambique have a long history, which forms the unshakeable foundation to build a shared and prosperous future for our two nations.
To guarantee that future, it is imperative that we consolidate peace in Mozambique.
As it was during the liberation struggle, our unity and solidarity must see us decisively defeat terrorist insurgencies.
In this regard, the ZANU PF Government in Zimbabwe is unwavering in its commitments, within the ongoing SADC efforts, to realise peace in our region, guided by our rallying war-time philosophy: "An injury to one, is an injury to all."
FRELIMO and Mozambique can always count on ZANU PF and Zimbabwe, during both good and difficult times. Our bond is unbreakable.
Side by side, in unity as one people, Aluta continua; Vitoria e' certa; Aluta continua, Victory is certain! Zimbabwe stands ready to deepen our fraternal relations through expanded cooperation as articulated during my State visit to Mozambique in April this year.
To this end, we must work together to improve our agriculture to produce food for our people.
In line with the growth of our economies, it is equally important to prioritise cross-border energy projects, infrastructure development and many other aspects across our economies.
Mozambique is Zimbabwe's shortest gateway to the world.
As it was during the liberation struggle, the destiny of the people and economies of Zimbabwe and Mozambique are intricately connected and can never be separated.
Allow me to pay tribute to the people of Mozambique, who continue to host and even tend to the graves and shrines of our fallen comrades.
This includes the site where the Chief-of-Defence of ZANU, General Josiah Magama Tongogara, perished in December 1979.
My Government is building a health facility for the benefit of the community, which continues to look after that site to this day.
Consistent with resolutions of the first FRELIMO congress, our parties must remain steadfast against the ever-increasing threats and machinations which seek to undermine the sovereignty of our countries.
In honour of our founding fathers, fallen heroes and heroines, we shall forever be masters of our own destiny. We gained our independence, freedom and democracy through bloody, protracted wars of liberation.
Life and limb were lost for the unity, peace and development we enjoy to this day.
We have the sacred obligation to continue to jealously guard the ideals of the revolution, as FRELIMO, ZANU PF and other former liberation movements in our region. As we regenerate and modernise our parties, let us always keep the people at the centre of all our policies, programmes and projects.
The struggle was always about the people.
Our parties must, therefore, secure a better life for them. No one and no place must be left behind. With these remarks, I wish you all a successful 12th congress and memorable crescendo of the commemorations of the 60th anniversary of FRELIMO's inception.
Long live FRELIMO.
Long live ZANU PF.
Long live the unity of FRELIMO and ZANU PF.
Long live our peace and unity.