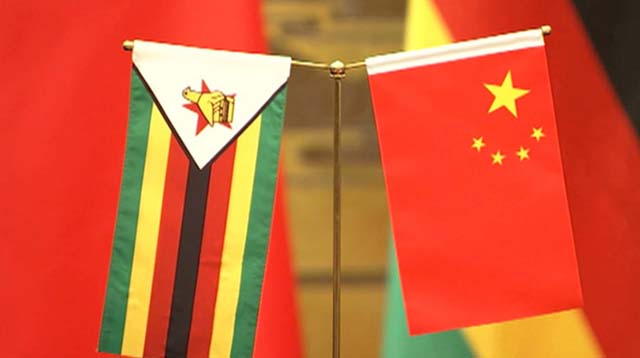 The Sunday Mail
Business Reporter
TRADE between Zimbabwe and China jumped 57 percent to US$1 billion in the first six months of the year compared to the same period last year, as deepening diplomatic relations between Harare and Beijing progressively translate into growing trade.
Overall, over 100 000 locals are presently employed by Chinese firms that continue to invest into sectors of the economy such as mining, agriculture, tourism and manufacturing.
According to the Observatory for Economic Complexity (OEC), which is regarded as the world's leading data visualisation tool for international trade data, the main products China exports to Zimbabwe are iron structures, pesticides and machinery.
OEC says Chinese exports to Zimbabwe have increased at an annualised rate of 12,2 percent from US$30,9 million in 1995 to US$547 million in 2020. In 2020, Zimbabwe exported goods worth US$193 million to China.
The bulk of the exports were ferro-alloys, nickel ore and processed tobacco.
Trade volumes between the two countries continue to grow. In July this year, China exported goods worth US$108 million and imported US$176 million worth of goods from Zimbabwe.
During the review period, China's top exports to Zimbabwe were delivery trucks, stone processing machines, utility meters, large construction vehicles and pesticides.
Conversely, China's top imports from Zimbabwe were raw tobacco, ferro-alloys, chromium ore, nuts and feldspar.
The Chamber of Chinese Enterprises in Zimbabwe vice chairperson Mrs Shanel Liu, whose association brings together 85 Chinese entities operating in Zimbabwe, told The Sunday Mail Business that due to the "Zimbabwe is open for business" policy thrust, the investment environment has been improving over the past four years.
The improved ease of doing business environment, she added, has motivated some of the well-established Chinese companies to invest in the country.
"As an association, we are keen to see the Zimbabwean economy bouncing back and we are glad the Government has been making frantic efforts towards the creation of a conducive environment for that agenda," she said.
"We have created employment for the local community and increased tax revenue flowing to the Central Government.
"Our membership alone has a combined labour force of over 100 000 local workers.
"As Zimbabwe and China are very close business and trade partners, only in the first half of this year, the bilateral trade volume reached US$973 million."
Members of the Chamber of Chinese Enterprises in Zimbabwe have invested in agriculture, mining, telecommunications, tourism, power generation, health and the medical field, as well as manufacturing.
Notable investments by Chinese firms include the US$1 billion steel manufacturing plant being constructed by Dinson Iron and Steel Company (Disco), a Zimbabwe-based subsidiary of the giant Chinese steel producer, Tsingshan Holdings.
Last month, President Mnangagwa presided over the signing ceremony of the proposed US$13 billion mining-to-energy industrial park in Darwendale, Mashonaland West province. The project is being undertaken by two Chinese firms — Eagle Canyon International Group Limited and Pacific Goal Investment.
Other investments include the coal-fired power station in Hwange, Matabeleland North province, built by Zimbabwe ZhongXin Electrical Energy (ZZEE), a joint venture project between Qualisave Mineral Resources of Zimbabwe and Yuxia ZhongXin Coking Company of China.
The US$10 million thermal power station project is being developed in phases.
Already, the first phase of the project is feeding 50MW into the national grid and upon completion, the investment is expected to generate 300MW.
China has supported Zimbabwe by extending funding facilities for infrastructure projects such as the ongoing US$1,4 billion Hwange Thermal Power Station expansion project, which is nearing completion.
Upon completion, two new units at the power station will contribute an additional 600MW to the national grid.
"Our two nations share a long relationship going beyond social and cultural links. We are witnessing well-established and capable Chinese companies investing in Zimbabwe.
"We are glad to see that the Chinese private investments are becoming the vital forces to promote Zimbabwe's economy," said Mrs Shanel.
As an association, she added, their main goal was to ensure Chinese firms in Zimbabwe operate within the confines of the
local customs, laws and regulations, as well as share interests, experiences and concerns encountered during the course of their operations.
"We also share advice on the charitable works we can embark on for the betterment of the communities we operate in."
Economic analyst Ms Chipo Warikandwa said Chinese investments in Zimbabwe were welcome.
"At the moment, Zimbabwe is under sanctions and through the support we continue to receive from that Asian country, we have managed to survive under the debilitating effects of sanctions imposed on Zimbabwe by the West," she said.
"Through the Chinese investments, there has been employment creation in the country, while trade between the two countries has also been increasing, thus improving Zimbabwe's foreign currency base."