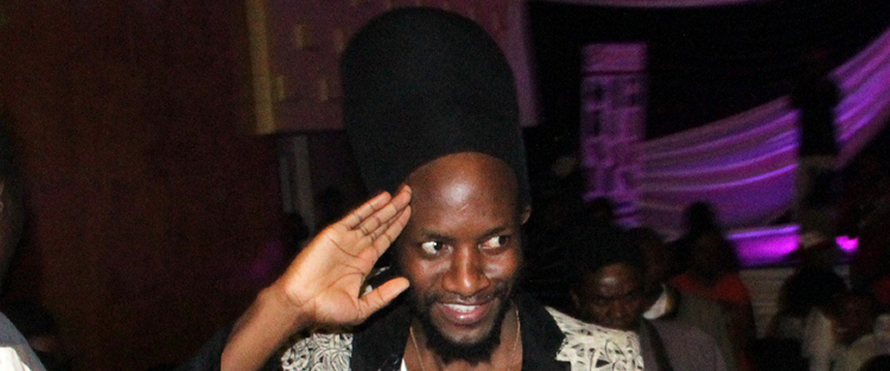 The Sunday Mail
Mthandazo Dube  Unplugged
He has given many visiting international artistes a run for their money, has shared the stage with top Zimbabwean artistes, not as some early- night curtain-raiser but as an equal and, now, he has created what is being touted the "combination of the future" with Jah Prayzah.
Yet, Winky D, real name Wallace Chirumiko, who scooped four awards at the inaugural Zim Dancehall Awards a fortnight ago, seems to have hit the ceiling and is stuck there.
The Kambuzuma-born and bred chanter and his management seem not to have a clue as to how to break the barrier currently blocking them and, if they are not careful, the growing crop of up-and-coming talented artistes shall rise and take everything away from them.
There is no doubt that Winky D has the ability to make it on the international scene, the same way Bebe Cool or the Nigerian twins, P Square have — but, alas, Zim dancehall's favourite son seems clueless.
Many may argue that Winky D's music or brand does not have an international appeal, but my counter argument is that the world is waiting for something unique, something different and Winky D possesses that something.
A unique style and voice like the one Senegalese-born American-based R&B singer, Akon, introduced to the world at the turn of the millennium.
Who knew that Pidgin English (Nigerian corruption of the English language) used by the twins (P Square), not even highly rated in their own country at the time, could take the world by storm?
There is no need whatsoever for Winky D to try and be Jamaican, the world will accept him as he is, but only if he can get an international showbiz consultant, the likes of Oliver Mtukudzi's former manager Debbie Metcalfe or the team that has marketed Mokoomba to the world.
For Winky D it would be a stroll in the park because the artiste is already a household name in his own backyard.
This is not to say that the winner of the Best Band Manager award, Jonathan Banda, Winky D's manager, is doing a lousy job. I just believe that he has done all that he can for the chanter he started working with when dancehall music was still being frowned upon.
Banda is hated by many promoters, wanna-be promoters and fellow artistes because of his professionalism — yes, he is that good. It was Banda who transformed Winky D from a backtrack artiste singing at clashes into a national superstar.
But to become an international superstar, Winky D is going to require more. Banda will not be able to turn Winky D into the next P Square or better while also keeping his 8am to 5pm civil service job. This will require dedication from the manager and the artiste.
There is nothing more for Winky D to achieve in Zimbabwe. He has  shared the stage with international artistes, has the best endorsement deals among his lot, he has played to highly appreciative crowds at the National Sports Stadium, Glamis Arena, City Sports Centre and Harare Sports Club, to name just a few.
He has scooped several awards, including the coveted National Arts Merit Awards and was one of the first Zim dancehall artistes to play at the Harare International Festival of the Arts (Hifa).
But the gap continues to be closed by young, immensely talented artistes that comprise the Zim dancehall family. They are also sharing the stage with international artistes, collaborating with them and this year the genre has even been awarded a slot at Hifa.
I believe Winky D needs to continue leading the way, opening up new avenues and this can only be possible by breaking into the international arena.
Going to South Africa not to play for Zimbabweans based in South Africa but for South Africans and many other nationals in that country.
Going to the UK not for our brothers and sisters in the diaspora, but for the British, the Scots, and the Irish, etcetera. For instance, imagine what a collaboration between Winky D and South African-based Zimbabwean son Buffalo Soldier would do for both artistes.
In Winky D's case it would throw him right into the homes of South Africans and the much-needed continental audience while Buffalo Soldier would finally prove his worth back home. Add to that a smash video, not the Macheso-type videos that win awards because of the Macheso brand, no, a properly scripted, high quality video that meets international standards —and our Winky D would be on his way to international stardom.
And yes, once Winky D is in that market, being recognised at continental awards like the MTV Africa Music Awards or performing at events like the Africa Magic Viewers Choice Awards, he will need to work on his vocals.
I noticed during his two-hour performance at Fire and Ice Pamuzinda last weekend that the Musarove Big Man singer gets tired during his performances. I could hear the strain in his voice as he bravely tried to stay sharp, but it was tough. I now understand why the artiste does not do shows on consecutive days – his performances are too demanding to his voice and to his energy in general.
Someone needs to teach him to sing effortlessly, the same way he is "effortlessly" building his spacious abode complete with a state-of-the-art recording studio and many other modern fittings, somewhere in the leafy suburbs of the capital.
Feedback: [email protected], phone 04-795771 ext 1374, Twitter @MtandazoDube or Facebook