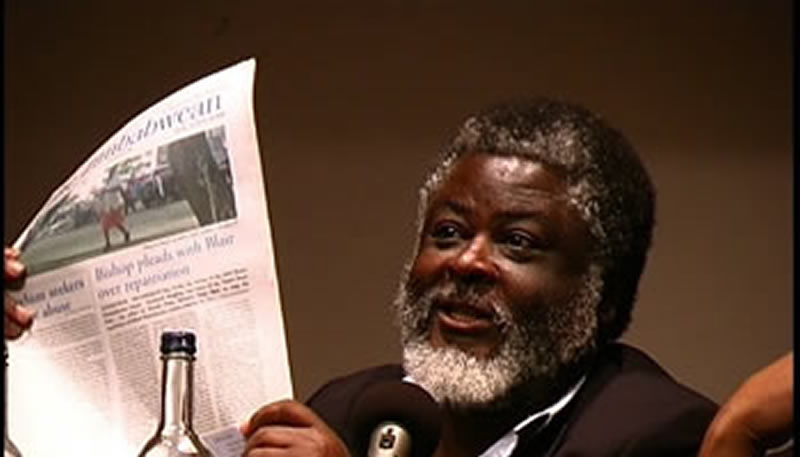 The Sunday Mail
May 29, 2013
Baba Jukwa: Dear Chief,
Greetings to you, Zimbabwe is currently experiencing a wave of change following arrival of one and might brave Baba Jukwa who has taken Mugabe and his cabinet by horns. He has managed to expose their evil deeds through his facebook page Baba Jukwa.
Can you spread the word about his so the world like his page as well. You can also get lead stories from the page as Journalist. For more information visit the page on facebook (Baba Jukwa). Within two months of existence the page has managed to lure more than 100 000 people and reaching more than half a million people. Let's all help Zimbabwe get rid of its evil people. The page has also received
international publicity with Asian, America, European and African Media houses publishing his stories. For more information visit the page.
Regards
Baba Juka
May 31, 2013
Mbanga: Dear Baba Jukwa
Thank you for your email and all your efforts concerning a new Zimbabwe. As you can see we are working hard to support your efforts – please could you also support ours! Many thanks
Wilf Mbanga
On 16 May we launched our MyZimbabwe campaign. This campaign is a call to action to Zimbabweans everywhere to look forward into a future filled with hope. We stand on the brink of a new tomorrow and we need to face it with confidence and unity. We need your help to make this a reality. Please support us and:
Add an article about the campaign to your newsletter or blog. Ask us for content and images.
Add a campaign banner on your website. We can email you options.
Follow us on Twitter and tweet your hopes for Zim using #myzim, and RT our tweets.
Share the call to action from our Facebook page, like and comment. www.facebook.com/thezimbabweanonline
Watch and share our viral videos. Post your own on YouTube. www.youtube.com/thezimbabweanonline
You can also:
Print posters and leaflets for your office and events. Ask us for artwork.
Speak to people and tell them about the campaign. Encourage colleagues, friends and family to participate.
Encourage others to make their voices heard via our dedicated sms code (0771246400). Send your own message.
Through these platforms the voices of the voiceless will be heard right across the world. We are Zimbabweans. We have a future and a hope. The aim is to unite us all behind a single cause – bringing Zimbabweans, wherever they might be, together around a single powerful idea.
This is a viral campaign that searches out the voices of Zimbabweans – their hopes and dreams for a better future for our country – and gives them wings by communicating them on every available platform.
Since we began in 2005 The Zimbabwean has always been about access to information, in the belief that people deserve to know. We hope the MyZimbabwe campaign will take this commitment to a new level of community participation and freedom of expression.
We value your support.
Wilf and Trish Mbanga
The Zimbabwean | www.thezimbabwean.co
[email protected]
Baba Jukwa: Noted. Let's do a private arrangement. Can you afford to pay me if I market your paper? I will do it daily on my page but strategical, don't worry it will be whereby they won't notice we dealing business together. I can carry all your campaigns even this current one, but make sure you don't involve your editor in this Tawanda Majoni who is an operative in our venture.
He might behave strangely that we are hunting him down just to manipulate you, but he is an operative and his task was to make sure that your paper does not get far as you did in 2008. He also brought along his team who are informers like his cousin Gweshe who he stays with.
Be careful towards him. I will get his call sign and operation name for you one day. So far I have started marketing your paper check my status update. I have a total reach of more than half a million people weekly, so if you ready to talk business get back to me and your paper will be a hit in Southern Africa and World not only Zimbabwe.
Hope to hear from you soon.
Regards
June 1, 2013
Baba Jukwa: Greetings to you, I am doing a follow-up to my message, did you get it or it was sparmed?
June 3, 2013
Mbanga: Received thanks. will get back to you very shortly.
Mbanga: Thank you for your email. We would like to invite  you file a weekly column for The Zimbabwean – around 750 words to be received by 10 am every Monday morning as a word document please. for this we could offer payment of US$50 per week. we will keep it confidential between us – you can send direct to this email address. would be better if you could give us an SA bank account to which we can transfer the money. Or else what other ideas do you have about how payment can be effected?
Thank you for marketing our paper – but we have received no increase in traffic as we would have expected to see given your following? Our stats following your post remained pretty static. Have you any ideas why that would be?
Kind regrds
Mbanga: Stats FYI – pse advise how we can increase this?? : His post on Fri/sat linking to your article did not spike webtraffic as I would have expected given his following… I would have thought he could spike it far more than we did the previous week with posting links.
Baba Jukwa: Thanks for your feedback will be waiting for you.
Baba Jukwa: Thanks a lot will give you SA bank account details, and don't worry I will tell all my followers to buy your paper as I will have a weekly column and watch out how they will buy it. Give me places where they can buy it countrywide. Also for us to kick start everything, l will give you a column for this week
Regards
Mbanga: Ok thanks – when can you send it through?? On tight deadline right now!
Baba Jukwa: Can I send it in the next 3 hours as I am in a meeting now?
Mbanga: Ok thanks. If that is definite will hold the pages.
 Baba Jukwa: Positive definitely
Mbanga: Great! Many thanks
Baba Jukwa: Sorry for taking time, I am in a tight meeting but you can use this which I gave you and feel free to edit and put more direction to it. I would appreciate if you put it in a colour format so the people know of it and you can urge people beneath that they should go in numbers and like Baba Jukwa page and pass on the messages to people in rural areas. I will be pushing your market strategy wait and see.
(Column submitted)
June 4, 2013
Mbanga: Urgent please – may we have your comments on this story for the front page.
Baba Jukwa: Thanks a lot for coming to me. I am very aware of happenings within State House, and then I know this story after my sources gave it to me. This is very true the man who missed his target Tsvangirai and took out his wife always cried and if you remember sometime last week I did a brief of this story. I understand this man is now in hiding but his family including brothers, kids and wife are being held as baits.
Now my take is opposition parties and civic organisations should approach SADC to intervene before these people are killed or pronounced as dead. It's high time SADC and African Union take Zim issues seriously because a lot of evil things go unattended.
To Tsvangirai family and Zimbabwe I think they should forgive the man who has reformed and came out forward openly about his past evil deeds and giving closure to what really happened to their mother. Zimbabweans should embrace this man as he is another step to the light of a New Zimbabwe.
Lastly is the column coming so I start telling people to buy the paper as it will have another expose of Border Gezi among others.
Regards
Mbanga: Thanks very much. Yes column is coming out in this issue.  more later. On deadline now.
Baba Jukwa: Thanks
June 6, 2013
Baba Jukwa: Good day, I am receiving a lot of inboxes people saying they don't see your paper on streets or stores, what's happening?
Mbanga: The hired truck broke down and only left last night. papers should be on sale tomorrow. site is up however.
Baba Jukwa: Yes but we have to make sure papers go as well will publicise the site from Saturday.
June 7, 2013
Mbanga: great
Baba Jukwa: thanks are the papers in Zim now so I urge people to go and buy them?
Mbanga: The truck broke down and we have had huge problems. Should be there now.
June 8, 2013
Baba Jukwa: How are you, but I played my part, but will come back to you.
June 9, 2013
Mbanga: ok thanks. papers made it to the streets on Friday – sales were good. we need more! please keep it up. please make sure we have your column by 9am tomorrow. many thanks and kind regards.
June 23, 2013
Mbanga: Hi – hope you are well. – please could you promote your column and the paper now and then, making sure there is a link (you did recently but no link)  – and just send us an email when you do that? many thanks.
From: Mbanga [mailto:[email protected]]