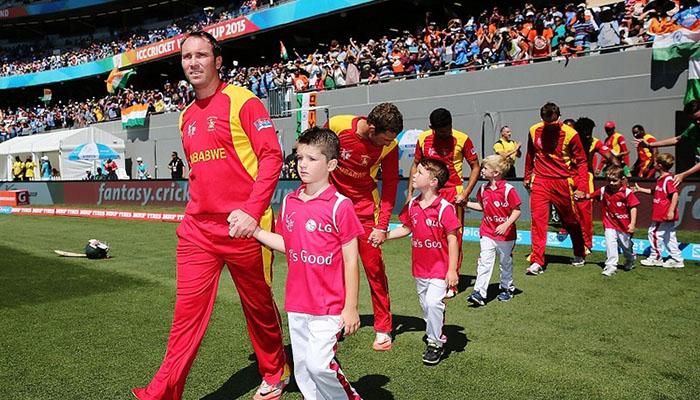 The Sunday Mail
THE build-up to Zimbabwe's three-match one-day games against the Netherlands has turned into a side show, as the possible return of former Chevrons internationals  Kyle Jarvis and Sean Ervine dominates the news.
Zimbabwe Cricket recently  confirmed that they are also in talks with Jarvis over a possible return, just days before they face the Dutch in three one-day games that begin on September 27.
Jarvis joined Lancashire as a non-overseas player under the Kolpak deal in 2013.
"It's a bit easier for Brendan (Taylor) because he wasn't playing international cricket for other countries like some other players. When you play international cricket there is a timeframe you have to wait before you can play.
"That has been the problem with luring back some of the players that left when they were very young," Streak told The Sunday Mail last Tuesday.
There are some reports that in addition to Jarvis, Zimbabwe Cricket is also targeting 34-year-old Sean Ervine, who plays for county side Hampshire.
Responding to that Streak said: "We are talking to Kyle Jarvis and hopefully we will get him on board soon," he said.
"If he comes on board I will be very confident with our spin department . . . we will be back to a stronger and robust bowling unit."
He continued: "His girlfriend is Zimbabwean, she lives in Harare and he has been coming back during the off-season.
"He loves Zimbabwe, so it's slightly easier to try and lure those guys back given that they haven't really moved and they haven't played international cricket for anyone else."
On his former team-mate, Sean Ervine, brother to current national middle order batsman Craig, Streak said: "I have got a lot of respect for Sean. We played together but also we have to look at the future of our younger guys like Tari Musakanda, PJ Moor, Brian Chari, Innocent Kaia, who all have been putting in some big performances and starting to push and knock on the door.
"We also got to make sure we blend our youth with some experience. He (Ervine) has played a lot of county cricket, he is married to an English girl and very settled in the UK .
"That in itself poses another problem as it will probably be a bit tougher to get someone like him to consider moving back to Zimbabwe."
Streak also confirmed that Taylor, who graced the national team's training session on Tuesday, will skip the Netherlands series but will be available for the Pakistan A matches in early October.
"Brendan is coming in from the UK, he has had a full season there. He is coming off a long season, so he will probably integrate into the Logan Domestic Cup and the series against Pakistan A in preparation for the Test series against West Indies," he said.
The 43-year-old coach says all these preparations are a build-up to the two Test matches against the West Indies in October.
"(We have) some domestic fixtures in our lead-up to (the series against) West Indies. We are looking forward to getting some game time then."
Another international who will be missing from the series against the Dutch is Zimbabwe-born all-rounder Shane Snater.
The 21-year-old has been included in the Netherlands' 24-man training squad but has ruled himself out due to family commitments .
"Unfortunately, I will no longer be coming to Zimbabwe due to personal commitments," he said.
The former St John's College student was born and bred in Zimbabwe and represented the country in age-group cricket.
Snater was part of Zimbabwe's provisional Under-19 squad for the 2016 ICC Under-19 World Cup held in Bangladesh, which included some of the country's rising stars such as Brendan Mavuta, Richard Ngarava and Jeremy Ives, but failed to make the final squad.
He also represented Zimbabwe in Rugby 7s at the 2014 African Youth Games in Botswana, and was part the Under-19 squad for the World Rugby Under-20 Trophy qualifiers held in Namibia.