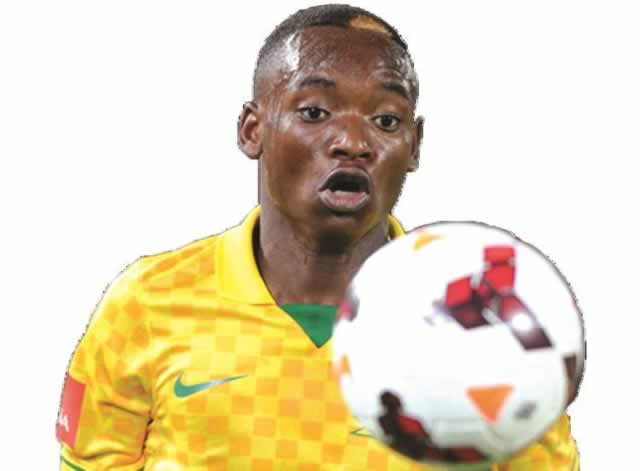 The Sunday Mail
Khama Billiat can mesmerise with the ball at his feet.
When he hits top form the Mamelodi Sundowns and Warriors' forward can be forgiven for trying to walk on water.
The 23-year-old former Caps United and Ajax Cape Town player inspires confidence in both fans and teammates.
An amalgam of pace, skill, a good eye for goal and sharp football mind, Billiat is virtually unplayable when he gets into his groove. He has proven his worth time and again for both club and country.
At Sundowns, he is a jewel and his coach at the newly-crowned South African champions usually runs out of superlatives to describe him.
Pitso Mosimane reckons Khama has the quality to take him to Europe.
"I think we need to help this boy, to be where he wants to be. He is happy. This boy has got something; we wish him all the best," Mosimane was quoted as saying after watching a top-drawer Billiat performance recently.
In the eyes of Zimbabwean football fans, Billiat is a national asset, one of the best among the country's emerging crop.
Sadly, Billiat does not know what he is worth in a country that is hungry for the next Peter Ndlovu.
He does not seem to appreciate the weight of expectations that a success-hungry nation has thrust on his not-so-broad shoulders.
That there is quality in abundance in that small frame that answers to the name Khama Billiat cannot be questioned.
One cannot question either the fact that Billiat, for all his potential, has a weakness that needs to be nipped in the bud. It's not a football weakness, but its effects can choke the life out of a promising football career.
The striker's behaviour off the pitch is a real cause for concern.
Billiat seems to be living in the fast lane. It's the fast lane that might hamper Zimbabweans from seeing him getting to where he wants to be, where we want him to be and where his talent is capable of taking him.
You would expect a boy who has the looks, a name and some cash in the bank — a sure combination to sweep any woman off her feet — to be a favourite with members of the fairer sex.
These football lads are also known to be players in the love arena, hence the growth of the Wives and Girlfriends (WAGS) phenomenon.
However, most of them do not find themselves in the paper regularly for the goals they score between the sheets. It's not that they are clean, nay. They could be smart or know how to play, or both. The situation is different with our Khama.
His off-field shenanigans seem to be making as much news as his dribbles, goals and reverse passes. It's worrying. Last weekend the Warriors' star was in the news in Mzansi for having an affair with a footie babe who is reported to have dated the likes of Katlego Mphela and Benni McCarthy at some point in her life.
South Africa's Sunday Sun reported last weekend: "Mamelodi Sundowns dribbling wizard and striker Khama Billiat's head is burning like hot metal!
"This after his side dish, Malibongwe Gumede, gave him an ultimatum to either leave his baby mama — or kiss her goodbye!
The soccer babe, who once reportedly was an item with Mphela and McCarthy, told Khama he can't have his cake and eat it too.
"Sunday Sun understands she was tired of being in second place after his baby mama, who shares Khama's Midrand house with him. Malibongwe hates the fact that he takes no time to play in her turf – as he is always with his Zimbabwean baby mama."
The link with the South African woman came a few months after Billiat was in the news, here at home, for allegedly having another adulterous affair with controversial pole dancer Bev Sibanda. And just like the South African soccer babe, Bev went to town about the affair and even had the temerity to claim Khama's wife — God  bless her — knew about the affair. In his defence, Khama says both women are lying.
It's a claim which is difficult to believe as some revealing pictures of the striker with the two women in question have been circulating on social media.
To borrow Mosimane's words, we need to help this boy. Billiat is no ordinary talent; he could be the next best thing in Zimbabwean football and the nation needs to get the best out of him.
Someone needs to tell the boy of the disastrous effects a messed up social life can have on a football career.
Billiat won't get to where he is supposed to be if he continues to live life on the fast lane and choosing the wrong type of female companions.
He should ask Peter Ndlovu, who is part of the backroom staff at Sundowns. Peter has countless stories to tell that can assist Billiat. Interestingly, a South African-based player last week told The Sunday Mail that Ndlovu and veteran midfielder Esrom Nyandoro regularly have "bra to bra talks" with the star.
"Peter and Esrom are always on his case and he is showing signs of improving.
"But look, you guys also need to understand that Khama is young and is prone to making these mistakes…we just hope that he is learning from them," he said.