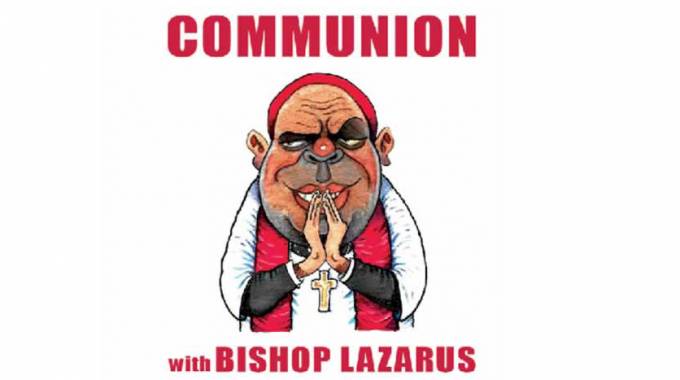 The Sunday Mail
Hairdressers of Natpharm head honchos must understandably be worried since they might not be seeing their clients anytime soon, especially after they received quite the "hairdryer treatment" last week from Dr Obadiah Moyo.
This is really a big deal, considering that some of these cosseted executives at our eternally loss-making parastatals have bottomless allowances for their hairdos – in fact, as much as US$60 000 per year.
Bishop Lazi was trying to imagine what really these hairdos entail – brain surgery?
You see, Natpharm managers, who are custodians of the country's national drug warehouse, stand accused of the diabolic fetish of stocking mountains of life-saving and pain-easing medicines while rural clinics do not have as much as painkillers for desperate patients.
The tongue-tied executives couldn't explain away this embarrassing anomaly, which safely sits in their Harare warehouse, and Dr Moyo justifiably blew his top.
Argh! But Doc Moyo so ka!
Maybe it is because of those years he spent on the decks as DJ Biscuit.
Bishop Lazarus has never heard such a rabid censure delivered in so genteel and aristocratic a manner that the whole exchange was as esoteric as a British tea party.
"Are you using them yourself, maybe you are taking the medication yourself, maybe you are all sick," said an irate Moyo at the May 5 meeting.
He was not finished.
"We do not have to come from head office to commandeer you; you are all people who are employed. "You are paid. So work in line with the pay you are receiving. . . If you do not want to work, choose somewhere else. We do not want people who just think of tea."
But they should be warned: the former DJ might not look or sound menacing like Donald Trump, but he doesn't hesitate to pull the trigger.
Ask Harare Central Hospital ex-CEO Dr Nyasha Masuka.
After receiving a soft warning in March for being lethargic, he was soon out of a job so fast that his head should still be spinning at this moment.
But this should be the least of our worries.
The Bishop really thinks what is happening at Natpharm is just a macrocosm of a plague that has become pervasive in most corridors in Government.
Slothfulness, laziness, incompetence, nepotism and corruption are the nauseatingly lingering stench of Bob's fallen administration.
During his last two decades in power, the old man was literally breeding sloths.
Salaried sloths for that matter.
Some of them continue to crawl within the corridors of power to this day.
Not surprisingly, ED recently bumped into some of them before he went for the clean-up programme in Chitungwiza.
They couldn't be bothered into lifting so much as lift  a finger even though there is a Presidential proclamation reserving the first Friday of every month to make their environs spick and span.
"Vanga vakatogara zvavo kuti tekeshe . . . I foresee myself remaining in Government with those who want a clean environment," he quipped.
Dear reader, laziness is diabolic.
Proverbs 6:6-11, thus, counsels: "Take a lesson from the ants, you lazy fellow. Learn from their ways and be wise! For though they have no king to make them work, yet they labour hard all summer, gathering food for the winter.
But you – all you do is sleep. When will you wake up? 'Let me sleep a little longer!' Sure, just a little more! And as you sleep, poverty creeps upon you like a robber and destroys you; want attacks you in full armour."
Hallelujah!
And our scientists tell us that we are superior to ants.
They can neither think nor talk, were are told.
But nature continues to remind us of their awesome feat; and in our case, the reminder is right at the heart of our central business district.
Eastgate Centre, which was designed by architect Mick Pearce and Arup engineers, is the ultimate example of biomimicry, which feeds off the sophistication of anthills.
Over the years, Bishop Lazarus has learnt that lazy and incompetent people never run out of excuses.
As they say, poor workmen always blame their tools.
"The machine is broken", "I can't find my tools", "It is too cold to work", they will always moan.
This is why Proverbs 26:13-16 observes: "The lazy man won't go out and work. 'There might be a lion outside!' he says. He sticks to his bed like a door to its hinges! He is too tired even to lift his food from his dish to his mouth! Yet in his own opinion he is smarter than seven wise men."
The Bishop thinks that with the new national policy towards cleanliness, we should be seeing a renewed Environmental Management Board (EMA) that is actively driving an anti-litter campaign.
They now only conveniently become visible once every month, only to retreat into their cocoons.
With the new national policy towards innovation, we should be seeing an invigorated technologically adept Harare Polytechnic, not this affront where students endlessly queue to pay their fees. Not in the 21st century!
What witchcraft is that?
Don't even get me started on Harare City Council.
Suffice to say, there is need for a radical mindset shift where our actions become compatible with our declarations.
It's quite ironic that while as a developing country we are trying to get rid of sloths, some advanced countries are trying to flash out workaholics.
Recently Japan was pushing for an optimal scheme that allows employees to clock early every Friday.
Some companies have even found an ingenious way of getting rid of these indefatigable pests: turning off lights in the evening so that they leave their workstations.
It is the same in South Korea.
Workaholics, they reckon, disrupt the social ecosystem.
You see, boozers are no longer boozing as much as brewers, while families are no longer manufacturing babies with the regularity that is needed to replace the aging population.
But like Hosiah Chipanga, Bishop Lazi has a plan: Why don't we swap our sloths for their workaholics.
It might work.
Bishop out!