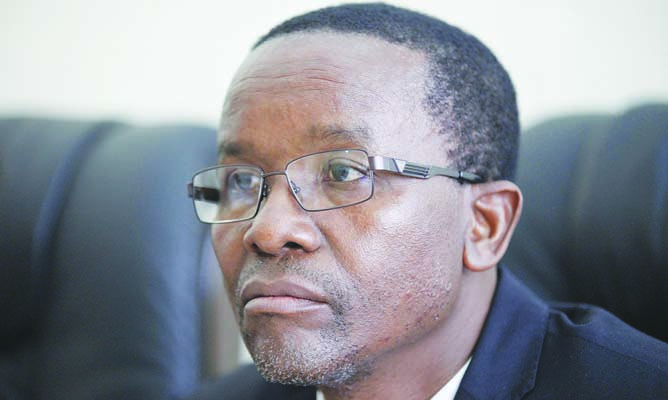 The Sunday Mail
Vukani Madoda: The Sharpshooter
Lately, it seems it has become fashionable to embrace the curse of mediocrity and overindulge in the profanity of being idle.
It is now commonplace to protest for one flimsy reason or another insubstantial cause. The familiar routine of grumblers is to disrupt anything and everything that seems to have a semblance of diligence, governance and orderliness.
Everything seems to be worth protesting against these days.
There are protests against the ban on selected imported goods, protests against the arrest of Mahiya and his cohorts, protests against late payment of civil servants' salaries, protests against police roadblocks, protests against alleged corruption, and protests against bond notes.
At this rate, it's plausible that the idle bunch will soon protest against Evan Mawarire's self-imposed exile and when nothing else is left, they are going to protest against protests.
Surely, if we can have one of the tripartite vice-presidents of the opposition MDC-T spearheading a pots-plates-pans protest, then it is not far-fetched to imagine that soon we are going to have impotent men protesting that their wives are not falling pregnant.
Tomorrow they want to risk life and limb by moving a gear up in their protest against a ban on selected imported goods by threatening to shut down the country's borders.
I pity them as I do the village idiot. Surely, we cannot follow the village idiot who ventures to protest against the sovereign borders of his/her own nation.
Only an efulefu or an osu will dare venture to the borders tomorrow because it is only an efulefu or an osu who is the traitor and outcast who the gods have cursed with blinding naivete.
Of course, we are no longer at ease, and as the celebrated writer Chinua Achebe said in one of his masterpieces: "The impatient idealist says: 'Give me a place to stand and I shall move the Earth.' But such a place does not exist. We all have to stand on the Earth itself and go with her at her pace."
The village idiot would do well to know which kind of protest actually exists and which one is idealistic, or which kind of protest can be put in motion and which status quo should be left untampered with.
The wisdom to know the difference will provide the serenity which we all wish upon the impatient idealist.
Border posts are security areas.
Anyone, never mind the level of idiocy, gallivanting, loitering and protesting in these areas shall be guilty of an offence and liable to lawful custody according to the nitty-gritties of the Immigration Act, which provides for the regulation of the entry of persons into and their departure from Zimbabwe; prohibits the entry into as well as provides for the removal from Zimbabwe of certain persons; including providing for control of aliens; and providing for matters incidental to or connected to the foregoing.
So aliens, impatient idealists and village idiots be warned and cautioned against errant behaviour at the border posts tomorrow.
Be especially warned about bad apples such as Godfrey Tsenengamu, Victor Matemadanda, Douglas Mahiya, Francis Nhando, Headman Moyo and Munacho Mutezo because there are now idle men and the devil has nothing else for them to do but to make them protest.
It is fine for you to beat your plates, pots and pans like an Oliver Twist asking for more, but the village idiot who thinks the country's borders are playgrounds could be the most idiotic of the idiots.
Talking about Munacho Mutezo and company, good riddance to bad rubbish. The fact that they have openly aligned themselves to a putchist cabal will not make anyone who hates idleness lose sleep.
The chaps were just a bad apples, encouraging forces of darkness to grow within Zanu-PF.
Zanu-PF does not have a place for the Munachos of this world, particularly when such elements allegedly siphoned US$100 000 from Zesa Holdings to fund Gamatox factional activities in Manicaland.
No, Munacho never deserved a jersey in Team Zanu-PF, not even to warm the bench.
As a matter of fact, he has earned his well-deserved outright expulsion for being an enemy of President Mugabe, an enemy of the people and an enemy of electricity and energy supply in the country.
Ever wondered why since Munacho's departure from his ministerial post Zesa has made tremendous strides in providing electricity to the nation?
During his heydays, Munacho superintended over some of the worst load-shedding and power blackouts this nation has ever experienced.
Anything Munacho laid his hands on instantly disintegrated with Zesa subsidiaries bearing the brunt of his Gamatox shenanigans.
The likes of Munacho should never be given a second bite of the political cherry and if the people of Chimanimani West are gullible enough to vote him into power again then we may have reason to believe that stubborn spirit of Roy Bennett is not yet tired of haunting the people of that constituency.
Be that as it may, I dare Munacho to contest the by-elections if he wants to measure whether he was an MP because of his own appeal or because of Zanu-PF.
Let us see if his ZimPF doomsday cult will win a single seat in any elections. Indeed, let us wait and see if he is the proverbial single swallow that will make a summer.
Whether Munacho works with ZimPF or not and whether he is offered a lucrative position by Joice Mujuru and her barking dogs Rugare Gumbo and Kudzai Mbudzi will never deter the mighty Zanu-PF from yet another landslide victory come 2018.
Zanu-PF is a lion and it does not concern itself with the bleating of sheep such as ZimPF.
Surely, this sheep called Munacho should at least pay back what he allegedly looted from Zesa before flocking with other corrupt and treasonous sheep. Pay back the money, Munacho! After that, please leave the good people of Chimanimani West in peace.
Dubulaizitha!