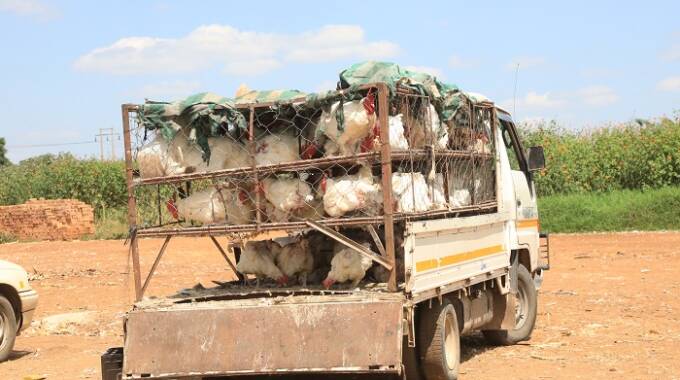 The Sunday Mail
Veronica Gwaze
"FEED the body that works" is the mantra often used as an excuse by people to spoil themselves, especially during lunch hour.
They often search for bargains, where they can get overly generous portions at giveaway prices. Of late, there has been a proliferation of eateries that are giving them exactly that.
But such bargains are not always a good deal, as Nyaradzai Magorimbo and her two friends will confirm. They bought a plate of sadza at a popular vendor's place in Mbare, but it landed Magorimbo in hospital.
Apparently, the three, who had just sold their wares at Mbare Musika, could not resist the huge chunks of roasted meat that came with the plate of sadza for only US$1.
Their supposedly good lunch in the backyard restaurant became the beginning of the ordeal. Magorimbo started experiencing acute diarrhoea and vomiting. She was later rushed to hospital, where doctors confirmed that she was suffering from salmonella infection or food poisoning.
"A number of vendors eat at the place because of the big portions she dishes out to her customers and she is smart. However, after the ordeal I went through, we gathered that she is in the habit of buying dead chickens from poultry breeders. She is actually notoriously known for that in the area," said Magorimbo.
Investigations conducted by The Sunday Mail Society revealed that the trend is now prevalent across towns and cities.  A healthy bird is often sold for between US$4 and US$6, but one can get a dead chicken for as little as US$1.
Poultry breeders, whose chickens would have died before the expected period for slaughter, are reportedly making up for their losses by selling the birds to unscrupulous restaurateurs. Some meals are even sold for as low as US50c a plate, but with generous pieces of meat.
Ignorance
"I do not see any reason for me to incur losses when my chickens die due to low or high temperatures. It would only be a problem for me to eat or sell the birds to anyone if they succumb to disease," said Takemore Mapuranga.
His Glen View-based colleague, only identified as Given, added that they had become accustomed to buyers seeking dead chickens in their neighbourhood.
"There are trucks that often come here looking for dead chickens. They lie that the meat is meant to feed dogs but the way they neatly pack it raises suspicions. I believe this meat is ending up on the streets for sale or at eateries. People's lives are at serious risk."
In Budiriro 5, Revai Muchetu has been in the poultry business for two years.
While she loses birds in every batch she rears due to various reasons, last year, she lost 13 five-week-old chickens at one go.
Instead of disposing of the chickens, she went on to dress and refrigerate them for her family.
"I had learnt from a friend that consuming such dead broilers is not harmful to humans, so I kept them and we ate them as a family. Weeks later, I realised that no harm befell us. Since then, I sometimes eat or even sell the meat at a low price to anyone interested."
More than 100 butcheries were last month closed for breaching public health laws, after the Veterinary Department, in collaboration with the police and Ministry of Health and Child Care, intensified "Operation Nyama Yabvepi".
The crackdown was launched in December last year to curb the selling of uninspected meat and ensure no stolen or sick animals are accepted for slaughter.
But where there is a will, there is a way.
Restaurants, particularly in high-density area backyards or shopping centres, have become easy dumpsites for carcasses or contaminated meat.
Some even sell the cooked meat from car boots.
City of Harare director of health services Dr Prosper Chonzi said selling sick or dead birds and preparing such meat for unsuspecting clients is a violation of food and health standards.
According to the Public Health Act, no person shall sell, keep, transport or expose for sale any meat or offal unless it has been obtained from animals or birds that have been slaughtered in a registered abattoir.
"There has been a notable increase in the number of unregistered food outlets and car-boot restaurants. However, for one to sell food, they should be properly registered, according to the dictates of the by-laws. It is also an offence to sell unhealthy meat to the public; this is a disaster waiting to happen because the meat poses the threat of food-borne diseases," said Dr Chonzi.
The Zimbabwe Republic Police is equally concerned, as several people have in the past died or hospitalised for consuming infected meat.
"We have recorded some cases. However, our operations need the input of the public because these activities happen under their watch. They should report the culprits," said police spokesperson, Assistant Commissioner Paul Nyathi.
The Consumer Council of Zimbabwe has been getting numerous complaints on the matter.
Executive director Ms Rose Mpofu said appropriate action had been taken.
"Consumer awareness programmes are being carried out. It is worrying that some of these customers are aware that these are unhealthy meats but they go on to consume them. This is why we continue to conduct food safety programmes to enlighten both bulk meat suppliers and consumers on the dangers that come with such unscrupulous activities," she said.
Health complications
Health experts note that consuming meat from infected birds or animals poses a serious threat to human health.
Director of Veterinary Field Services in the Ministry of Lands, Agriculture, Fisheries, Water and Rural Development, Dr Jairus Machakwa, said the Public Health Act provides for the hygienic sale of meats through licensing of food-selling establishments.
The licensing process involves assessment of the water, hygiene and sanitation in compliance with food handlers' health requirements.
"It is illegal to operate an unregistered food outlet, let alone getting involved in the mischief of cooking and selling contaminated meat to the unsuspecting public," he said.
"We have cases that are being dealt with decisively, and in some situations, licences can be revoked."
Health expert Dr Ebison Chinherende said consuming contaminated meat may result in short- or long-term health complications.
Escherichia coli (E. Coli) from ground beef; bovine spongiform encephalopathy; trichinosis; salmonella; and scrapie are some of the common diseases associated with consuming contaminated meat.
"Back in the day, it was rare to come across such health issues but the figures have increased in the year, especially cases of salmonella," said Dr Chinherende.
Salmonella symptoms can start showing at least four hours after consuming contaminated meat. The symptoms include fever, diarrhoea (can be bloody), vomiting, organ distress and stomach cramps.
Some of the health complications, he added, may take years to show.
"If the bird or beast died as a result of a disease, it can potentially kill the consumer. It is also key for consumers to understand that when an animal or a bird falls ill, it is treated with veterinary medicines that contain antibiotics, and consuming that meat exposes them to antimicrobial resistance."
A few years ago, Indian authorities confiscated at least 20 000 kilogrammes of contaminated meat that was destined for restaurants and butcheries. Some of the meat was meant for international markets such as Nepal and Bangladesh, according to reports.
In Uganda, the state challenged residents to join hands with their leaders in the fight against the sale of meat from dead animals.
* Twitter: @verongwaze