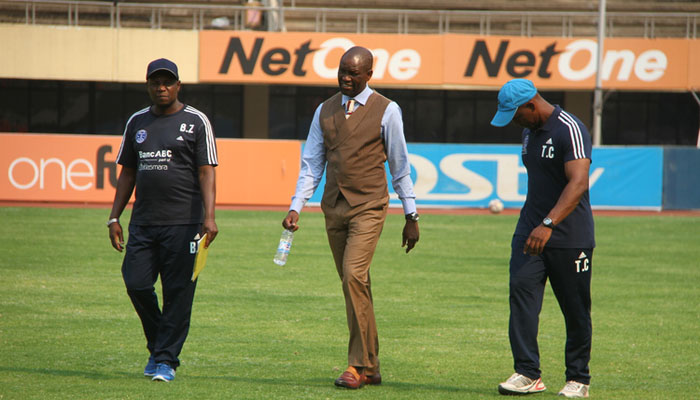 The Sunday Mail
Sports Editor
WHAT does Lloyd Mutasa have to do to earn some respect in these shores, walk on water?
But even if he manages to pull it off, it's easy to imagine some of his critics accusing him of raising dust.
That's the story of his life, hard work but unappreciated.
Coaching is universally regarded as a thankless job but it appears gaffers like Mutasa have the yoke of having to work twice as much for half as much on their shoulders.
The DeMbare gaffer is enduring everything, including having the kitchen sink thrown his way, as his inexperienced team crumbles under the weight of chasing the league title.
Mutasa is being accused of failing short tactically as the Castle Lager Premier Soccer League race heads for a riveting finish.
DeMbare are still in with a chance to land the title and Mutasa reckons they can even pull a win on the last day stance, just like what Kallisto Pasuwa's sides used to do.
However, the way the Glamour Boys are staggering from one glamour-less performance to the other makes it suicidal for one to tip them for the big gong ahead of both FC Platinum and Ngezi Platinum Stars.
DeMbare have only won one of their last eight league matches and that dreadful run has seen questions being asked about Mutasa's tactical acumen.
Last weekend they fell 0-2 at Ngezi and a section of their fans went down the path to lunacy — invading the pitch, chasing down ball boys (or men) and directing some choice words towards their gaffer.
And it's just not the DeMbare fans who are taking potshots at Mutasa as even fellow coaches are ignoring an unwritten rule and are going public with their unsavory opinions.
How Mine coach Kelvin Kaindu was the first to cross the Rubicon and the last few weeks have seen Darlington Dodo of Tsholotsho and Chapungu technical director Rodwell Dhlakama following suit.
Dodo watched with glee as his team held DeMbare to a 1-all draw at the National Sports Stadium on October 18 before taking a dig at Samaita.
"I think Mutasa lacks (something) as a coach and he is not technically (good). His team struggled and had it not been that we were denied a goal by the referee, Dynamos could have easily lost it," Dodo was quoted as saying by our sister paper, The Herald.
And he wasn't done yet.
Added the journeyman coach: "Most of the players at the team are not fit to be playing for a big institution like Dynamos. They lack zeal and passion and can't withstand pressure. They easily wilted and one really wonders if they are championship material."
It appears Mutasa is a victim of his own success.
With Dynamos coffers as empty as they always are, the gaffer was forced to conduct trials in a desperate bid to build a team before the start of the season.
His family feared Mutasa would work himself into an early grave as he built this Dynamos Class of 2017 using free agents, on loan players and lads who badly needed career resurrections such as Lincoln Zvasiya and Denver Mukamba.
The DeMbare coach transformed Peace Makaha from a boy who played for FC Manhenga on Saturday in the Harare Social League and Dynamos on Sunday, into a man who can be trusted with the armband in the absence of Ocean Mushure and Obey Mwerahari.
That this rag tag Dynamos is in the championship mix with four matches to go is a miracle, a massive success for Mutasa who has to compete with teams that can afford to sign just about anyone they want.
The DeMbare gaffer deserves kudos and not knobkerries for the way his team has done business this term.
Mutasa has given this cause his all and it's rather unfortunate that his key men have gone missing with the league firmly in squeaky bum territory.
Christian Epoupa is no longer scoring for fun.
Mushure appears to have been swallowed by an ocean.
And poor Mukamba is alleged to be in the habit of guzzling cough mixtures and other narcotics.
How this season will pen out for Dynamos is the stuff prophets can indulge in but it will be cruel to deny the fact that Mutasa has earned his stripes this term.
In some eyes, he deserves to wear those designer clothes from that famous shop along Jason Moyo Avenue in the capital, to the dinner where the 2017 Coach of the Year will be honoured next month.