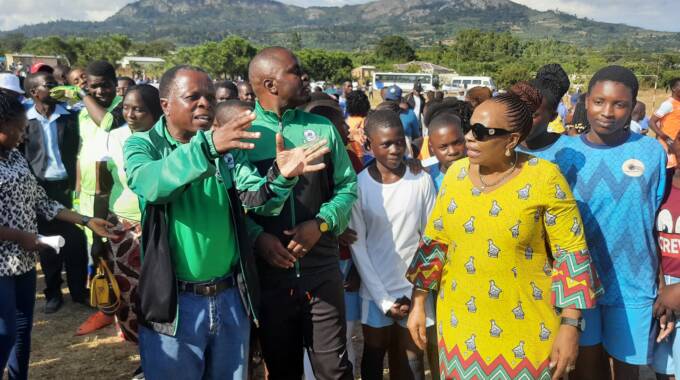 The Sunday Mail
Tendai Gukutikwa
Mutare Bureau
Information, Publicity and Broadcasting Services Minister Senator Monica Mutsvangwa yesterday launched the Senator Football Club Academy, which will scout for football local talent while addressing challenges related to drug and substance abuse facing youths in Manicaland province.
Speaking at the launch of the club in Chitakatira, Mutare, Sen Mutsvangwa said the initiative complements Government's efforts of promoting sport development.
"Under the New Dispensation being spearheaded by His Excellency, President ED Mnangagwa, different sports programmes have been initiated by the Government to benefit the people of Zimbabwe," said Sen Mutsvangwa.
"President ED's mantra of leaving no one and no place behind includes boys and girls from across the country and not just those in cities; you should not be left behind when we implement such programmes."
She said sport was key to the achievement of national development and sustainable development goals.
"We are promoting sport development while also empowering our youths with these kinds of clubs, while leaving no one and no place behind.
"The club will also act as a form of employment for youths while also getting them out of the streets where they are vulnerable to drug abuse. Sport plays a key role in mitigating the problems and challenges that come with drug and substance abuse, so we are happy that official clubs such as these are being created across the province.
"I am also happy to hear that ZIFA and its partners are organising such clubs across Manicaland's eight administrative districts," she said.
Sen Mutsvangwa said the club will be open to all girls and boys from across the province and its academy will offer scholarships of excellence to talented learners.
Minister Mutsvangwa is also director of the club, which was named after her, as Zimunya-Marange Senator.
She expressed her gratitude to the club manager, Mr John Kanyikwanaka, before donating 45 soccer balls to the three constituencies under Zimunya-Marange constituency, as well as cash prizes for the teams that won the games of the day.
Senator FC currently plays in Division Two.
Zimbabwe Football Association (ZIFA) Manicaland province chairperson Mr Kuziwa Nyabeze said sport helps in fighting drug and substance abuse.
"We are expecting that by next year, the club will be in Division One and thereafter play in the Premier League," he said.