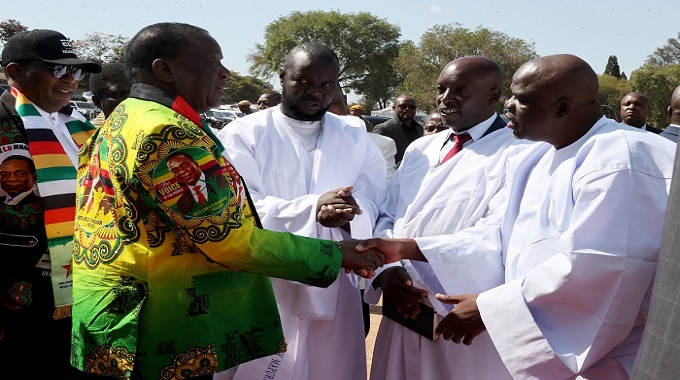 The Sunday Mail
Debra Matabvu
Zimbabweans must remain united and peaceful as the country prepares for this year's harmonised elections, which will be held on August 23, President Mnangagwa has said.
Addressing multitudes of indigenous church congregants at the national convention for Vapostori NemaZion for Economic Development at Zimbabwe Grounds in Highfield, Harare, yesterday, the President said the ruling party was committed to working with all churches, as they were crucial in promoting peace.
He also encouraged Zimbabweans to vote to protect the country's heritage.
"The liberation struggle protected our heritage and birthright; that was the reason we went to war. "However, we are now protecting it through voting. That is why we are encouraging everyone to go and vote," said President Mnangagwa.
"As ZANU PF, we are committed to working with all the churches. We want to work with them, because the purpose of the church is to preach peace and we, as ZANU PF, love peace.
"In the coming elections, we call upon the nation to be peaceful during campaigns and elections."
The relationship between the State and the Church, President Mnangagwa added, will continue in order to maintain peace, unity and harmony. "During the liberation struggle, we committed ourselves to attain Independence so that black people will be able to build their country and have peace in their country," he said.
"Today, the Zion and Apostolic sects have committed themselves to pray for their country.
"The gospel of God teaches us to love; it teaches us to be peaceful. It also teaches us to respect one another.
"That teaching of the gospel is the teaching of ZANU PF, and we encourage unity, peace and hard work. "That is why there is a relationship between ZANU PF and the Church. We will continue working together with the indigenous churches.
"As Government, we will always remember to come and worship with you who vote for us and put us in power. As Government, we will always remember the Church. The relationship between the State and Church is very important to us."
The Second Republic, he said, was assiduously working on achieving Vision 2030, as evidenced by the number of projects being undertaken by Government.
He called upon citizens to embrace the spirit of hard work to ensure development and economic growth. "We are working on achieving Vision 2030, and to do that, we need honest, hardworking people," President Mnangagwa said.
"Under the Second Republic, we have introduced science and technology in all universities so that we build our country.
"We should be able to produce what we consume as a country. Foreigners who want to help us build our country should follow while we take the lead.
"We have introduced a number of programmes that uplift the lives of people, such as Pfumvudza, which ensures food security at the household level.
"We are now manufacturing our own tick grease after the January disease threatened our national herd.
"There are 35 000 villages across the country, and we are drilling solar boreholes in all (the) 35 000 villages …
"We have already done that in Binga, and all 17 chiefs have solar boreholes, so we are going to do that for all chiefs across the country."
President Mnangagwa also assured the gathering that freedom of worship, as enshrined in the Constitution, will always be guaranteed under the Second Republic.
"Under the Second Republic, and in the Constitution, you are guaranteed freedom of worship. As ZANU PF, we can assure you that you will be guaranteed of freedom of worship. Worship brings forth peace in the country."
The event was also attended by senior Government officials.