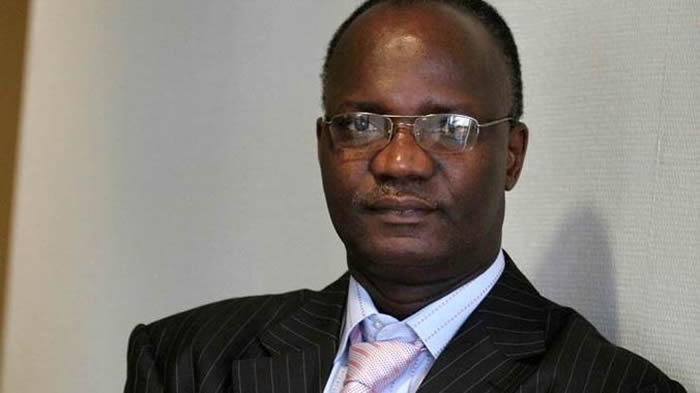 The Sunday Mail
Brian Chitemba: Investigations Editor
The Zimbabwe Anti-Corruption Commission wants to interview Higher and Tertiary Education, Science and Technology Minister Professor Jonathan Moyo; his deputy Dr Godfrey Gandawa; and three other public officials in connection with fraud and money laundering allegations involving over US$430 000.Documents availed to The Sunday Mail show that Prof Moyo and a staffer in his office, Dr Gandawa, Zimbabwe Manpower Development Fund chief executive Mr Frederick Mandizvidza and Zimdef principal director (finance) Mr Nicholas Mapute could have unlawfully benefited from US$430 000 of the State enterprise's money between November 2015 and June 2016.
ZACC is also investigating a separate case in which Prof Moyo and Dr Gandawa are suspected of getting Zimdef to release 100 000 litres of diesel worth US$118 500, fuel which was then diverted to the black market.
It is alleged the fuel was requested by the Zimbabwe Youth Council on July 26, 2016 for a "skills gap assessment programme". Dr Gandawa recommended the allocation and Prof Moyo gave his approval on August 4, 2016.
Preliminary investigations indicate that Zimdef bought fuel coupons – batch number 00165 – worth US$118 500 from Redan Coupon Private Limited, and these were signed for by Zimbabwe Youth Council executive director Mr Livingstone Dzikira.
However, it is alleged that Prof Moyo and two other ministers (names withheld) got the majority of the coupons (serial number provided) and used middlemen to sell them on the black market.
Apart from that, ZACC is investigating other alleged abuses of Zimdef funds by Prof Moyo, his deputy, and three subordinates.
The five are being investigated for five charges of fraud as defined in Section 136 of Criminal Law (Codification and Reform) Act (Chapter 9:23), and three charges under the Money Laundering and Proceeds of Crime Act (Chapter 9:24).
A ZACC official, who cannot be named for professional reasons, confirmed the probe.The summary of investigations in our possession states, "Investigations are complete and what is outstanding is to interview the accused persons."The matter is not yet before the police, though ZRP national spokesperson Senior Assistant Commissioner Charity Charamba said they were investigating a case in which Zimdef allegedly flouted tender procedures when buying computers.
"(Police officers) are investigating
but they are not investigating Minister Moyo," she said.
Prof Moyo was not available for comment yesterday as his mobile phone went unanswered, while Dr Gandawa was said to be busy. The allegations ZACC is looking into are to the effect that:
· On November 6, 2015, the five connived to originate a fraudulent memorandum and corruptly approved the purchase of 10×3 dimension printers for eight polytechnics and two industrial training colleges worth US$95 800. They awarded a contract to Wisebone Trading, a company which deals in agri-business, after which money was transferred from a Zimdef account to Wisebone. The printers were not supplied and the money was put to personal use by the aforementioned;
· On December 21, 2015, the minister and his subordinates raised a fake memorandum approving purchase of 170 computers worth US$107 525 from Fuzzy Technologies (Pvt) Limited – a company owned by Dr Gandawa – without going to tender. Fuzzy Technologies supplied 50 computers worth US$24 000, meaning Zimdef was prejudiced of US$83 525;
· On February 10, 2016, Fuzzy Technologies was given a contract to supply computers worth US$41 250 and Dr Gandawa's company did not supply the computers;
· Prof Moyo unlawfully accessed a US$24 000 loan from Zimdef with assistance from Dr Gandawa and Mr Mandizvidza. Of this, US$15 000 into Dr Gandawa's personal CBZ account while US$9 000 was given to the deputy minister as cash. He then gave the money to Prof Moyo. Prof Moyo paid back the loan, but the action was allegedly in breach of Chapter 28:02 of the Manpower Planning and Development Act which makes no provision for extension of personal loans to the minister from Zimdef funds; and
· On April 7, 2016, Dr Gandawa's Fuzzy Technologies was given another to supply goods and services worth US$185 840 to be used by the Ministry at the Zimbabwe International Trade Fair. The money was transferred into Fuzzy Technologies account, after which US$120 000 was transferred into Dr Gandawa's personal account in three batches of US$70 000, US$30 000 and US$20 000. Dr Gandawa allegedly bought some materials from South Africa in ministry's name, ensured they were not levied import duties, and then sold those items to the same ministry.
On the money laundering allegations, Prof Moyo and his subordinates are said to have connived to move the money for these deals through their personal bank accounts and those of shelf companies.
 The ZACC summary states that:
· Of the US$95 800 transferred from Zimdef to Wishbone Trading through Cabs, Dr Gandawa received US$20 000 through his personal Barclays account after which he transferred US$19 030 to HIB Rajput PL T/A Ace Cycles for 173 bicycles for Prof Moyo. Dr Gandawa then transferred US$27 550 to SKM Motorcycles for 10 tri-cycles for Prof Moyo. The balance was withdrawn in cash;
· US$107 525 was transferred from Zimdef to Fuzzy Technologies' NMB Bank account, of which US$5 745 was transferred to to Pridham Investments for Dr Gandawa's personal furniture. Dr Gandawa also paid for 69 bicycles worth US$7 260 for Prof Moyo. He also transferred US$12 900 to Wisebone Trading as capital to finance his personal business and the remainder was withdrawn in cash; and
· The public officials allegedly laundered US$13 270 belonging to Zimdef and gave it to Dr Gandawa to boost his construction firm, which was erecting a palisade fence on land belonging to the Zimbabwe Open University. The money was part of the US$41 250 taken from Zimdef puportedly to support the Presidential Computerisation Programme.