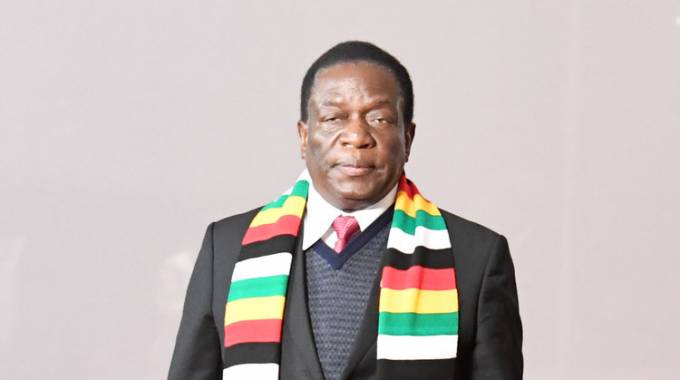 The Sunday Mail
Chief Reporter
President Emmerson Mnangagwa yesterday attended the inaugural commemoration of the Southern African Liberation Day in Luanda, Angola, which seeks to celebrate the defining Cuito Counavale battle that changed the course of Southern Africa's history.
The watershed battle fought in 1987 to 1988 led to Angola's independence and also played a role in ending apartheid in South Africa after Angolan forces, backed by Cuban fighters, defeated the dreaded South African apartheid army.
Speaking to journalists after returning home last night, President Mnangagwa — who is also incoming chair of Sadc's troika on Politics, Defence and Security — said the day was of utmost significance to liberation parties in Southern Africa.
"During the liberation of southern Africa; in particular, Namibia and South Africa and the independence of Angola, the apartheid regime in South Africa wanted to stop liberation in Angola, not to proceed to Namibia and South Africa.
"So they felt they could use their strength militarily to stop the tide of liberation from the north going south and then engaged Angola in Cuito Counavale in the late 1987 to 1988.
"It was a serious conventional war which was fought in our region and for the first time, the African forces, of course supported by the Cubans, at the end of the battle, were able to defeat the supposedly invincible apartheid force of South Africa.
"That ushered both the democratisation of South Africa as well as the independence of Namibia."
President Mnangagwa said commemoration of the Cuito Counavale battle broke the myth of invincibility of South Africa's apartheid force.
He said the victory was not only significant to Southern Africa but was a source of pride for the entire African continent.
"The Heads of State found it proper and historically correct to mark that conventional war, which was fought to extend the frontiers of freedom in terms of Cuito Counavale as a historic event befitting recognition by Sadc as a whole.
"At the end, it becomes a symbol for the entire continent that indeed the African forces were able to stand against the most powerful apartheid forces at that time.
"We, as Sadc region, are very happy that it's a shrine that will continue to give history to generations to come about our liberation as Southern Africa."
Sadc chair and Namibia President Hage Geingob also attended the commemoration alongside other Heads of States João Lourenço (Angola), Denis Sassou Nguesso (Congo Republic), Felix Tshisekedi (Democratic Republic of Congo) and the first vice president of Cuba, Salvador Valdez.
President Emmerson Mnangagwa arrived back in the country last night.
He was received at Robert Gabriel Mugabe International Airport by Vice Presidents Dr Constantino Chiwenga and Kembo Mohadi, Minister of State for Harare Metropolitan province Oliver Chidawu, senior Government officials and service chiefs.
SADC countries last year adopted March 23 as the Southern African Liberation Day in the commemoration of the legendary Cuito Cuanavale battle.