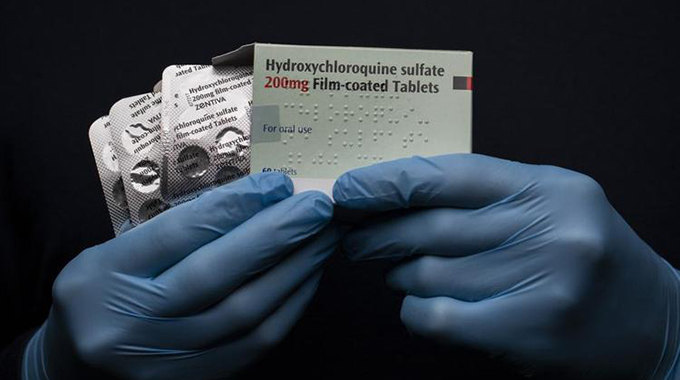 The Sunday Mail
Emmanuel Kafe
With the country feeling the full brunt of Covid-19, as cases of local transmissions and the death toll continue to grimly rise, panicky consumers are scrambling for medicines and home remedies that are both rumoured or prescribed to manage the flu-like disease.
Much of the anxiety has been spawned by the exponential increase in coronavirus fatalities.
Twenty-six (26) people succumbed to the virus in the five-day period from August 9 (Sunday) to August 13, while 61 locals have died in the first 13 days of this month alone.
Health authorities are, however, worried by rising cases of local transmissions, which made up 1 728 of the 1 821 cases recorded since the beginning of the month to Thursday last week.
Not surprisingly, anxious members of the public are desperately scrambling for medicines or therapeutics they believe can be used to either prevent or manage the disease.
Vapour rubs and ointments such as eucalyptus oil and other medicines such as hydroxychloroquine — which has been the subject of scientific debate of late — have been flying off the shelves in pharmacies.
A Chinese oily herbal medicine, tsunami, which has always been informally sold in many communities, has become a go-to medicine for some.
Social media platforms such as Facebook and Twitter are awash with supposed remedies of the virulent disease.
Panic
Both the panic and anxiety has unhelpfully made desperate consumers play into the hands of unscrupulous pharmacies and black market drug and herb dealers, whose businesses are currently booming.
"I learned through social media that hydroxychloroquine and vicks (mentholated topical ointment) are useful in treating Covid-19. I have since purchased vicks but (I) am yet to get the drug as most pharmacies are telling me that it is out of stock," said Mai Tadiwanashe as she frantically searched for the medication in town.
Mentholated topical creams or ointments are normally used to relieve minor medical conditions that temporarily impair breathing, including the common cold.
In some instances, the creams or ointments are used for steaming, where they are vaporised in hot water and inhaled.
However, the World Health Organisation (WHO) and local health authorities have been warning that no cure or vaccine for the virus has been found yet.
"There is no proven cure for Covid-19 yet. Chloroquine and hydroxychloroquine have always been there to treat other ailments. People should desist from taking medicine without a doctor's prescription, it is dangerous and it has serious consequences and effects," said Chief Co-ordinator for the National Response to Covid-19 in the Office of the President and Cabinet, Dr Agnes Mahomva.
According to health experts, chloroquine and derivatives such as hydroxychloroquine have been used for decades as cheap and safe drugs against malaria, although their effectiveness in this field is now undermined by growing parasite resistance.
Dr Mahomva said: "If someone is Covid-19 positive and is asymptomatic, they should just stay home and self-isolate, wash hands and wear their mask properly. If there are severe symptoms, a doctor should prescribe medicine for them considering their condition and continue to monitor the patient.
"Hydroxychloroquine has been tried in some researches and that process will be tried throughout until a cure is found."
As scientists scramble to find a vaccine, citizens remain anxious for treatments of the highly contagious virus. The use of traditional medicines and plants such as garlic, ginger, lemons, oranges, moringa and zumbani has become common.
While these are known to boost the immune system, they nonetheless do not cure the virus or prevent one from getting it.
Instead, health experts continue to encourage social distancing, hand sanitising and self-isolation as best preventive measures.
" . . . take the usual medication — your cough syrups, paracetamol (for pain and temperature), vicks (to clear the nose) — that you use all the time when you have flu or colds. In the case with diet, lemons, garlic, etcetera only help to boost your immune system but again it is not a cure. Take more fluids and eat what you always had on your diet in the past," explains Dr Mahomva.
Demand
The rising demand for these rumoured therapeutics has led to an increase in prices.
Our investigations confirmed last week that chloroquine, which had previously been banned and replaced by a much stronger combination of chloroquine and sulfadoxine–pyrimethamine, has since resurfaced on the black market.
Pharmaceutical Society of Zimbabwe president Mr Portifa Mwendera said there has been a noticeable increase in the demand for both chloroquine and hydroxychloroquine.
"Pharmaceuticals around the country have reported that there has been a spike of patients coming in asking for the drug. You would notice that two in every five patients will be asking for chloroquine in a pharmacy," he said.
He, however, urged people to desist from taking medicines that are not approved and licensed for Covid-19.
"In light of the paucity of literature in support of chloroquine and hydroxychloroquine for the treatment and prevention of Covid-19, as well as safety concerns from potential abuse, our society discourages off-label use of chloroquine until conclusive research is finalised.
"It is our expert opinion that health professionals should wait for availability of studies with stronger research designs before recommending any treatment for Covid-19," said Mr Mwendera.
Dr Alice Munanaire, a pharmacist who runs several pharmacies in the capital Harare, said chloroquine sales and use are largely illegal.
"Chloroquine has always been on sale informally in Africa. Its uses, however, are often not for the good but abortions or suicide," she said.
One backstreet "pharmacy" owner in downtown Harare confirmed that the drug was selling like hot cakes.
"Prices have gone up and the stock is not lasting," he said.
A box containing six chloroquine pills is being sold for US$6 on the informal market, which is three times higher than the normal price.
Sadly, some people are now manufacturing counterfeit drugs to capitalise on the craze.
Dangers
Epidemiologist Dr Francis Benson reckons pseudo-scientific cures pose a real threat to public health.
"No scientific evidence supports the claim that homeopathy (using natural substances as a cure) has curative properties. Relying on unproven treatments without the assistance of conventional medicine can put a person's health at risk," notes Dr Benson.
Popular treatments like hydroxychloroquine, he adds, can be dangerous if overdosed.
In March this year, United States of America president Donald Trump described chloroquine as a "gift from God".
However, the comment sparked strident criticism.
Brazil's president Jair Bolsonaro has been touting the drug.
Health watchdogs have issued calls for caution until larger clinical trials are carried out. But, chloroquine has been used in the fight against the coronavirus in many African countries.
Burkina Faso, Cameroon and South Africa have swiftly authorised hospitals to treat patients with the drug.
It is estimated that half of the infected people in Senegal are already being prescribed hydroxychloroquine.
In Congo, they are producing the drug in industrial quantities.
South Africa has said it will join a large-scale trial, and one of the country's biggest pharmaceutical companies has promised to donate half-a-million pills to health authorities.
Chloroquine was developed in 1934 as a synthetic derivative of quinine.
By last week, the number of confirmed Covid-19 global infections had risen to more than 20,9 million, with deaths totalling 756 000.
Of the total cases, there were 13 million recoveries.
Zimbabwe has not been spared.
Cases rose past 5 000 last week as the death toll jumped to more than 128.
Active cases stood at more than 2 900.
The shift of the winter season to the Southern Hemisphere has resulted in an exponential increase in infections in Africa.
As at August 13, total cases on the continent were 1,07 million, with 24 282 deaths, of which 11 010 fatalities were from neighbouring South Africa alone, which has become one of the major hotspots in the world.
Ten countries — South Africa, Nigeria, Ghana, Algeria,  Kenya, Ethiopia, Cameroon, Côte d'Ivoire, Madagascar and Senegal — account for 89 percent (802 414) of all reported Covid-19 cases.