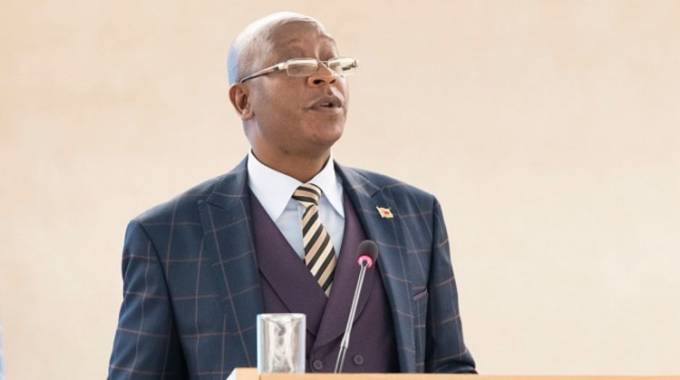 The Sunday Mail
Sharon Munjenjema
As the Ninth Parliament knuckles down to business on Tuesday, Government will give precedence to legislation that empowers it to lay foundations for a moderately prosperous economy by 2030.
A total of 27 Bills will be tabled before Parliament in the current Session.
It is believed that Government is presently seized with drafting two key pieces of legislation – the Zimbabwe Investment Development Agency (ZIDA) Bill, which intends to create a one-stop-shop investment centre; and the Provincial and Metropolitan Councils Bill, which is calculated to smoothen the devolution of power from central Government.
Justice, Legal and Parliamentary Affairs Minister Ziyambi Ziyambi told The Sunday Mail in a recent interview that priority will be given to legislation that speaks to economic development.
"These Bills are creating an enabling legislative environment that allows for the Vision 2030 goal to be realised.
"We are treating them as a matter of urgency.
"The thrust of what we are doing is to create an environment where capital feels safe in Zimbabwe. An environment where there is rule of law," he said.
"The Constitution stipulates that to give effect to these provincial councils (under devolution), legislation must be enacted. So that is top priority because the work of provincial councils cannot start without that Bill having been put in place."
The Rural District Council Bill, which intends to give rural councils greater autonomy in line with the thrust to devolve power, will also be prioritised.
It is also envisaged that ZIDA will give rise to an efficient and effective institution that is similar to the Rwanda Development Board, which enables the ease of doing business.
Added Min Ziyambi: "This (ZIDA) Bill is one of the most important in terms of ease of doing business because it will bring together immigration, Zimra, companies and deeds registry, so that when somebody wants to come and invest in Zimbabwe, they get everything under one roof."
Some of the key pieces of legislation that will also be given precedence include the new Companies and Business Entities Bill – designed to overhaul the Companies Act enacted in 1951 – and the Gold Trade Bill, which is meant to reduce leakages in gold trade.
Further, the Public Finance and Management Bill is expected to facilitate the allocation of adequate resources and basic services for economic development at local level.
Minister Ziyambi said it is possible for the 27 Bills to sail through in time as the current management system adopted by Government makes it possible to work efficiently and effectively.
"The moment we put up something as a deliverable within 100 days, I am answerable to Cabinet and the people of Zimbabwe. We are now assessed on the basis of the performance indicators we put forward. We will have our work plan there," he explained.
Early this year, Parliament also adopted an electronic attendance register, which is expected to ensure that Members of Parliament discharge their duties diligently.