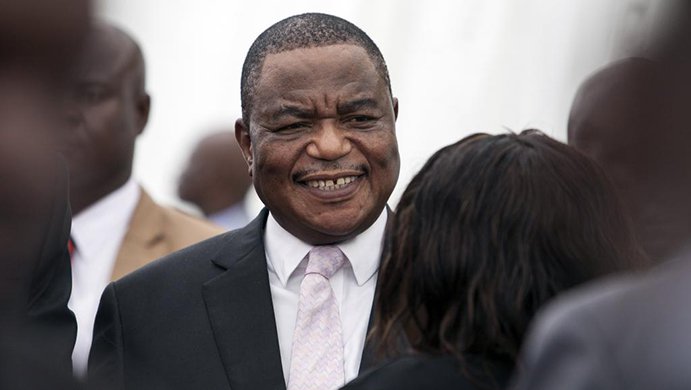 The Sunday Mail
Here we publish excepts of remarks made by the Honourable Vice President of the Republic of Zimbabwe, General Constantino Chiwenga (Retired), during the Youth Interface Rally at Mkoba Stadium in Gweru on 31 May, 2018.
****
Your Excellency, my main task is to introduce the Guest of Honour at this gathering, which has come at a time when our revolutionary party, Zanu-PF, like all other registered political parties in the country, is preparing itself for an election season that is already upon us.
However, allow me to take a few moments to share some thoughts with our youths, the vanguard of our party, the people's party.
Dear Comrades,
As I look around and cast my eyes near and far, I get the impression that indeed, people will come and go as individuals, but the revolutionary party, Zanu-PF, shall endure and enjoy institutional eternity. All of us need no reminding that our able and visionary leader, Comrade E. D. Mnangagwa, was once a vibrant and firebrand youth like most of you today, who left this country for Zambia, in utter protest against the discriminating, disempowering and skewed policies of the Rhodesian minority regime.
Young Emmerson would then exude his prowess in leadership and scale the ladders to lead the youth wing of UNIP.
His youthful story takes us back to troubled Rhodesia, where he eventually gets charged for bombing a train in Fort Victoria, now Masvingo.
That young man remained dedicated and inspired to serve his country, including giving up his own life and only getting spared from the gallows by dint of age. He was not alone in that spirited fight for what was rightfully theirs, our land.
Such was the spirit, determination and will power then, by our youths in those days, to make a contribution towards correcting the wrongs of the day. Like the young Emmerson Dambudzo then, most of us courageously left this country to wage the war to liberate our beloved country at tender ages, as young as sixteen. Admittedly, there are some, who were even younger than that, who were harboured in various bases, performing various complementary tasks, whilst awaiting their readiness to stand the fog of war and rigours of the battlefield.
We wanted political freedom then, and fought to get it. Our leaders provided the strategic framework of things and we schemed the tactical application of those strategies, in order to defeat the enemy. This was aptly summed up by the late Mandela, when he stated: ". . .the youths are capable, when aroused, of bringing down the towers of oppression and raising the banners of freedom. . ."
The War of Liberation was successfully waged and prosecuted with the youths as our gallant foot soldiers. It was largely a political war of yesteryear. Today, we face a different kind of war that is amorphous and largely asymmetric.
It is an economic war, a war to safeguard our land and rich resource endowments. This war is characterised by vices such as corruption, greed and self-centredness. With you as the vanguard as well as backbone of our party and repositories of our future, nothing can stop us from attaining economic freedom, just like your brothers and sisters of yesteryear guaranteed our political independence.
My point, comrades, is that it is through the youth component that our party can effectively propagate its ideology, execute our manifesto and live the party constitution to the letter and spirit in prosecuting this current war.
By extension, you, the youths, perpetuate our party values and corporate identity, through deed and word. I agree with the late Elvis Presley, who stated that values are like fingerprints, you leave them on everything you touch.
I therefore urge all of you to always express Zanu-PF values that include respect, unity, hard work and freedom. Respect demands from us that we religiously observe the dictates of our own constitution, itself our bible from which we preach the Zanu-PF gospel. Let us respect our people and our leaders, from the cell/village level to national. Indeed, our youths should show respect even beyond party hierarchy, and this includes in the family, social, civic and traditional circles. We need unity as it is the chord that binds us as brothers and sisters, in the Zanu-PF family and generally as Zimbabweans.
We are a hardworking people and this should be perpetuated from generation to generation, the Zanu-PF way. Our people should be able to exercise their freedom and enjoy the fruits of our independence.
It is incumbent upon you, the youths, to guarantee that freedom within the confines of both our national and party constitutions.
The last eighteen years have been the most difficult for us, economically. As such, the new dispensation, under the visionary leadership of His Excellency, Comrade E. D. Mnangagwa, is committed to re-building our economy and country to regain its bread basket of Southern Africa' status.
That is achievable, dear comrades. Our President has already enunciated that we shall be a middle-income economy by year 2030. We have already started to create the right environment for economic development by removing some of the policy impediments that discouraged investors. Equally, a raft of measures has been introduced to create an environment that is friendly for investors, including declaring a zero tolerance on corruption.
We are sure to create more jobs and raise the standards of living of our people, particularly the youths. Surely, we cannot boast of having the highest literacy levels and ironically fail to create jobs for our people. I kindly ask you to be patient, give us time and the issue of unemployment shall be duly addressed. The vision of our President, which we should all articulate, seeks to build a sustainable economy that will not only benefit the current but also future generations.
Comrades, as the election season is upon us, we should remain respectful, loyal and serve our people well. The people are the custodians of our political power and we need to shun any violence or arrogance against them. We believe in our youths and it is even more refreshing to note that you believe in us, your leadership. The youths comprise a crucial wing of our revolutionary party and therefore we take you to be our cutting edge and sustainable competitive advantage. I challenge you to live up to that expectation.
Comrades and friends, the new leadership has brought a sense of renewal in the party, to date. There is a new political order that is characterised by discipline, humility, unity, and hard work, the spirit of forgiveness and reconciliation as well as respect for humanity through ubuntuism. Let us join hands and build our great nation together, comrades.
The immediate challenge is to campaign vigorously to win the people's trust and confidence, and with it the impending general elections.
I commit to you that everything will be alright in the end. Like one scholar once commented, ". . .if it is not yet alright, then it is not yet the end…"
Our country needs us to work for it with honesty and integrity. Our people are hopeful that we deliver for them. Our party obligates us to deliver selfless service, for the collective good. Let us shun corruption.
Let us be patient with our policies. Let us be exemplary in our conduct. Let us be Zanu-PF inside out.
Comrades and friends, these values are embodied in the long and arduous journey that our visionary leader Cde E. D. Mnangagwa traversed, since his birth on 15 September 1942, in Chief Mapanzure's area, Zvishavane.
Who needs to be reminded of the patience, focus, and exemplary discipline that His Excellency displayed throughout the two years that he was under immense verbal and emotional attack, including from some he took for kith and kin?
Are we not surprised that with all the attributes of a distinguished fighter and leader, he remains humble to the core? This is what we expect from a disciplined body of focused cadres, like yourselves. Fellow Zimbabweans, comrades and friends, the destiny of our beloved country is in our loyal and patriotic hands, let us secure it!
Long Live Zimbabwe! Long Live Zanu-PF! Long live our youths! Long live our future!