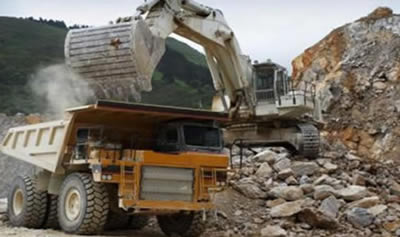 The Sunday Mail
Harmony Agere recently in Zvishavane
Script writers of even the most violent films in Hollywood would lick their lips with impish glee at some of the ghastly scenes of violence unfolding in Zvishavane following the re-opening of Sabi Gold Mine.
During the closure of the mine in the past three years, amakorokoza had a free feign as they wantonly carried out their illegal activities in the gold rich area.
However, the re-opening of the mine has seen the illegal gold panners playing cat-and-mouse games with security officers, in battles that have left the latter at the receiving end of unprecedented attacks by the bloodthirsty amakorokoza.
Ongoing fights for control of gold deposits between rival illegal mining gangs at Sabi Gold Mine in Zvishavane leave at least one person dead and a dozen injured every month, according to residents in the settlement.
The brutal "gold wars", which are often fought with improvised explosives, machetes and catapults started about three years ago after hoodlums invaded the mine following its closure. While official figures stands at 10 people during this period, it is believed that the number of fatalities is actually higher than officially recorded. "We cannot confirm some of those figures because the ones we have, those which have been confirmed by the police, show that 10 people died in the period we were closed," managing director of Chandiwana Mines, Mr Brian Chandiwana said. "This was a result of accidents as well as fights amongst the illegal miners themselves. Yes, the figure might be higher but we only speak of the official ones. However, the police are now on the ground and they are doing a great job."
Mr Chandiwana said three of their security details were lucky to escape with injuries after illegal miners set explosives on them.
However, it is in the community where the pain of the gang wars is elaborately felt.  The illegal miners, notoriously nicknamed Mashurugwi or amakorokoza, walk in large numbers terrorising people during their "off" periods.
The youths are barely 25 years of age and it is alleged that they rob and sometimes rape women during their movements. Mr Aleck Vushe of Mazvihwa whose 28-year-old son was murdered by alleged illegal miners about a week ago said the area had become dangerous for young men.
Mr Vushe told the story of how his son, Brian, suffered a cruel death at the hands of the cold-hearted amakorokoza. The visibly shaken Mr Vushe said it was the manner in which the killings are done that is terrifying.  "I am a tormented man, only last week my son was killed in a manner that I cannot describe," he said. "They murdered him ruthlessly, they chopped him with machetes all over the body such that his limps were dangling when he was put in the coffin."
Mr Vushe said his son had at least 10 machete cuts all over his body. He adds that the killers targeted knees, elbows and the head. Brian, who was believed to be part of a rival gang, also suffered serious injuries from unidentified explosives. "The explanation that we got is that these boys attacked Brian over an unclear dispute," he said. "He was coming from his uncle's place and the boys were going to the mine when they met. A dispute followed and they started chasing him. They were many of them, about 35 people, so he fled into Save River and took cover there. When he got into the river they started throwing explosives into the river."
Mr Vushe said after somehow surviving the explosives, his son managed to climb a nearby tree where his assailants threw sharp objects at him until he fell down. "They then started stroking him with machetes before throwing his body, tied with stones, back into the river."
Brian's body was recovered by divers after a police report had been made. About five suspects have since been arrested in connection with the case and Mr Vushe said the offenders will have to "beg for mercy" from Brian. "But let me tell you this, his spirit will not rest until he avenges those who killed him. They and their kinsmen will line up here begging for mercy when the time comes."
Brian left behind two young children and a wife. Other people in the community narrated how they were victimised by bands of illegal miners.
Some have had groceries, money and even clothes taken from them while others were given thorough beatings for no apparent reason. They said the syndicates appear to be organised and are sponsored by "big fish" who benefit from the illegally mined gold.
A security guard at Sabi Gold Mine also told of how he was attacked by a gang of the violent gold panners. "I caught them working in the mine and when I tried to run after them, they threw explosives at me. My leg was injured during the incident and I have not been able to return to work since then."
Reports also indicate that the so-called gang lords supply the illegal miners with food, equipment, explosives and machetes which are being imported from Mozambique. How the explosive are being sourced remains a mystery.
Chief Mazvihwa says there are plans for traditional rituals to cleanse the mine and the community at large as there are many people who died in the shafts, some whose bodies have not been retrieved yet.
Violent battles over gold claims have been witnessed in gold mining communities across the country. Sabi Mine was re-opened early this year having closed down in 2014 due to debt and capital distress. The asset's judicial manager, Dr Wesley Sibanda, said illegal miners are compromising revival efforts adding that they had become a danger to mine workers.
"We have had the problem for a while now," he said. "Their activities disturb ours, they clash with our workers and mostly they clash within themselves. But we are working with the police and community leaders to ensure that the problem is solved and the situation is improving."
The illegal miners are said to have mastered a maze of tunnels which run under the mine where they steal ore with ease.
This is not the first time clashes over gold claims have happened in the country. Late last year, a Qulisani Moyo from Matebeleland South, died after his right foot was chopped off in a fight over a mining claim in Filabusi.
Another gold panner from Lower Gweru was killed after fellow miners allegedly stabbed him over gold in July last year and eight gold panners from Mberengwa were injured after they were assaulted with machetes by rival panners.
Also last year, Redwing Mine security guards shot a suspected gold panner in Penhalonga, Manicaland.