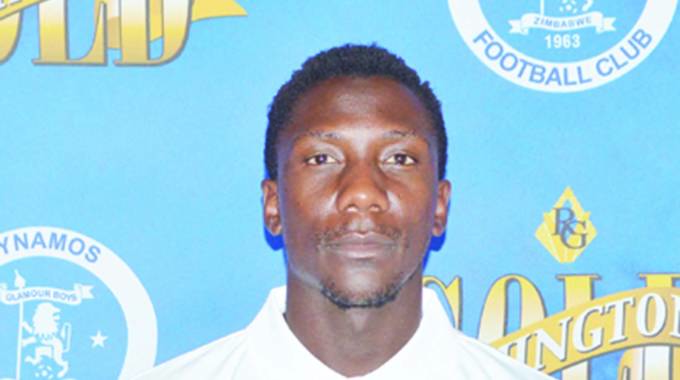 The Sunday Mail
Langton Nyakwenda
Sports Reporter
IT IS a township known for tragic stories that usually grab media headlines.
Tucked in the bushy area of Victoria Falls, Chinotimba township is home to about 60 000 people mainly of Nambya and Tonga extraction.
The township recently made headlines when a 60-year-old man, William Mavesere, was fatally trampled by elephants on his way back from work.
School children in this area are vulnerable to animal attacks and cases of human-wildlife conflict are a constant headache for authorities.
This is the environment that Taimon Mvula grew up in until football plucked him and took him to the capital Harare via the coalmining town of Hwange.
The 28-year-old Dynamos goalkeeper, arguably one of the most trusted goalminders in the Premier Soccer League today, hails from Chinotimba township.
It is the same township that gave Zimbabwe a prominent afro-fusion band called Mokoomba.
Mvula, who began his football career at junior level in Victoria Falls before moving to Hwange, has seen his profile soar in the last two years.
After impressing for relegated Hwange in 2019, he won the admiration of Dynamos, who subsequently signed him in January 2020.
And after a training match between Dynamos and the Warriors, who were preparing for the 2021 African Nations Championships, he caught the eye of national team selectors and was drafted into the squad.
He then made his debut in the World Cup qualifiers when he kept goal in Zimbabwe's final group game against Ethiopia, which ended 1-1 at the National Sports Stadium on November 14.
He credits Dynamos for providing him the platform to excel.
"I owe it all to Dynamos," Mvula told The Sunday Mail Sport.
"I don't know what to say, the rise has been phenomenal, but I also have to thank God. It's not easy to be in the national team, later on making a debut in a World Cup qualifier.
"I want to thank the Dynamos technical team for believing in me, also national teach coach Norman Mapeza and the rest of the Warriors technical team.
"It was a huge experience, the biggest achievement in my life because I know there are a lot of good keepers out there who are even better than me.
"But in life it's all about chances."
With 10 clean sheets in Dynamos' 13 matches, 12 in the Chibuku Super Cup and one in the 2021/2022 Castle League opener against Yadah Stars, Mvula has become the backbone of a DeMbare rear-guard that could form the basis of their campaign for the league championship.
Dynamos have not won the championship since 2014, which ironically was the last season for their trailblazing coach Kalisto Pasuwa.
The Harare giants play Triangle at Gibbo Stadium this afternoon in their second match of the marathon.
And Mvula says he has put behind the disappointment of last weekend's 0-1 defeat to FC Platinum in the Chibuku Super Cup semi-final.
He was largely blamed for conceding from a set piece that gave the miners the winner.
Not surprisingly, he became the victim of targeted social media attacks for failing to deal with Innocent Mucheneka's long-range free-kick.
"I was deeply hurt but it's one of those days. It was meant to be.
"I know I could have done better to save that shot but nothing changes now. I just have to focus on the next game against Triangle because if I keep that in my mind, it will affect me negatively."
DeMbare will be banking on a solid defence that has been well marshalled by skipper Partson Jaure when they play Taurai Mangwiro's unpredictable Triangle.
Jaure's twin centre-back Frank Makarati has also been the unsung hero at DeMbare, whose regular back-four also features the roving Emmanuel Jalai and Godknows Murwira.
DeMbare have, however, not won against Triangle at Gibbo in the league for the last three seasons.
The last time they came out victorious, they edged the "Sugar Sugar Boys" 1-0 on November 20, 2016.
But Tonderai Ndiraya's largely youthful side could fancy their chances of breaking the Gibbo jinx.
They have mastered the art of grinding out results even when not at their fluid best.
"It's (clean sheets) not all about Taimon. Yes, I am happy with my performances but I give credit to my teammates because we defend as a team," said Mvula.
He began his career at junior level at a Victoria Falls-based team called Super Eagles and some of his teammates included Gift Mbweti, who also went on to play for Hwange before moving to FC Platinum, and Sipho Ndlovu, formerly with Chicken Inn but now at Bulawayo Chiefs.
Mvula is the son of a former National Railways of Zimbabwe employee who also tried his hand at refereeing and his mother was a chef at a restaurant in the resort town.
Both his parents are late.
"The houses we grew up in were sometimes referred to as the railway houses, but we used to say ema railways, a place of talents.
"I usually go back there when there is no football. But soon I will be a full resident of Hwange because I want to build my house there.
"That's where I can afford."
Dynamos players are now some of the best paid in the league, thanks to a lucrative sponsorship deal between the club and Sakunda Holdings.
"It was always my wish to play for Dynamos; they are a big club and almost everyone wants to play for a big team.
"Life has changed, the atmosphere is different from that at my previous club Hwange, because Dynamos is a winning team.
"Dynamos is a big brand, there is no time to relax. It's all about results and if you don't perform, they will drop you; that's the culture of a big team," he said.
They might be languishing in the lower league following their relegation from the top-flight in 2019, but Hwange have always had a tradition of producing top-notch goalkeepers.
From the legendary Posani Sibanda, Chenjerai Dube, Timothy Sibanda, Petros Mhari, Witness Mnkuli and now Mvula, the colliery has been a conveyor belt of trusted goalkeepers.
Another good goalkeeper is in the making in the form of Joseph Kaunda, who is part of the national Under-17 squad.
"Hwange is just a blessed town in terms of goalkeepers," Mvula says.
He won the 2018 Southern Region Division One Goalkeeper of the Year after keeping 21 clean sheets for Hwange.
The side returned to the Premiership in 2019 and Mvula impressed in both matches against Dynamos, especially when Chipangano stunned Dynamos 2-1 at Rufaro Stadium in the second week of the season.
That was the beginning of his dance with the country's biggest team.
But Mvula says he will forever cherish his childhood and he will always remember his close relatives who took care of him when his parents died.
"My parents died when I was still young and my aunt, Thandiwe Nyerukwa, accepted me into her house.
"I also owe a lot to Zibonele Ncube, the Chinotimba school teacher who discovered my talent. May the Lord bless them in whatever they do in life!"
In a season in which they are looking at stemming FC Platinum's dominance, DeMbare will no doubt be praying that Mvula not only maintains his form but has an injury-free season as well.