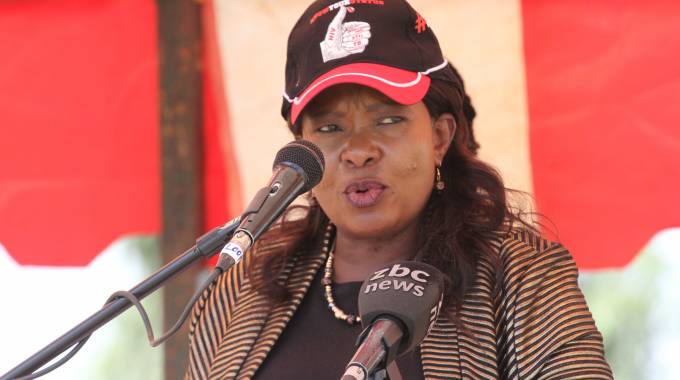 The Sunday Mail
Lincoln Towindo
First Lady Amai Auxillia Mnangagwa says pharmaceutical industry regulators should tighten their surveillance and monitoring systems to protect patients from fake medicines.
At the 30th World Aids Day commemorations at Rujeko Secondary School in Glendale yesterday, the First Lady also said individuals who rushed to make untested claims about herbal or spiritual cures should be exposed.
Her intervention follows recent claims by Prophetic Healing and Deliverance Ministries leader, Mr Walter Magaya, that he had discovered a cure for HIV and Aids, albeit without following requisite procedures.
He later recanted the claims, before being arrested for allegedly contravening the Medicines and Allied Substances Act, which criminalises distribution and misleading advertisement of medicines.
This year's World Aids Day was themed "Know Your Status".
With reference to the UNAids 90-90-90 strategy, Amai Mnangagwa said Zimbabwe had made huge strides in curbing the spread of HIV through its antiretroviral treatment programme.
The strategy refers to the three targets of diagnosing 90 percent of all HIV-positive persons, provide ART to 90 percent of those diagnosed, and achieve viral suppression for 90 percent of those treated by 2020.
The First Lady said: "A robust campaign for people to know their status will have to be backed by a strong ART delivery package in line with the Test-and-Treat Approach to ensure that HIV positive people receive immediate treatment.
"Availability of treatment has been one of the major ways we have addressed stigma. With nearly 1,2 million people on ARV treatment, our coverage towards the second 90 is at 87 percent, while viral load suppression is also at 87 percent.
"We need to push and revolutionise ART delivery, with emphasis on community-based initiatives in order to score even highly in the fast-track targets.
"Let me stress that ARVs are the only known method for reversing AIDS and suppressing viral load. As such, I would like to call on health and drug watch dog institutions to remain vigilant against any people who make unscientific claims about any herbal or spiritual discoveries of Aids treatment."
Amai Mnangagwa said voluntary HIV testing should be vigorously pursued while prevention of mother-to-child transmission must be scaled up.
"As we commemorate World Aids Day, we need to think about ways in which we can promote uptake of testing for HIV and screening for other sexually transmitted infections, cancers and tuberculosis," she said.
"We need to vigorously promote HIV testing particularly among pregnant women, youths, adolescent girls and young women, sex workers, and other hard to reach key populations."
The First Lady continued: "As a mother, I cannot bring myself to accept that a child can be born with HIV just because the mother refused or did not get an opportunity to get tested for HIV to prevent her child from being born with the virus.
"Let's pause for a moment and ask ourselves what we want for our children and nation? We can put a stop to that as a nation and no child ever again should be born with HIV."
Health and Child Care Minister Dr Obadiah Moyo weighed in saying those who claim to have found the cure for HIV and Aids should submit their products for testing.
"My ministry will always demand that correct scientific procedure be followed in determining the treatment potential and effectiveness of herbal remedies in managing HIV and Aids.
"This is an area where solid evidence is required to ensure that we do not unnecessarily risk the lives of our people who are already stable on antiretroviral therapy.
"I am therefore calling upon all those that believe they have found the treatment for HIV to link up with researchers to authenticate their claims, through laid down procedures and examinations, which guarantee protection of people."
Dr Moyo said Government would begin promoting use of self-test kits, while pre and post-exposure prophylaxis drugs would be made readily available.