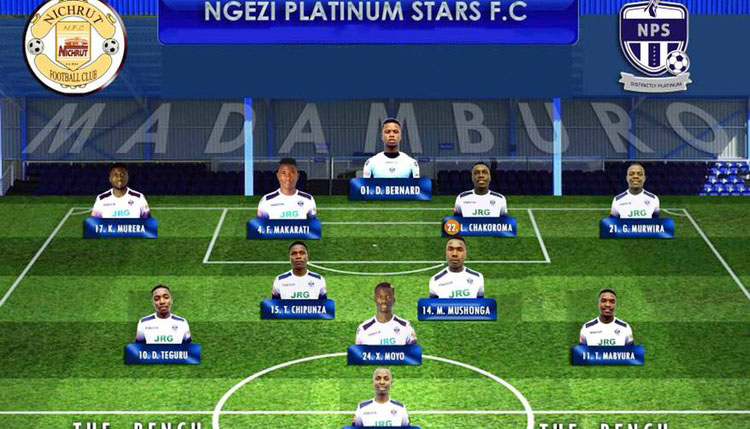 The Sunday Mail
AS Tonderai Ndiraya braces for his 60th league game in charge of Ngezi Platinum Stars this afternoon, his scientific approach to the game cannot escape the eye.
There is something special about the Mhondoro side's storming start to the 2018 Castle Lager Premier Soccer League.
Ngezi Platinum Stars play Shabanie Mine at Maglas this afternoon on the back of five straight wins and five clean sheets – one of the best starts by any club since the inception of Premiership football 26 years ago.
Last weekend Madamburo extended their unbeaten run at their home ground Baobab to 26 matches after a last minute 1-0 win over Chicken Inn.
In total Ndiraya has now taken charge of 59 league matches, winning 33, drawing 14 and losing 12.
He has amassed 113 out of a possible 179 which translates to a 63,8 percent success rate since joining Ngezi Platinum Stars on June 16, 2016.
Mean machine
"Discipline in and outside the field, a strong belief as well as hard work has taken the team to where it is today," Ndiraya told The Sunday Mail Sports in a wide-ranging interview during the week.
After finishing third last season the 40-year old Ndiraya has been tasked with bringing the 2018 Castle Lager Premier Soccer League title to Mhondoro.
His team has made no secret of their mission this term – five wins, 15 points, seven goals and five clean sheets in 472 minutes of football.
But Ndiraya, as cool as ever, refuses to blow his own trumpet, noting that it early days yet and that success in football is a team effort.
"These are early times. A rough and bumpy road lies ahead," he cautiously says.
The irresistible Caps United of 2004, which lost once en route to the club's third ever league championship, won their first nine league games before being held to a 0-0 draw by Kwekwe Cables.
In 2006, eventual champions Highlanders won 10 straight games at the start of the season but were stopped by Motor Action in Week 11.
Joey Antipas then guided Motor Action to five consecutive wins at the beginning of 2010, as the now defunct Mighty Bulls cruised to their first and only league title.
Whereas the Caps United side of 2004 conceded four times in their first five games, Highlanders three in 2006 and Motor Action once in 2010, Ndiraya's Ngezi are yet to concede in their opening five games.
And it's not a coincidence.
Ndiraya has built mean machine and science is at the centre of it all.
They have gone scientific at red-hot Ngezi Platinum Stars where team analyst Calvin Mavhunga, an Information Technology (IT) expert and statistician, has become a critical member of Ndiraya's backroom staff.
Video analysis of previous games are conducted during the week and individual player performances are monitored through a sophisticated performance tracking system.
Through professional spying, opponents are also studied to such an extent that the shoe size, height and weight of the opponent's danger man are all recorded.
"I can't imagine football without science and technology. It's as good as driving a car without a dashboard," said Mavhunga.
"Without a dashboard you wouldn't know how fast you are going, or how far you have driven, or possibly how much fuel you need in your tank."
Nutrition is also key at the club.
The Ngezi players were served grilled pork chop, rice and French salad before last Wednesday afternoon's training session as instructed by the team's dietician.
They players will most likely eat pasta and white meat two hours before they take to the pitch at Maglas.
"Nutritional value is very important. You need to establish as a chef what kind of food has an effect on the performance of players," said the team's chef Munyaradzi Denhere.
"There are different kinds of dishes that are served to players depending on whether they are preparing for a match, or they want to go for training.
"Usually on match days we serve pasta. Why? Because it's easy to digest. Mostly it's spaghetti and white meat especially chicken at least two hours before the game."
Sports science
With the scientific and nutritional angles covered Ndiraya says he can fully concentrate on the tactical side of                          things.
"It's the right thing to have all these people in a club structure. That's modern football for you," said Ndiraya who is a holder of a degree in sports science.
"The performance of players and the team in general cannot be measured by naked eyes. There is need for all progressive coaches to embrace sports science.
"It is the right thing to do and it is the way to go. Whilst resources may limit us in embracing sports science the big question is are we as clubs prepared to embrace it?"
This season Ndiraya has departed a bit from his favoured 3-4-3 formation to a back four that usually consists of skipper Liberty Chakoroma, new signing Frank Makarati, Keith Murera and the injured Godknows Murwira.
Former Dynamos star Tichaona Chipunza anchors the midfield with Tichaona Mabvura, Donald Teguru and Terrence Dzukamanja providing the width and pace upfront.
Having learnt a lot from Elvis "Chuchu" Chiweshe, Kallisto Pasuwa and David "Yogi" Mandigora during his time at Dynamos, Ndiraya's wish is to become a title winning gaffer.
"It is my wish to be as successful as all the coaches I have worked with. This year our target is to win the league title," said Ndiraya who has won the Chibuku Super Cup with Ngezi in 2015.