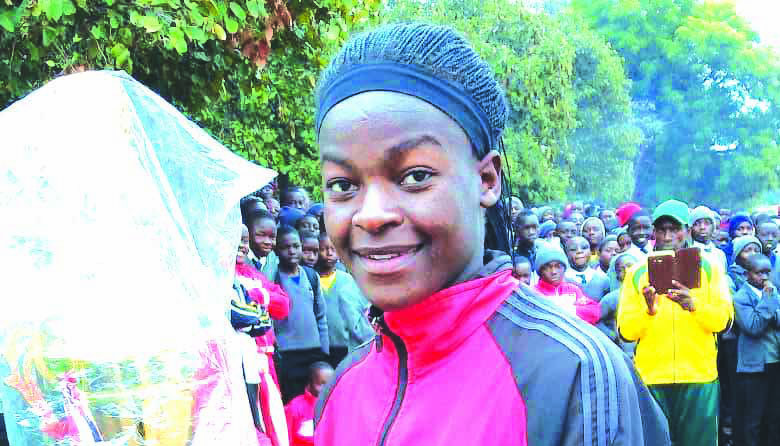 The Sunday Mail
Veronica Gwaze
WHEN Western philosopher Novoselic said "whenever history is in the making, there is some kind of intangible feeling", he must have foreseen the arrival of young Claris Kwaramba.
Zimbabwe's latest netball prodigy.
At the tender age of 18, Kwaramba has made an early jump into the Netball Gems outfit and currently has everyone eating from the palm of her hand.
She is also the national girls' 100m and 200m athletics champion, whose passion for netball started when she was in Grade Seven at Tsvingwe Primary in Mutare.
The young and deadly Wing Defender, who also turns out for Platinum queens, is expected to make her maiden appearance in national colours at the African Championships slated for August 13-18 in Zambia.
The Championships also serve as qualifiers for the 2019 World Cup finals in England.
Currently doing Upper Six at Pamushana High School, the Mutare born WD is aware of the mammoth task that lies ahead.
"I am so happy to be part of this team, as the youngest squad member, but I take that as a challenge to up my game and prove my worth, said Kwaramba.
For her, being part of the Gems is an opportunity to horn her craft on the court which she reckons as her passion.
"The recognition of being called into the squad means so much to me as it has given me an opportunity for personal encounters and to learn a lot from the older and experienced players, she said.
Kwaramba started her professional netball journey in 2017 at Mutare City before moving to Zvishavane where she joined Platinum Queens early this year.
Her inspiration came from Correctional Queens Goal Defender Felistas Kwangwa whom she had watched play during a holiday in Harare some years back.
"It feels like a dream to finally have a chance to play in the same team with her (Kwangwa)," said the 18-year-old.
"As someone I have always admired and who unknowingly motivated me to take netball seriously, it is an honour to play beside her" said Kwaramba.
Despite being in her final high school year, Kwaramba maintains that she is able to balance her studies and sporting side.
She is an Arts student and wishes to pursue a career in journalism upon finishing her education.
"Since Ordinary level, I taught myself to always be ahead with school work by converting some of my sleeping hours into extra study time so that I do not miss much when I'm training or have games.
"I believe in my strategy because it has paid off before and am sure it will pay off again as I take on my final exams in a few months' time," said the shy Gem.
As the Gems bank on her wing defending antics, Kwaramba vows to make history with her team in Zambia.
"When I came, I thought it would be difficult for me to adjust to the national team type of play but am happy I have settled in well and the camp is in high morale, training to the maximum as we gun for gold.
"As preparations come to the final stages, our strength as a team is on marking with our special focus being Uganda because it has internationally recognised players who could be a challenge to us.
"We need to be very tactful and maximise on every chance that come our way," she said.