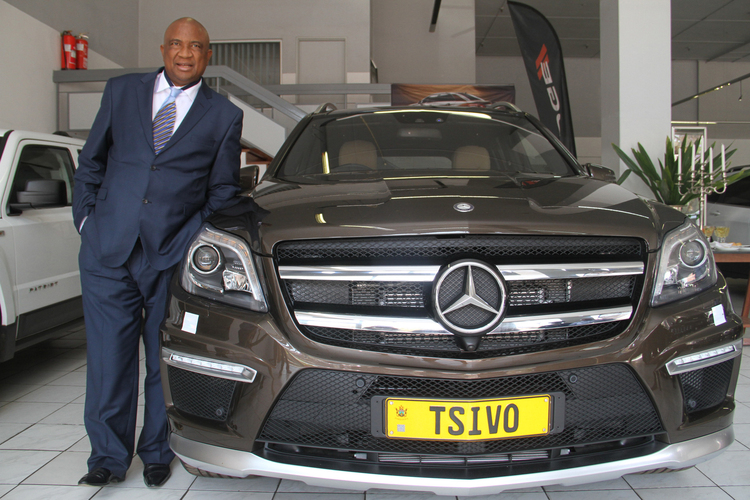 The Sunday Mail
Shout out to Mercedes AMG Petronas Formula One Team. All the best to Lewis Hamilton and Nico Rosberg in today's Singapore Grand Prix.
LIQUIDITY crunch is all we hear and read about these days.
Yet it seems there is no such vocabulary in Phillip Chiyangwa's world. "Everyday we are reading about money scandals in the Press involving executives and corporates. That is not news. Surely, someone must spend that money. It becomes news if you are not the one spending the money," he said last week.
I could not disagree with him. Money must be spent one way or the other.
They say money can't buy you happiness but surely money can buy you some wheels and those wheels will make you happy.
The GL63 AMG is the crème de la crème of Mercedes-Benz SUVs. Dr Phillip Chiyangwa took ownership of his seven-passenger 2014 Mercedes-Benz GL63 AMG, which was officially handed over to him by Zimoco on Wednesday last week.
It is the first one of its kind in the country. I know someone will argue and say it is not the first GL in the country, but it is the revered 2014 GL 63 AMG.
The figures "63" and the letters "AMG" make it the first, and if you ask me what makes it different, my answer is simple: Try Johnnie Walker Blue Whiskey for US$250 and Johnnie Walker Red Whiskey for less than US$20 and you will understand what the word "Premium" means.
Eish, just opening the door, the smell of the Artico leather sport seats with AMG badges will tell you what success and money smells like.
AMG is the Mercedes-Benz car tuner that has its own suspension systems, transmission systems and engines different from the standard Mercedes-Benz. In short, AMG builds performance Mercedes-Benz vehicles.
There is Mercedes-Benz and then there is Mercedes-Benz AMG. No disrespect to those who drive Mercedes-Benz but the truth of the matter is that the AMG brand separates the boys from the men.
AMG separates those that "wanna be" from those "that have arrived". AMG cars are no ordinary cars. Forgive me for hurting your feelings, but did you know that not anyone can just tour the AMG factory? Tours are only given to owners of AMG cars, or people with AMG cars on order. Only. Not even owners of your standard Mercedes-Benz vehicle can tour the factory. Be it the 2014 Mercedes-Benz S600 owner or GL500 owner, they cannot tour the factory. Only AMG owners and customers with cars on order! This makes this car pretty special.
Sorry, no offence. This one is not a vehicle for the faint-hearted and those who calculate how many kilometres they get from a litre of fuel.
The other day my friend Chamu Chiwanza and I taunted Dr Chiyangwa at his offices, saying that he had turned into a washed-up car junkie.
"Mdhara, mapera here? (Big Phil, are you broke these days?)" we asked him.
In response, he pulled out bank transfers showing us that he is still the "Big Phil" we know from back then in the day.
However, he refused to tell us what he had purchased from Germany and said it was a surprise.
And indeed it was a pleasant surprise.
Surely, with a top speed of 340 kilometres per hour, this is no ordinary engine. The GL63 AMG comes with a V8 bi-turbo engine that is handcrafted.
Yes, a handcrafted engine that is delicately and skilfully built by one man from start to finish and bears the signature of the technician that assembled it as a seal of unrivalled quality craftsmanship. AMG does not give away that seal with a technician's signature light heartedly.
AMG takes great pride in its engineers and calls them "the greatest technicians on the planet".
When was the last time you drove a car with someone's signature to personally guarantee the quality of his work? This is a product of AMG's "one man, one engine" principle. This engine is not assembled by robots but by the human hand. With AMG you drive your car knowing who exactly built your engine and these are some of the greatest technicians in the Mercedes-Benz AMG stable.
The new GL63 AMG 4MATIC that is now donning the "TSIVO" private plate is powered by an AMG 5.5 litre V8 biturbo engine, producing 557 horsepower and 760 Nm of torque.
The first Mercedes-Benz to be christened TSIVO was Phillip Chiyangwa's S600, which caused pretty much a stir when it arrived into the country. This "new guy in town" features AMG Speed-shift Plus 7G-Tronic. This advanced 7-speed automatic transmission offers three distinct driving modes: Controlled Efficiency (C), which uses ECO star/stop to maximise efficiency; Sport and Manual, which offer shorter shift times and quicker response.
0-100 kilometres per hour is a breathtaking 4,9 seconds.
It can also come to a complete standstill from a speed of 100 kilometres per hour in just 3,3 seconds. This is impressive for such a big and bulky SUV with a kerb weight of over two and a half tonnes.
Airmatic shocks, which costs nothing less than US$2 500 from ZIMOCO, put this car and its maintenance far from the reach of many.
Its air suspension is active.
Active air suspension basically means that this car can automatically lower itself at higher speeds.
There is something so distinct about the sound of the GL63 AMG that hints to you that what is under hood is the pinnacle of performance engineering by AMG that indeed separates the men from the boys. Desgined for comfort, the grandeur design of this GL will blow one away.
This SUV is engineered like no other and offers luxury fused with power.
360-degree cameras, night vision assist, temperature controlled cup holders to keep your drinks hot or cold, massaging seats and the list of luxury and other electronic gizmos in this car is endless. I know one might be tempted to rubbish the GL63 AMG in comparison to the Range Rover Sport and the Porche Cayennes of this world, but, trust me, the GL63 AMG is the wrong rival.
They would be better off compared to the GL550 standard Mercs.
Some Mercs just come from Germany but the Mercedes-Benz AMG comes from Affalterbach, Germany, the home of Mercedes-Benz supercars. If it's from Germany, you can be sure that it is superior engineering technology, unrivalled.