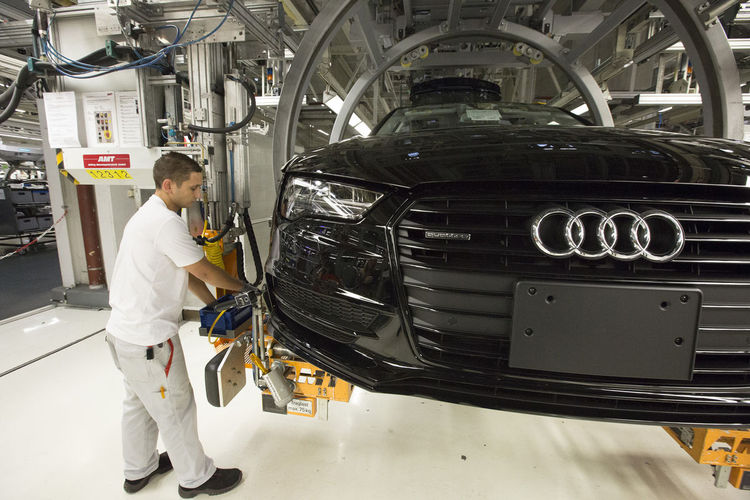 The Sunday Mail
AUDI will spend 24 billion euros (US$29 billion) to develop technology and expand production, boosting its five-year investment plan by 2 billion euros as it chases BMW for the top spot in luxury-car sales.
About 16,8 billion euros, or 70 percent of the total, is earmarked for new models like the Q1 sub-compact sport-utility vehicle, the Ingolstadt, Germany-based unit of Volkswagen AG (VOW) said recently in a statement.
Audi expects to sell a record of more than 1,7 million autos this year.
"We are making large investments in the innovative areas of electric mobility, connectivity and lightweight construction," chief executive officer Rupert Stadler said in the statement.
The brand intends to increase its line-up to 60 models by 2020 from 50.
Audi, the No. 2 in global luxury-car sales, aims to surpass BMW AG's namesake brand in deliveries by the end of the decade. The race tightened this year. BMW outsold Audi by just 42 600 cars in the first 11 months of 2014 compared with 54 600 a year earlier.
Audi's budget is part of Volkswagen's 85,6 billion-euro investment programme to beat Toyota Motor Corp. in global auto-industry sales.
Audi plans to spend the equivalent of 4,8 billion euros a year, an increase from the previous rolling five-year plan that called for investing 4,4 billion euros annually on new vehicles and expanding production capacity.
''Watchful Eye''
"Despite the growth in total investment, we will keep a watchful eye on the upcoming challenges and exercise the required cost discipline," chief financial officer Axel Strotbek said.
Audi, which already outsells BMW in China and Europe, is aiming to catch up in the U.S.
In November, it unveiled the Prologue concept car in Los Angeles to showcase a more aggressive design.
The company also plans an electric crossover for the U.S. in 2017 to challenge Tesla Motors Inc. and is building a factory in Mexico that will start building the Q5 SUV in 2016 for America.
BMW is seeking to fend off Audi and Mercedes-Benz, which also covets the top spot, with its own expansion, adding cars like the US$44 700 X4 coupe-like SUV and the US$135 700 i8 plug-in hybrid sports car.
Peugeot considers shifting HQ
Meanwhile, PSA Peugeot Citroen (UG) is considering shifting its headquarters away from a prestigious location near the Arc de Triomphe in Paris after 50 years as a cost-cutting push impacts executive ranks, people familiar with the matter said.
Most of the staff currently working at the site on the Avenue de le Grande Armee will leave Paris for a location in the suburb of Poissy, where Europe's second-biggest car maker has a factory, said the people, who asked not to be identified because the talks are private.
Chief executive officer Carlos Tavares presented the plan at a meeting of Peugeot's supervisory board recently, and unions will discuss the proposal in January (this month), the people said.
If approved, the move would take place progressively and be completed by the end of 2016.
"We've launched a study to evaluate several options to better manage our real estate assets and improve the working conditions of our employees" at the headquarters, said Jean-Baptiste Thomas, a Peugeot spokesman.
"No decision has been made yet."
The manufacturer, which posted a first-half profit for the first time in three years, is working to restore earnings after selling shares to the French government and China's Dongfeng Motor Corp. to raise cash.
Peugeot already sold the headquarters building for 245,5 million euros (US$306 million) in 2012.
At the time, Peugeot said it planned to lease back the facility for at least nine years.
The office, located about 700 meters (765 yards) from the Arc de Triomphe, provides space for about 1 500 employees, who perform functions including administration and finance, according to an internal document obtained by Bloomberg. It costs about 50 million euros a year in rent and operating expenses, according to one person.
For about 500 employees who won't go to the site in Poissy, a new headquarters would be found in the Paris region, one person said. — Bloomberg.