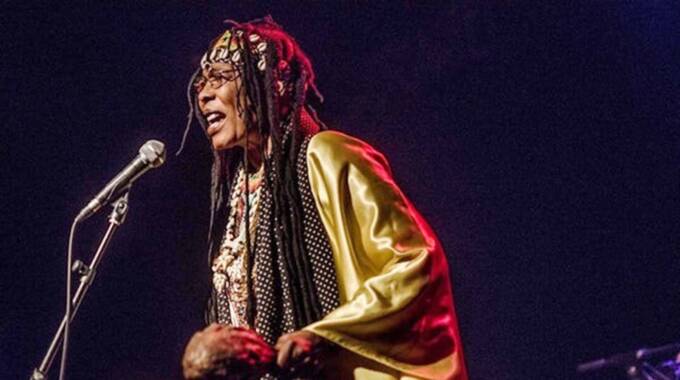 The Sunday Mail
Hope Masike
"RIMWEZVE dura reruzivo raenda,
Chimwezve chitubu cheruzivo chaenda,
Hwereshenga yedu, nyanzvi yedu yetsika nemagariro edu,
Muvaraidzi, munyaradzi, mudzidzisi wedu,
Rara zvako muzvinambiri wembira."
When we laid Ambuya Stella Chiweshe to rest in Nekati village, Masembura, Bindura, the loss was numbing.
Were we dreaming?
I kept recalling her deep traditional Shona chants at the Nyege Nyege Festival in Uganda, where she played solo mbira.
"Hoo izvi zvimhandara ndizvo mapfunde, mapfunde machena matauke. Hoo zvikomana ndizvo zvipfumo zvinobaya nzombe. Haa idzi harahwa ndidzo matehwe ehwai makukutu."
It was a song about the vibrancy of youth put against the senility of old age.
The audience could only watch in awe.
Switch over to her other magical performance at the unveiling of the Mbuya Nehanda statue in Harare. She deftly sang, "Yowerere pasi rinopinduka", while playing a hosho in her right hand.
She could be simple and intricate at the same time. Where others could have marked the occasion with lots of lyrics and instruments, Chiweshe's voice rose and gave the event the solemnity it deserved.
"Pasi panopinduka," she sang, indicating that we have the power of destiny in our hands to undo colonial domination.
We cannot talk about the history of music in Zimbabwe without mentioning Ambuya Chiweshe. With a career spanning over 40 years, she was the first woman to play mbira more publicly and even commercially. Tales of how she coerced elderly men to teach her how to play the mbira against norms is a story for another day.
Mbira was an instrument strictly to be played by men. Ambuya Chiweshe said she looked at the men playing mbira and discovered that they had 10 fingers just like hers. She was convinced she could also do it.
She opened up this area for us, and many women today, including myself, can now play mbira in public. We will never take her courage for granted.
Ambuya Chiweshe was also one of the first women in Zimbabwe to form and lead a band.
Although we never referred to her as Ambassador Chiweshe, she was an unflinching cultural ambassador for Zimbabwe.
At independence, when the international community still knew our country as Rhodesia, Mbuya Chiweshe — through her mbira and marimba music — was one of the prominent people who informed the world that the name was Zimbabwe.
She also informed them that we had many beautiful treasures such as mbira and enduring traditions.
When she sang "Chave Chimurenga!" you knew she could only be from Zimbabwe.
When she erupted into dance, you saw the meaning of rhythm. When she yodelled, you felt her voice was coming from many layers of our history.
A few years ago, just before the Covid-19 era, Mbuya Chiweshe asked us to gather women so she could conduct a workshop on cultural etiquette. We did exactly that and she conducted the workshop for free at the Theatre in the Park.
That night, she held a concert at the same venue. Towards the end, she asked the women in the audience to join her on stage.
We can write a long book on Ambuya Chiweshe's achievements in her career, and may lament her death for a lifetime. However, let us not forget to be thankful for a life well-lived.
The artiste was a gift to us as a nation.
She has finally gone to rest among her ancestors, whom she revered so much.
She passed away at the age of 66.
Let us not forget to thank Ambuya Chiweshe for dedicating her life to mbira.
Because of her outstanding work, Ambuya Chiweshe was among the 40 legends the country honoured recently in celebrating 40 years of independence.
The Government also joined the nation in celebrating Ambuya Chiweshe's legacy and rightfully decided to offer her a State-assisted funeral.
Ambuya Chiweshe, we are, indeed, grateful for the music!
Thank you for the wisdom.
Your chapter ends here as ours begin.
May your soul rest in eternal peace.