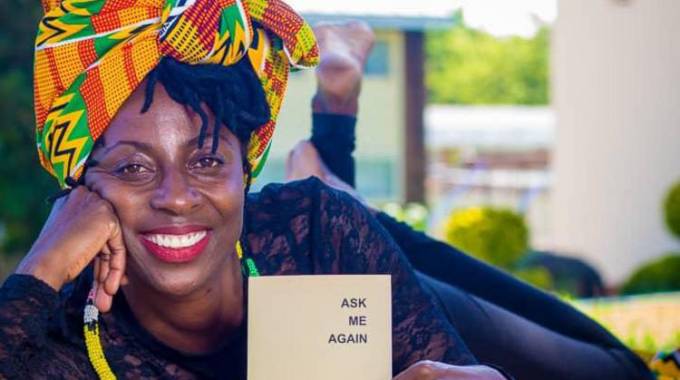 The Sunday Mail
MUSICIAN Hope Masike launched her poetry collection titled "Ask Me Again" at Gallery Delta in Harare last week. She joins an elite world of versatile artistes who combine many artistic skills — writing books, writing songs, acting, poetry, playing instruments and singing. The Sunday Mail Society's Zandile Ndlovu (ZN) caught up with Hope Masike (HM) for an interview. Below are excerpts from that interview.
ZN: We know you as a world touring musician. What inspired you to write this book?
HM: I had lemons and by grace, I turned them into lemonade. I had a rough patch about two years ago after a business fall-out with someone I was working with. My band also disintgrated, with almost everyone getting married and some moving from Zimbabwe. Inasmuch as I had lovely replacements from my former bassist's music programme, Let the Children Play, a lot of musical momentum was lost. Worse still, my then booking manager and myself were at loggerheads, plus some health challenges that complicated my life.
Long story short, I ended up back in my family home. In hindsight, that forced move was, in fact, what I needed. The quiet and the need to re-energise saw me reading a lot, something I had not found time for in a long time. From that, I started writing again, something I also hadn't had much time to do. I wrote madly and ended up with lots of poems.
Before turning 30, I had wanted to capture my twenties in a book. But as I said, time to invest in that was hard to find. I started but never finished. When I finally got the time, this book was born. So I guess whoever coined the phrase "all in good time'" knew what they were saying.
ZN: "Ask me Again". What is it about?
HM: It stems from the title poem itself, which is about mahumbwe (kiddies' game) love that has grown. The woman is saying "ask me again" and let's try at real love now that we are grown-ups. We are over games and play, and we both can bath properly now. I like the old African love where the man asked a woman and invested a lot of time in impressing and winning her love. I don't believe women emancipation was ever about switching such roles. But these days it's different. "Ask Me Again" is about all that and more.
ZN: Your poetry reflects mainly on female experiences . . .
HM: On the surface, because these are stories about women, naturally it becomes a book for women. I imagine some women are going to find their voice in the book. I also hope some women find self-forgiveness and forgiveness of others in the book. But more than that, it's a book for men as well. I wrote stories about women that are seldom spoken of, for men to hopefully learn a thing or two that no one ever told them. Even in my dedication, I also say this book is for "all men" who put the effort into understanding the women's world. One day, I hope to write about men, too, for women.
The book is also a "no under 18" read. I wasn't targeting high schools when the editor and I sat down to select which poems would make it into this first book. There are some poems in the book, however, that teach younger people very good life skills, poems like "Swindler" and "It Wasn't Rape". And, of course, as a piece of literature I imagine it would make good study material for literature majors after high school as well as for literature enthusiasts.
ZN: Authorship-wise, who inspires you?
HM: Plenty, especially in poetry. As "Ask Me Again" is an anthology of poems, I will focus on poets. I enjoy Memory Chirere's work. I am not just saying that because he is the editor of this collection. I find his genuine truthfulness in tone while his word selection is intriguing. VaChirere doesn't try to impress you with big words. In his clean straightforward choice of words and themes, he still impresses you. To me, he is like my nyunga nyunga mbira. It has been so widely played that it almost feels like nothing new can be done with it. It has such few keys, too, limiting its range. So it takes a genius to play something full, new and unique on the instrument.
I also love Chenjerai Hove's works, Chirikure Chirikure, Ignatius Mabasa, Batsirai Chigama, Dudu Manhenga . . . the list is long and I have certainly left out many greats. There is such wonderful poetry coming out of Zimbabwe.
ZN: Who are you taking into this new journey?
HM: All my fans and new ones too. I promise to give my fans and friends "the unlimited Hope'" There is more! I hope they are as hungry for more as I am.