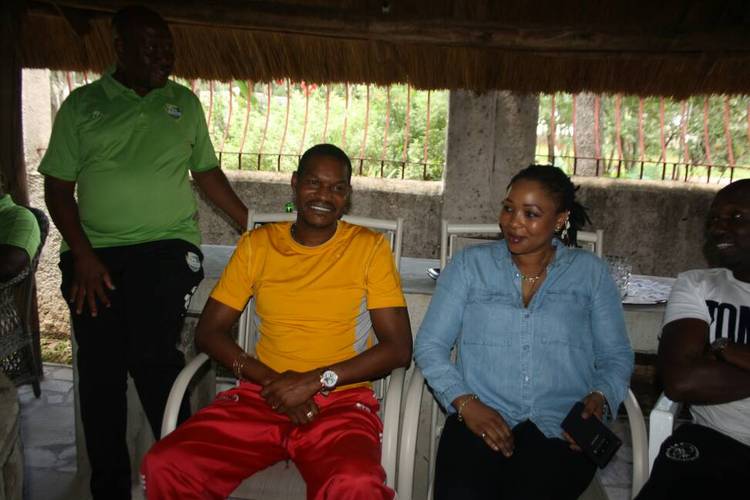 The Sunday Mail
Langton Nyakwenda
THE Castle Lager Premier Soccer League season kicks off next weekend with the reigning Coach of the Year grounded. But FC Platinum coach Norman Mapeza remains hopeful of playing some part in his team's league title defence as he recovers from a back operation.
Mapeza suffered a back injury during a gym session in January and underwent surgery a fortnight ago. As he recovers at his Glen Lorne, Harare home, the 45-year old gaffer yesterday spoke about his health and the impending league campaign.
"I am feeling much better now," Mapeza told the FC Platinum players and officials who visited him yesterday. The situation was bad, the doctor told me I would have gotten paralysed had I not gone for the operation on time. The operation was a success and the doctors tell me it will take about four to six weeks to fully recover from the surgery.
"As for the total rest period, well, that will all depend on what comes out of the periodical checkups that I will have but as you are aware, a back injury is sensitive."
Mapeza's wife Blandina sat by his husband's side as the gaffer chose the occasion to give his players some life tips. "I built this house because of football and I want to tell you that you can also achieve this if you listen to your coaches.
"That is why I can't leave football even when people say bad things about me. Because everything I have, I got it through football."
His wife chipped in. "I want to thank God, my husband Chirandu (Mapeza's totem) was not feeling well but he is a strong man.
"He is always checking on what's happening at FC Platinum. Last weekend he was on Twitter following the Roy Mazingi tournament at Mandava.
"But I know you all can do it even in his absence because you were conditioned to be winners. Last year's championship was not a fluke, we will win the title again this year," she said.
Mapeza, who spent five days at Avenues Clinic, could be out for at least six months but is confident his number two, Lizwe Sweswe, will handle business well. The champions begin their title defence at Nyamhunga with a date against ZPC Kariba on Saturday.
"I will only go back to work once the doctors have given the all clear sign but I am not worried. I'm more than 1 000 percent sure that my technical team at FC Platinum, which is led by my assistant Lizwe Sweswe, will hold fort in my absence.
"They can do it, I have a lot of confidence in them. Remember coaching is a team effort and the success we achieved last year was a result of working together. They know the programme we have to follow," said Mapeza.
The former Zimbabwe captain masterminded FC Platinum's first ever Premiership title last year but the team disappointed in the Caf Champions League where they were knocked out in the preliminary round by Angolan champions Desportivo Primero Agosto.
Pure Platinum were clobbered 3-0 in Luanda before falling 1-2 at Mandava in the return leg, fuelling reports that Mapeza's job was on the line.
However, the club rubbished the speculation and has kept faith in the coach – even when he could miss half of the new campaign.