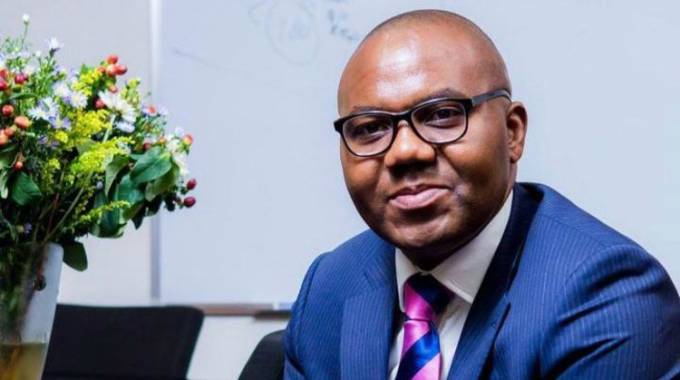 The Sunday Mail
Business Reporter
FORMER ABC chief executive officer and BancABC managing director Dr Lance Mambondiani, who stepped down from his positions last month, says his decision to leave the institution had been planned and officially communicated to the board.
The banker joined the Pan-African financial services institution in June 2019.
Market rumours say he was allegedly forced out by the board for misconduct.
However, Dr Mambondiani broke his silence last week, telling The Sunday Mail Business that he had communicated his decision to leave the bank to the board in the last quarter of last year.
"Firstly, I am truly grateful to the BancABC board, the shareholder, the executive team and the entire A-Team for an opportunity to lead a truly inspired team during my tenure as CEO," he said.
"It was a privilege and an honour, which I do not take lightly.
"Being a part of the bank's turnaround in the last four years has been a truly enriching and fulfilling experience that I will cherish for a lifetime.
"Whilst it may not have been public knowledge, I had communicated my decision to step down from the bank, both to the board chairman and to the group CEO, in the last quarter of 2022 to pursue other interests.
"For me, it wasn't a sudden move; it was something I had been considering for a while. I can understand that some might have felt that my departure was too soon; in my head and in my heart, I knew that the time was right to transition to another assignment."
Asked how he managed to cope with the potentially damaging grapevine, Dr Mambondani said the burden of leadership was to be subjected to public scrutiny, criticism and intense speculation.
"Having grown up in serious professions — law and banking — I have always preferred to steer away from commenting on wild speculation or gossip out of respect to the duty of confidentiality I owe to the wider stakeholders I serve, whether in the past, now or in the future."
He was comfortable and happy, he added, to live his truth while fully aware that a lie will travel halfway around the world before the truth has had "a chance to tie its shoes".
"I have learnt early on that you can't be everything to everyone and still be true to yourself.
"The only way I can influence others is to give them the best version of me in whatever assignment I am privileged to lead and allow myself to be equally vulnerable and open to criticism under all circumstances, no matter how painful, justified or unjustified," he said.
Transformative
The banker and lawyer commented on his role in transforming the bank, whose brand, arguably, became more vibrant and visible following his appointment.
"Brand visibility is a reflection of the collective passion and urgency we implemented as part of the bank's change agenda. BancABC already had strong brand equity, which has been respected for many years.
"Our job as a team was to reignite that pride in the bank's heritage and awaken the sleeping giant to take its place as one of the best financial services players in the country.
"I was just honoured to serve a team who shared the same energy and drive as me in pushing this agenda, and were pleased to see our turnaround efforts bearing fruit," he said.
"I believe in pouring my heart and soul into every assignment I am a part of and leading the change that is desired."
He said he was looking forward to his next engagements "prayerfully and with gratitude for the journey I have travelled so far".
Dr Mambondiani has over 20 years of experience in the financial services sector and is also considered a thought leader and turnaround strategist.
He was awarded the 2020 CEO and Director of the Year by the Institute of Directors Zimbabwe.
He was also awarded the 2020 Most Influential Leader by the Zimbabwe Institute of Management.  His contribution to banking and finance has been recognised across the continent. In October 2021, he was presented with the Distinguished African Business Excellence Award by the "African Leadership Magazine".
In September 2022, he was named Banking Sector CEO of the Year (Southern African region) by Finnovex Africa in Johannesburg, South Africa.
Long journey
He recounted his professional journey since law school, which saw him rub shoulders with Advocate Adrian de Bourbon and Firoz Girach at the Harare Law Chambers, Raffy Costa and Priscilla Madzonga at Zamchiya Costa (Now Costa Madzonga Legal Practitioners).
"I learnt banking and was privileged to sit at the feet of some of the greatest founding indigenous CEOs that this country has produced. It's been quite a journey and I am grateful for all the mistakes and failures I have encountered. They have contributed immensely to who I have become," he said.
Dr Mambondiani has lived and worked in a number of countries, the longest of which was the United Kingdom.
"In comparison, I absolutely love working in Zimbabwe. "Without a doubt, we have many challenges, but these challenges also present our greatest opportunities.
"We can do things differently, introducing new innovations and borrow and localise some ideas from other countries," he said.
"Innovation is about solving people's problems, challenging existing models and introducing relevant solutions to address our day-to-day challenges.
"Our current environment allows us to do that, to innovate, accelerate and build a country out of our own imagination with localised solutions relevant to Zimbabweans."