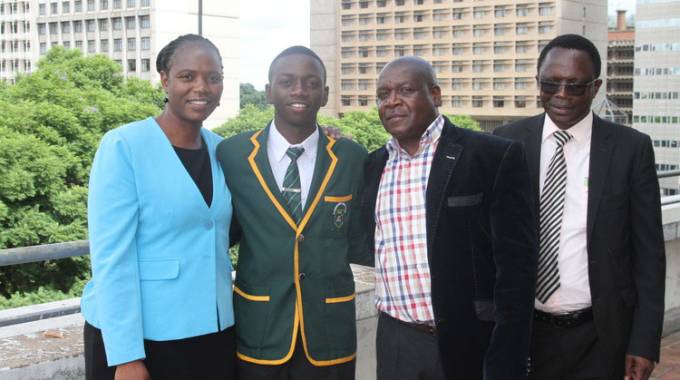 The Sunday Mail
Rusununguko High School Ordinary Level student, Panashe Chikwata scored 14 straight As in the Zimsec 2018 examinations. He aced Agriculture, Mathematics, English, History, Geography, Shona, Computer Science, Physics, Chemistry, Biology, Economics, Accounting, Statistics and Combined Science. Below, he reveals the secret behind his success . . .
****
Panashe Chikwata, L6
Rusununguko High School
Ever since I was young I have always aspired to be more, to be better than most of my peers. I was very competitive and this formed part of my drive to achieve more and take up more subjects.
What also motivated me to work harder was my class which was full of great minds and hard workers who showed me the power of team work and how to study effectively. Most my study habits came from my classmates.
The road to success is filled with late nights, early mornings and a lot of sacrifices which include your comfort as good things are not just given out on a silver platter but are worked for. One of my mottos was, "to study more and sleep less." Hence I would study from 6pm to 1am every Monday to Thursdays. The other days I would partake in hobbies like Scripture Union and Chess.
Every time I thought that goal was beyond my reach or was unattainable I would kneel down and pray to God for assistance, for I believe strongly in prayer and that it can help achieve anything. I encourage everyone not to give up easily on their goals even though they might seem impossible because disappointment and failure are always part and parcel of the road to success.
Everyone should be allowed to follow their dreams and you should never settle for less because of what people say. I want to thank my parents, Mr and Mrs Chikwata and family without whom all this would not be possible. They believed in me and supported me all the way which is why I am forever grateful for their love and support.
I was privileged to have been taught by good teachers with whom I worked closely with. They would always be there to correct me where I lacked and help realise my full potential. My teachers always told us that the main key to not forgetting what is being taught is to participate during the lesson. I remember my English teacher Mrs Mutemererwa telling us start to being the kind of people that we want to be in the future and to work towards our lifelong goals only and not to follow common spirits. This means hanging around people who motivate you and are on the same mission as yours.
One of my biggest motivators was my Statistics teacher, Mr Maketo who was always encouraging me and believed in my potential to carry the heavy burden of doing 14 subjects. He is the one who introduced the idea of doing more subjects outside class. If it had not been for him I believe I would not have achieved such a feat. I would like to thank one of my other teachers Mr Charles Mberengwa who always encouraged us to work harder by helping us wake up very early every morning to go for study.
I would like also to give out a special thank you to my headmaster, Mr Gombera who during my time at Rusununguko High school acted like a personal life coach to all of us. I will always remember how he used to hammer home the concept of lost time and how it can never be regained. This encouraged me to utilise every minute I had into doing something that would benefit me. To me he was like a deep well of wisdom and experience from which we would drink. I cannot even begin to imagine myself learning elsewhere as this was the school that moulded me into who I am. It taught to always strive for more.
The writer can be contacted on 0736421769.
Students can send articles via Whatsapp or text or to Charles Mushinga on 0719936678 or email- [email protected] or [email protected] or follow Charles Mushinga on Facebook or @charlesmushinga on Twitter. You can also post articles to The Sunday Mail Bridge, PO Box 396, Harare or call 0719936678.