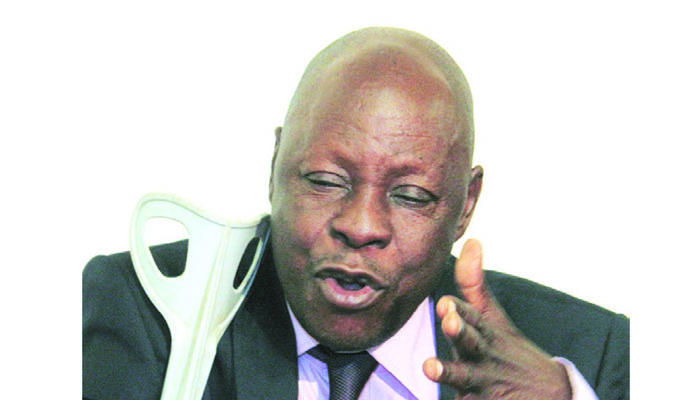 The Sunday Mail
COMRADE Noel Museredza whose Chimurenga name was Cde Ignatius Dzvotsvotsvo joined the liberation struggle in 1972 and went for military training at Mgagao camp. Later he became an instructor at Mgagao and trained comrades like Cde Chiwenga (now the country's Vice-President), Cde Perence Shiri (now Minister of Agriculture), Cde Henry Muchena, Cde Mark Dube and others.
In this interview with our team comprising Munyaradzi Huni and Tendai Manzvanzvike, Cde Dzvotsvotsvo narrates how as one of the commanders of Gukurahundi they were sent to capture leaders of the Nhari-Badza rebellion. He narrates how three of his comrades perished during a battle at Kaitano when they were rounded up by Rhodesian forces. Read on . . .
SM: Cde Dzvotsvotsvo, can you tell us briefly what motivated you to join the liberation struggle?
Cde Dzvotsvotsvo: I was born in Bulawayo in Mzilikazi. In 1971 my father decided that he wanted his family to go back to his rural area in Mt Darwin. So we went back to Mt Darwin. When we got to Mt Darwin, we discovered that some comrades were already coming to the area talking politics. One day some comrades came while we were playing football and they asked us kuti pane vanoda kuenda kuhondo here?
SM: Do you remember some of the comrades?
Cde Dzvotsvotsvo: Yes, I remember them. There was Rex Nhongo, James Bond, George Rutanhire and others. So these comrades took us kupungwe where they spoke about starting the liberation struggle. At the pungwe, some of us volunteered to join the liberation struggle but some boys of my age refused. They were later forced to join by the comrades. So during that night, about 15 to 20 of us left our homes to join the liberation struggle. I remember there was mdara Manduna and his son Aaron, Chihwiri who was later captured by the Rhodesian forces, Gumbo who is now working at the municipal police in Harare and others I can't remember their names. We went through Zambezi then to Chifombo.
When I say we walked to Chifombo you may think it was just a few kilometres. No. I am talking of over 100 kilometres. Some people fainted along the way and remember we were walking mumasango so food was difficult to come by. Mostly, taidya chibage chakakangwa. Quite a number of recruits escaped and went back home.
We were at Chifombo for quite some time tichimirira kuti tiwande. After this we were taken to Lusaka where we stayed for one week. From Lusaka we were taken to Mgagao in Tanzania.
When the comrades spoke about going for military training in Tanzania, we really got excited and it seemed like it was going to be a one day exercise. The excitement was kupihwa pfuti and we thought after that totodzoka torwa hondo. However, when we went for military training, we found out that the situation was completely different. We spent about three months going through political orientation – being taught kuti murungu akashata sei.
SM: Tell us a bit more about your training at Mgagao.
Cde Dzvotsvotsvo: At Mgagao that's where we got our Chimurenga names. During these days, paitova nechibhuku chekuti pakasvika marecruits anopihwa what names. So after being given your Chimurenga name, wainyorerwa pakapepa. Ukakanganwa this new name wanga usingadye chikafu. Even zita rashamwari waifanirwa kuriziva because we were not allowed kudeedzana nemazita ekumba. These were early days of the struggle so waitopihwa zita and you had to master it. Later during the liberation struggle vanhu vawanda recruits were now giving themselves Chimurenga names.
The process was that once you got to Mgagao, they would write your birth name and your Chimurenga name. They would also write down your next of kin. Taigara muma barrack ehuswa tichirara pamatanda. During the first days, I was wondering what was going on because this was not what we were told. Then as we were taken through political orientation, we started realising that no, no what we had in mind was completely wrong. Political orientation was important even to those who had volunteered to join the liberation struggle because ndidzo dzaizoita unzwisise what the war was all about.
SM: Who were your trainers at Mgagao?
Cde Dzvotsvotsvo: There was Cde Nyikadzino, Cde Machoro, Cde David Todhlana, Cde Gwitira, Cde Manyika, Cde Elias Hondo and others. What started was political orientation. After this we were then put into groups – engineering, mortar, artillery and so on. We would wake up around 3am toenda kunomhanya for fitness. Around 6am todzoka kuzodya, mainly it was water rice and at 7am you going for political orientation lessons. Before going for lessons we would go for parade then into our different groups.
SM: What was the importance of this parade?
Cde Dzvotsvotsvo: This was time for inspection, to see kuti musoja ari smart here. After political orientation, we then moved to being taught maskills ehondo. How to attack the enemy, how to handle ground and air force. We were taught different guerilla tactics that included crawling, shooting and retreating from a battle. During the first days, this was the most difficult part but as time went on, we got used. Takatozopedzisira tava mainstructor.
Our training at Mgagao was for six months. After this I was chosen as one of the veteran demonstrators assisting the instructors in training more recruits. By this time we were still very few comrades. I think we were still less than 500. You know during these days at Mgagao taibikirwa doro, especially on Fridays. Taibikirwa chikokiyana namdara Madzimbamuto. Waipihwa chikari chako, chikari chako. Vaida kuona kuti munodhakwa sei so that when you are deployed at the war front, they knew how you would behave.
SM: When did you become an instructor?
Cde Dzvotsvotsvo: It was at the beginning of 1974. Some of the comrades I trained include Cde Chiwenga (now the country's Vice-President), Cde Shiri, Cde Henry Muchena, Cde Mark Dube, Cde Gibson Gumbo, Cde Rupiza, Cde Boniface Hurungudo and many others. Although I trained many of these comrades, they are now my bosses because they hold high ranks. I am no longer in the army structures. Sometimes when I meet Cde Chiwenga he greets me saying 'how are you professor?' I also greet saying 'makadii boss." We respect each other a lot because we stayed together for a long time.
Also at Mgagao, I was in charge of the armoury – keep the armoury safe and issuing guns to different comrades. These guns were sourced from China, Russia and other countries that supported our struggle.
SM: When did you eventually leave Mgagao?
Cde Dzvotsvotsvo: After the Badza-Nhari Rebellion. That was still in 1974. We were called in as experts under the code name Gukurahundi to go and deal with the rebellion. I was one of the commanders of Gukurahundi, which was a reinforcement team. I remember one of the commanders was Cde Vhuu, but we only met him at Chifombo.
SM: How did you manage to deal with the rebellion when you got to Zambia?
Cde Dzvotsvotsvo: We came up with a strategy to disarm them. They actually fired at us but we knew they didn't have enough ammunition so we forced them to shoot at us until they ran out of ammunition. We rounded them up at Chifombo.
These rebels had captured Cde Josiah Tungamirai who was the deputy national commissar and many others and they were keeping them at Teresera Base. So after rounding up the rebels, our task was to go and free these leaders. You know when we captured them, people like Badza, Nhari, Chigoho and Noel Mukono were actually saying isusu tavabata tisu masell outs.
SM: What had caused these rebels to take this course of action?
Cde Dotsvotsvo: Vakanga vasisade hutungamiri hwanga huripo. They were saying they wanted to appoint vanhu vavo. So we exchanged fired until we managed to capture them. This rebellion really managed to destabilise the liberation struggle. There was so much confusion. The comrades at the war front didn't know what exactly was happening. After capturing these comrades, we quickly sent information to the war front to explain the exact situation. We had sectoral commanders, detachment commanders and provincial commanders. We made sure that they got information on the situation so that they could update their comrades.
SM: When were you deployed to the war front?
Cde Dzvotsvotsvo: In 1974 after the capture of these rebels. I was deployed in the Nehanda Sector. I was a detachment security. Takarova hondo around Madziva kusvika kuMt Darwin and Shamva. During this time there was Nehanda and Chaminuka Sector.
Before engaging in war, tainamata nemashizha nebute redu. The people in the area would tell us their traditions and customs. So taipira mudzimu yenzvimbo saying "tichengeteiwo muno munyika yenyu."
SM: After deployment, when was your first battle?
Cde Dzvotsvotsvo: My first battle was in Karuyana. There was a sell-out in the area called Sondon. He saw us passing by his shop and he alerted the Rhodesian forces. In no time, we saw helicopters coming and there was a fierce battle. We fought back and only one of our comrades got injured. We managed to escape. I remember there was Cde Garai and Cde Grison. Cde Garai is still alive. He stays in Warren Park.
After this battle we escaped and went kwaMudzengerere. My second battle was around the Chiutsa area. On this second battle, we were informed by our mujiba that some Rhodesian soldiers at a nearby mountain had spotted us.
So we decided to leave Chiutsa area walking towards Mudzengerere. Takasvika pane chimwe chibani kuti tikwire mugomo, takapinda muarmbush. One of our comrades, Cde Backstone was killed during this battle.
SM: How did you survive this battle?
Cde Dzvotsvotsvo: Cde Backstone was a few steps ahead of me. When he fell down at first I thought agumburwa but I quickly saw that he was bleeding. I knew he had been hit. Quickly we took cover, fired back and retreated. We failed kutora Cde Backstone. Akatorwa nehelicopter takatarisa. Later we managed to escape and went to Mudzengerere.
SM: You said the first battle took place after someone sold out. During the liberation struggle, how would you deal with sellouts?
Cde Dzvotsvotsvo: Taiwuraya! This sell-out, Sondon, we failed kumubata because akabva atiza kuenda kuKaranda. We knew he was the one who had sold us out because ndiro raiva basa rana mujiba nana chimbwido.
SM: How important was it to work with povo during the war?
Cde Dzvotsvotsvo: Povo ndiwo waiva musimboti wedu. We could not do anything without support yepovo. You know I always think povo deserve something from the liberation struggle. Tine chitema chihombe chatakaita. Taitora magumbeze ako iwe nhasi, toenda tonofuga kure uko. Tozokuudza kuti enda unotora magumbeze ako pagwenzi rakati rakati. Without povo we were not going to win the war.
The masses gave us food and shelter. They would cook for us. Sometimes vatengesi vaitibikirawo chikafu chine poison but taivabata by saying tangai madya. Tisu taitokuudza kuti tsunya apa kana kuti seva apa. There were some areas kwataitoziva kuti this area kune vatengesi. The bad influence would come from some chiefs who spoke badly about us to their people.
SM: Talking about food – there is this song from the liberation days that says "gandanga haridye derere." Is it true that makanga musingadye derere?
Cde Dzvotsvotsvo: No, it's not true. What however used to happen is that vana mai vaingotiwuraira huku. Vaida kuti fadza so vaiwuraira huku.
SM: Tell us briefly about one battle that you will never forget.
Cde Dzvotsvotsvo: I think it was in 1975 at Kaitano. Food was hard to come by. People had been put in Keeps. We had gone for about two days without eating anything. So takacheka fence into the Keep. It was myself, Garikayi, Jacob Ndururani, Grison Murape, Levy, Arkim Gadzikwa and others I can't remember their names. What happened was that Jacob Ndururani was from this area so akanobikisa sadza kumba kwavo. We sneaked into the Keep to go and eat the food. About three comrades went into the house straight. I together with my assistant called Robert, decided to take a bath because we had gone for three days without bathing.
As we were bathing, we heard a loud sound. Robert turned to me saying 'ipfuti ka iyi?' The comrades who were inside the house had been surrounded. All the comrades who were inside the house vakapisirwa mumba vakafa vese. Jacob Ndururani and two other comrades ndivo vakapisirwa mumba. We were 12 in total and so three of us were gone. We quickly retreated tikanohwanda kumakuva. This battle started about 6pm and went on until 3am.
We were overpowered because the Rhodesian forces started throwing mortar bombs from a distance. We tried to fight back but we later decided to retreat to the graveyard. The next day we knew the Rhodesian forces would try to track us so we retreated to a nearby mountain. Later we walked to Madziva and took cover at one of the farms.
After hours, we were exhausted and feeling hungry. Takaenda pane kashop kemurungu ainzi Dick Hard tikapaza tikatora chikafu.
SM: So what happened to the three comrades who were burnt inside the house?
Cde Dzvotsvotsvo: We were told nana mujibha kuti their burnt bodies were later taken to Mt Darwin. Takabatikana but there was nothing we could do. There are some battles where you can pull your comrade and bury him later koita mamwe where you can't even take your comrade's gun. Fierce battles. You know sometimes the Rhodesian forces after killing our comrades, they would hang them netambo pasi pehelicopter and show villagers. The Rhodesian soldiers would speak on the loud speaker kuti 'honai tawuraya gandanda.'
I remember Cde Gadzikwa had really tormented the Rhodesians. When they managed to capture him, vakamusungirira pasi pehelicopter and flew kuenda kumba kwavo, kuKaitano to show his mother kuti mwana wenyu tawuraya. The idea was kushungurudza mai vacho. Ndege iyoyo yakatenderera naCde Gadzikwa for sometime. We would see it from our hiding positions and shungu dzotibata but we could not do anything. Usanyeperwe kuti pfuti inongoridzwa pese pese. You need a strategy and to know your terrain. Pfuti haingoridzwi kunge zvemumafirimu. Terrain will tell you kuti pano pfuti hairidziki.
(to be continued next week)