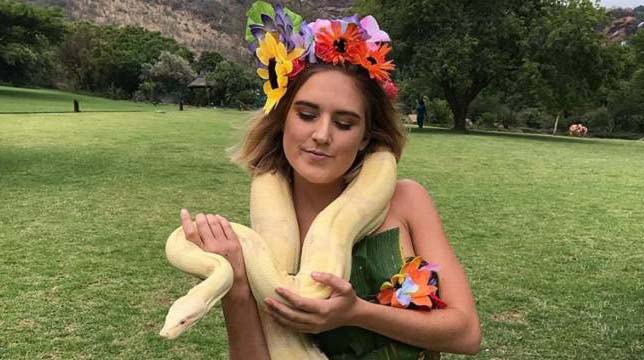 The Sunday Mail
Veronica Gwaze
FEELING that she has much more than just music to share with the world, pop singer Gemma Griffiths has released a documentary on her life as a white girl growing up in Harare.
Titled "A Girl from Harare", the biography captures through visuals her life as a young girl raised in the capital and going pro in music.
It gives a clear picture of her journey in the arts industry.
The multi-award-winning singer, who addresses herself as "Achihera", made a name for herself through renditions of popular songs that she fluently sings in Shona.
Notable songs she has done over the years include Winky D's "Musarova Bigman", the late Dr Oliver Mtukudzi's "Neria" and "Mudhara Vachauya" by Jah Prayzah.
Gemma said it took her years to gather the courage to document her life for the public.
But, she reckons her life story is a peculiar one, hence she had to make a bold decision for the benefit of her fans and many other people across the world.
"My life has not been an easy journey. You often find yourself having to learn to fit in certain spaces, so for years, I have been working on this project. I felt my experiences are worth sharing," she said.
Recorded in 10 countries across Africa, the documentary, which was mostly shot in the jungle, captures emotional moments in the singer's life and her appreciation of the African continent.  The project also features Winky D and Ammara Brown, who Griffiths acknowledges have been of immense influence in her life and musical journey.
The background music includes her "Musarova Bigman" rendition and "Chigwaya" done by Chimurenga Music guru Thomas Mapfumo.
"'Musarove Bigman' is one project that had a huge impact in my musical journey, while 'Chigwaya' is an appreciation of my roots as a Zimbabwean and the family from which I come," said the revered singer.
Part of the documentary captures the journey she travelled around the continent over the past year. Her visuals and lyrics, she added, were inspired by the new experiences she had throughout the voyage.
"I decided to put my studio into a Land Rover and drive through the continent. It was amazing getting into the rhythm of the journey and having to wake up to a new environment daily," she said.
"I was able to write music everywhere. I would set up a microphone and record and I also capture what I learnt from the environment and the people I was meeting."
It is during the tour that she worked on her recent offerings "Kwale" and "Maita Basa Baba".
The singles were incorporated on the recently launched "Matenga Gudo" riddim done by Chillspot.
Kwale is a place in Kenya and she spent some time there during her tour.
"I wrote this song feeling nostalgic, missing the familiarity of home. But getting to spend time in Kwale was awesome."
Earlier this year, Griffiths bounced back from a Covid-19-induced sabbatical with a performance at the Zimfest gala in London before she graced the All-Africa Festival in Dubai. Out of the studio, she loves to spend time travelling and exploring nature.
"From my videos, one can tell I love nature, but sometimes I also spend time with my band because they are my family and best friends."
The South African-born artiste, who was raised in Harare, has won the hearts of many with the way she easily sings in Shona.
However, Gemma's greatest breakthrough came some two years ago when she featured on Winky D's monster hit "MuGarden".
The songbird believes it is her best collaboration effort to date.
The song reached more than a million views within a fortnight on YouTube and gained international traction.