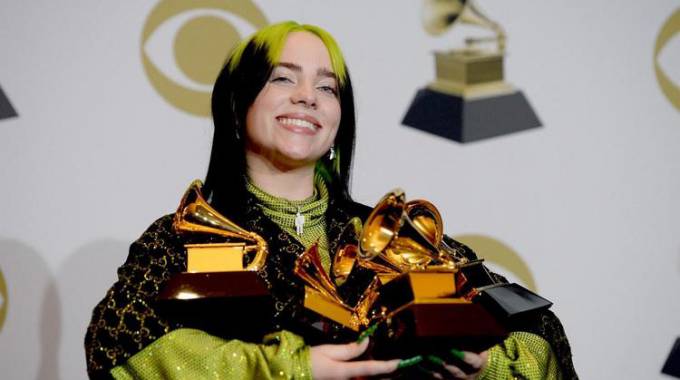 The Sunday Mail
Tinashe Kusema
BY the end of the 62nd Grammy Awards held last weekend at the Staples Centre in Los Angeles, a megastar had been born.
Not that music fans around the globe had not been appreciating her music, but 18-year-old Billie Eilish swept all five of the night's biggest prizes. These included Best New Artiste, Song of the Year, Record of the Year, Album of the Year and honours for Best Pop Vocal Album.
Barely 24 hours earlier, Zimbabwe had its own breakout moment as Gemma Griffiths walked away the biggest winner at the recently resurrected Zimbabwe Music Awards (Zima).
Griffiths won the Best Female Artiste, Best R&B and Soul, Best Collaboration with Winky D and Song of the Year for the hit song "Mugarden" alongside the same artiste.
While the Grammys and Zimas could not be more different, they do share one underlying theme — attracting controversy.
The internet and all its various social media platforms might go down as some of the greatest inventions of our time, but the amount of freedom, anonymity and power it gives has corrupted us all.
All of a sudden, everyone is a critic. Everyone has authority and a voice that has to be heard, even in cases or subject matters that they have little or no knowledge.
Yes, the Grammys have long been a controversial show — now more than ever after the whole Deborah Dugan debacle. Dugan is/was the CEO of the Recording Academy, overseeing the awards, but was recently placed on forced leave after allegations of sexual harassment by an assistant.
There are also allegations of sexism, corruption and a general lack of colour diversity that has dogged the organisation for many years. All these have cast a cloud over a young promising artiste's biggest night and crowning achievements.
Worse still, Eilish's win has been overshadowed by the fact that she beat fan favourites Taylor Swift, Ed Sheeran, Arianne Grande and Beyoncé.
That did not go down well with most American music lovers.
Back home, Griffiths faced a similar problem in which the so-called controversial nature of the awards themselves overshadowed her crowning moment.
So let us delve into the so-called controversies, which range from the normal, the ridiculous and even the petty.
Among them is the big names walking away empty-handed, A-listers shunning the ceremony and a few hiccups in proceedings.
Of course, time keeping remains one of the biggest weaknesses in local showbiz and there is no excuse for it.
Joseph Nyadzayo and company better get their act together in this department.
Apart from that, the primary objective of any awards show is to reward and acknowledge top achievers, and I doubt if there is any rule that says organisers must pander to celebrities and top stars' whims. In fact, these are some of the places where stars and future A-listers are born.
So if someone like Andy Muridzo chooses that his time is better spent chasing married women, then that is his decision. If Winky D, Jah Prayzah or whoever decides that their time is better spent with their families or rehearsing in a studio — then so be it.
There will still be those few like Vimbai Zimuto, who will fly from Europe for a 10-minute performance, artistes that value awards ceremonies and understand what it means to be a nominee.
To those that chose not to enter the awards for one reason or another, it is their choice. And more importantly, it took nothing away from the event and ceremony itself. Remember there was a time when an event without Tich Mataz as MC, Oliver Mtukudzi or Thomas Mapfumo as headliners, was considered rubbish. Well, a time is fast approaching for new, future stars, who will relegate to the dustbins those who think the industry cannot function without them.
Personally, I have always been of the belief that celebrities at big shows are nothing but just ordinary people on seats. By not attending, they actually did a disservice to themselves.
Nyadzayo and his people should be applauded for their efforts to bring some light upon the music arts.
Big-headed or "busy" celebrities aside, the event was well-attended and featured numerous individuals from the arts, politics, showbiz and business sectors.
Those that turned up had a rare chance, and I hope they used it, to network with corporate executives, industry gurus and the media.
While I am not privy to the actual nomination and voting processes of Zima, awards shows are not a popularity contest, except for the people's choice. Furthermore, the nomination itself, as cliché as it sounds, is an honour and privilege, for the message is that "we see you, you are doing a great job".
Before we go on crucifying Zima organisers because our favourite artiste did not win, or was not nominated, let us take a minute to celebrate their return.
In this harsh economy, those that brave the "cruel weather" and manage to bring us a platform like this should be celebrated, not vilified.
That Nyadzayo and his people managed to rope in sponsors like PPC Zimbabwe, TelOne, Ingwebu, Wezhaz, Cashbox and Boomcity, to name just a few, is a miracle. The arts need these corporate partners to stay in the arts, not to flee because some character with a keyboard and an internet connection decided to paint everything black because their favourite artiste did not win.
Inasfar as the losers go, that comes with the territory, you win some and lose some.
I did, however, like the fact that both Eilish and Griffiths defied the odds and managed to write yet another chapter in their respective countries.
Imagine the message that both Griffiths and Eilish's wins sends to talented girls and aspiring musicians that spend hours on end singing to the mirror with a hairbrush in hand.
For Griffiths, the story of her rise, from a YouTube sensation to a music superstar, inspires every struggling musician who wants to give up on their dreams every time they hit a bump.