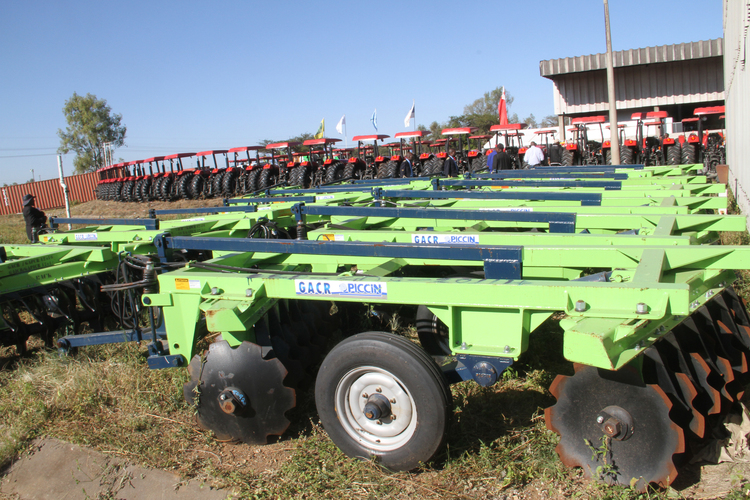 The Sunday Mail
Wallace Ruzvidzo Sunday Mail Correspondent
OVER 1 000 farmers have been registered by local banks under Government's Farm Mech- anisation Programme and have started receiv- ing high-tech farming machinery sourced from agriculture equipment manufacturer, John Deere.
Last year, the Government struck a US$51 million deal with the US-based company to supply 1 300 units of farming machinery, including tractors and combine harvesters.
The scheme is being steered by CBZ and Stanbic banks through a hire purchase facil- ity, with farmers required to pay a 15 percent cash deposit before taking delivery of the equipment.
Agribank is leasing some of the machinery through its Agriculture Equipment Leasing Vehicle, which is providing farmers with mechanisation service, especially combine harvesters.
Only farmers with a traceable production track record are being considered for the hire purchase facility.
Lands, Agriculture, Water and Rural Reset- tlement permanent secretary Dr John Basera told The Sunday Mail that the facility's bene- ficiaries were required to pay off their debts over three years.
"Farmers have started accessing the John Deere equipment which includes tractors, combine harvesters and other attachments through participating banks, which are CBZ, Stanbic and Agribank, on a cost recovery basis," said Dr Basera.
"As you are aware and as dictated in the Transitional Stabilisation Programme (TSP), we are crowding in the participation of pri- vate sector, including banks, into supporting
agriculture, especially in the areas of mech- anisation and irrigation rehabilitation and development.
"The agricultural equipment is on-lent to deserving farmers with a good production track record through these participating banks who do their thorough due diligence and Know Your Customer."
He said the programme is going on smoothly.
"The uptake is very impressive as the par- ticipating banks have registered more than 1 000 creditworthy applicants with excellent production track records who are ready to pay the 15 percent cash initial deposit whilst the balance will be paid in 3 years' time.
"These facilities are concessionary with interest rates of less than 7 percent."
The John Deere facility will unlock 80 combine harvesters, 600 planters, 200 disc harrows, 100 boom sprayers and 100 trailers.
The tractors are expected to benefit over 5 000 farmers under the National Agriculture Recovery Plan.
In a statement to this publication, CBZ Bank said over 30 farmers have taken delivery of tractors after undergoing vetting by the bank.
"John Deere delivered US$3 million worth of equipment to the Government of Zimba- bwe which was unlocked through the issu- ance of a confirmed Letter of Credit," said the bank. The equipment included 60 tractors and 8 combine harvesters.
"The 60 tractors were distributed by CBZ to creditworthy farmers whilst the 8 combine harvesters were released to the Agribank's Equipment Purpose Vehicle.
"We have had a good response to the facil- ity. To date over 30 farmers have collected their tractors with an additional twenty-five being processed for release.
"Other applications are going through the various processes for the facility.
"The criteria that we use is the standard credit assessment for applicants, which involves the bank carrying out due diligence (credit reference checks etc) on the applicant, evaluation of farming operations, which form the source of repayment for facility and eval- uating the impact of the successful allocation of the tractor on the farmer's immediate sur- rounding community."
Under the John Deere facility, the Ministry of Agriculture provides training to the bene- ficiaries on how to use the equipment, while John Deere is manufacturing and delivering the equipment.
The banks will then undertake the final selection of farmers who will be granted loans after full appraisal and depending on their lending policy.
Equipment leasing facility
Dr Basera said over 5 000 hectares of this year's winter wheat were harvested using combine harvesters provided under Agrib- ank's Special Agricultural Equipment Leasing Vehicle facility.
"The Agriculture Equipment Leasing Vehi- cle is very much functional and is offering combine harvesting services to farmers," he said.
He said the facility is being expanded to include tillage and planting services.
"We want to get to a situation whereby a farmer doesn't necessarily need to own agricultural equipment, but the services must readily be affordably available," said Dr Basera.
"We are positive that this model will improve access to mechanisation, which is a key ingredient in the agriculture transfor- mation jigsaw.
"So far, Agribank are now housing over 40 tractors with the necessary attachments and implements to help farmers with tillage and planting services for a fee as we gear to start the 2020/21 summer cropping.
"The bank has established crop production clusters and agricultural equipment are dis- tributed based on the potential of the cluster."
The facility will soon cover all the eight agricultural provinces, he said.
Agribank acting chief executive Mr Elfas Chimbera said 200 farmers benefited from the scheme this year.
"The equipment hiring facility has been around for the past three months and took off at the peak of wheat harvesting, with 20 combine harvesters distributed across all provinces in the country," said Mr Chimbera.
"The appetite and uptake was huge, cutting across small-holder farmers to commercial farmers.
"We managed to do in excess of 4 000 hec- tares between October and November 2020. We managed to service in excess of 200 farm- ers during the 2020 wheat harvesting period.
He said farmers have already begun reg- istering for the 2020-21 summer cropping season.
"The equipment is available for all bona- fide farmers in Zimbabwe, even for Agribank non-account holders."
Zimbabwe has 4 130 000 hectares of ara- ble land, with only 500 000 hectares under motorised draught power.
The country requires 40 000 tractors and only has 12 000 of which 9 000 are functional, while the rest require repairs.