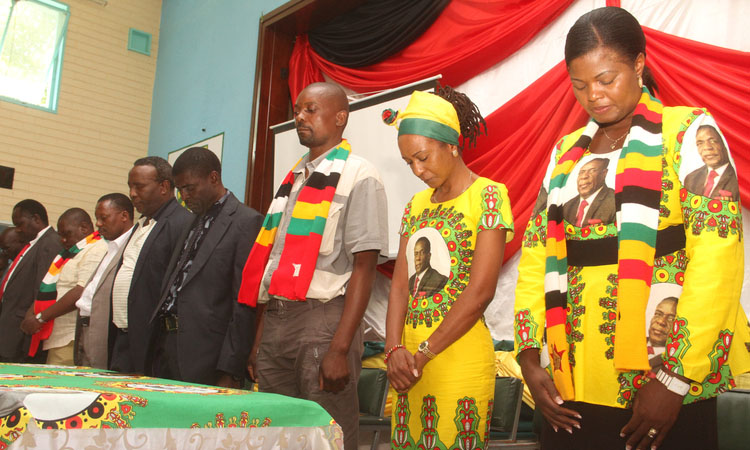 The Sunday Mail
When Zanu-PF announced that the ruling party would hold joint rallies for primary election candidates, sceptics found it hard to fathom the seemingly utopian idea.
With the primary elections set to be held today, there was much frenzy countrywide last week — but it was the joint rallies which provided a refreshing narrative that can be traced back to how the party organised itself during the liberation struggle.
In what was a rare kaleidoscopic setting, contesting candidates shared the podium to sell their messages to voters, bringing a level of civility not common in the so-called dirty game of politics.
The invigorating rallies proved that Zanu-PF has entered a new era of promoting friendly politics and cordial contestations in line with President Mnangagwa's repeated pronouncements for a non-violent plebiscite.
During one joint rally in Hatfield constituency last Friday, more than 30 candidates drawn from aspiring councillors, National Assembly legislators (first past the post and women's quota) and Senators were all given their chances to speak to the electorate who packed the venue for the unique rally – Hatfield Primary School Hall.
The debates were filled with humour, fervent pleas to the people and friendly fire as the candidates tried to outdo each other through pleasant combat.
While making their pitches some of the candidates went on their knees while others came close to tears as they amused the electorate with their pleas for their votes.
In her address to party supporters, aspiring National Assembly legislator for Hatfield Ms Josephine Mahachi promised investment saying her achievement of luring Africa's richest man Aliko Dangote was proof that she had the pedigree to turnaround the fortunes of the constituency.
However, she experienced a glitch in her pitch when she attempted to accompany her verbal presentations with a projector that the apparently non-techno-savvy audience did not seem to relate with.
Fellow National Assembly candidate Cde Danny Musukuma also made an impressive pitch as he noted that it was painful that for 15 years, the constituency had belonged to the MDC-T which has done little to improve the area.
Not to be outdone were the other National Assembly candidates, Samuel Chikukwa, Paidamoyo Nyamakanga, Tawanda Chipato, Jason Matonhodze and Erick Pfumvute.
In an interview with The Sunday Mail, as he listened to the campaigning at Hatfield, party supporter Mr Chenjerai Mavhiki said he had never seen intra-party cohesion of such magnitude as previous primaries had been characterised by fighting.
Mavhiki, who is also party commissar for Harare's Mukuvisi district, said the joint rallies encouraged candidates to desist from hate speech and violence as the party was implementing what President Mnangagwa has repeatedly stated. "We are articulating what President Mnangagwa has said so that candidates can do things together. This means that there is no hate speech and backbiting other candidates.
Mavhiki said the peaceful conduct exhibited during the joint rallies is what Zanu-PF would seek to practise during its campaign for the main election.
"We are certain that what we experienced is what we are going to follow even in the main election," he said.
"There is not going to be any violence and we are going to advocate peace because we want to win this election and take our country forward with President Mnangagwa."
Another Zanu-PF supporter, Blessing Zengeni, said the joint rallies would benefit the winning candidate.
"I am very impressed because I have never seen anything like this before," he said.
"This shows that the party is going in the right direction and even opposition parties can be impressed by this.
"This is a win-win situation for all. Even the winning candidate will be able to benefit because he or she will be able to take all the ideas that would have been said by others and present them to the electorate when the crunch time comes."
Zengeni said the rallies can also be an important lesson to the MDC Alliance which has had a record of violence in the lead up to the elections.
"The MDC-T should learn from us. The other time, we heard that their leader (Mr Nelson) Chamisa's supporters were beating up the likes of Khupe, Gutu and Mwonzora and they have been unleashing all sorts of violence against each other," he said.
In Mt Darwin South 20 aspiring candidates for the National Assembly seat also shared the podium to sell their agendas in the constituency which has the highest number of contesting candidates.
There were more than 1302 candidates set to battle for the National Assembly seats, over 6000 contest for local authorities, 208 for the Senate and 226 for the women's quota.
It would not be a full story to pretend that the preparations for the primaries were all flawless. Reports from other parts of the country indicated that there were clashes particularly from aspiring candidates that were excluded from participating. There were also reports of poor coordination of the rallies in some of the centres while other candidates were also reportedly not too eager to participate in the integrated rallies.
What stood out clearly, however, was that the revolutionary party is on the right track and at this rate, Zanu-PF will be hard to beat during the poll.
This new era of friendly politics and pleasant contestations can surely not go unnoticed by Zimbabweans who are well known for their peace-loving resolve.
Zanu-PF is without doubt pushing the game to a new level.
Those who think that Zanu-PF has not shifted its way of doing things are surely living in cloud-cuckoo land.