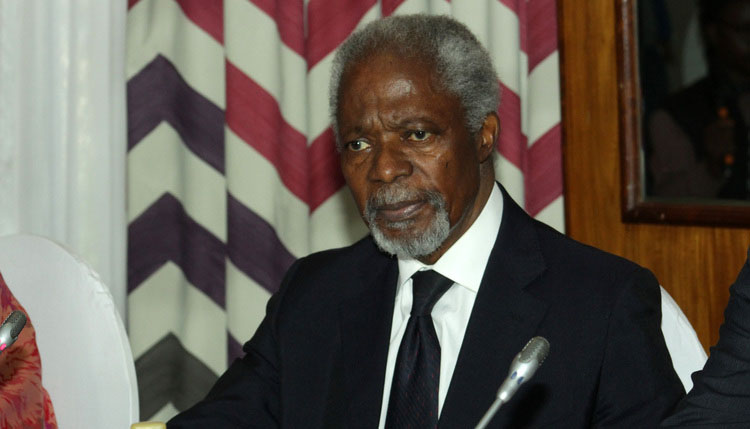 The Sunday Mail
Opposition political parties should stop making "unreasonable" demands to the Zimbabwe Electoral Commission (ZEC) as they risk inciting public unrest, which has the potential to spawn grave and unintended consequences, former United Nation secretary-general Mr Kofi Annan has said.
The team also took great except to the attacks of ZEC's female commissioners, especially on social media.
Mr Annan, who was leading the visiting delegation of The Elders on a two-day visit to assess the pre-election environment in the country, said parties who feel aggrieved by the conduct of the elections management body should seek legal recourse.
The Elders are an independent group of global leaders that work together for peace and human rights.
Addressing journalists in Harare at the end of their tour, Mr Annan — who is also chair of The Elders and a Nobel Peace Laureate — said making unreasonable demands will only help to muddy the electoral process.
"Politics is a tricky business. There are demands and there are demands.
"What is important is that we all play by the rules and we make reasonable demands; if we make demands which are unreasonable and which cannot be fulfilled, we are complicating the process.
"So, I would urge everyone to be reasonable and operate within the rules. Question where there is need for questions and if they feel aggrieved, use the legal mechanisms to get redress.
"But we should be careful of what we say and what we demand, because the main thing is not to incite.
"If you incite the population, you never know what happens and this is the last thing that the nation and the people of Zimbabwe need.
"No incitement! And I think they should stay within the code of conduct, but reasonable demands they should be able to make," he said.
The pre-election environment, Mr Annan added, has been generally free, with all parties being able to exercise their rights to campaign freely.
He said it was the duty of every Zimbabwean, and not just ZEC, to ensure that the election is free, fair and credible.
"I think there is some improvement on the ground. Parties are generally able to campaign peacefully even though there have been complaints of intimidation and violence," said Mr Annan.
"But, generally, they have been able to get their work done. I think you, the citizens, also have a role to play on whether we have a credible election.
"I sense that sometimes there is a tendency for us to think that the elections commission should deliver the election.
"They cannot do it alone — they need you, they need the political parties and they need civil society. They need the cooperation of all stakeholders.
"I think given the limited time available, if you all work together and cooperate, you are likely to get a better election than you would otherwise have, and I think the results will be appreciated by everyone."
He said progress has been made through the National Multiparty Liaison Committee to settle disputes between some parties and the commission.
The committee is convened by ZEC to listen to concerns from political parties contesting in the election.
Said Mr Annan: "We have had an opportunity to speak to quite a lot of people, from the President, to the political leaders, to the chair of the electoral commission (Justice Priscilla Chigumba) and from what we understand, in the last few days, some positive progress is being made and there is genuine discussion and hopefully a genuine give-and-take to try and resolve some of the outstanding issues before the election.
"That is extremely important and it is important that the electoral commission is transparent, independent and open to all political parties and they seem to be doing that in the last few days.
"And the discussions they have had, from the reports we have received, is going very well.
"And the issue of the women, we were quite shocked when we spoke to the chair of the electoral commission."
Speaking at the same event, Mrs Mary Robinson – former President of Ireland – who was part of the visiting delegation, condemned the personal attacks against some female ZEC commissioners by some senior members of the MDC-Alliance.
She said she was "shocked" by the abuse and threats, particularly on social media, meted on ZEC chair Justice Priscilla Chigumba and her fellow female commissioners, including female candidates contesting the July 30 elections.
MDC-T presidential candidate Dr Thokozani Khupe has been on the receiving end of crude personal attacks from sections of the MDC-Alliance.
According to Mrs Robinson, abuse of ZEC commissioners was unacceptable and should be discouraged.
"We were quite shocked when we met the chair (Justice Priscilla Chigumba) and she was accompanied by the deputy (Commissioner Emmanuel Magade), a man, and also two other female commissioners and they have been vilified on social media and even threatened, and this is not acceptable at all.
"And when Kofi (Annan) asked who defends you, there was kind of silence — they were not being defended somehow.
"This is not acceptable! Yes, you can criticise the electoral commission for not playing a proactive legalistic role — that is fair game, that is allowed — but what is not allowed is to vilify on social media and elsewhere."
She added: "Unfortunately, there are fewer women candidates; somehow, female candidates have been pushed out. Even the quota system is not working as well as it should.
"Secondly, women who are candidates have been abused on social media, which is not acceptable. It is really important that the media be the guardian of women rights during this election."
Former Algerian Foreign Minister Mr Lakhdar Brahimi was also part of the visiting three-member team of The Elders.
Last week, ZEC reported the MDC-Alliance to the police following persistent threats and abuse of its commissioners.