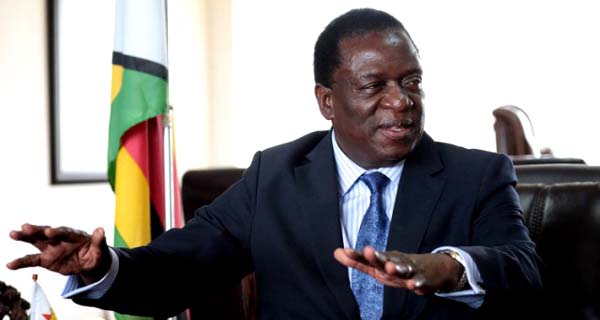 The Sunday Mail
Sunday Mail Reporters
Vice-President Emmerson Mnangagwa has described as "nonsensical" calls by some war veterans for President Mugabe to resign, as the State security aparatus knuckles down in its probe to find out who was behind the "traitorous" communique issued last week in the name of liberation fighters. In an interview with The Sunday Mail yesterday, the VP also made it clear he had nothing to do with the clique of rogue war veterans who are trying to push President Mugabe out of office and replace him with Cde Mnangagwa at both ruling party and Government level.
Last Thursday, Zimbabwe National Liberation War Veterans Association commissar Cde Francis Nhando told journalists at the end of an executive meeting in Harare that they wanted President Mugabe to resign.
However, senior members of the association have dissociated themselves from the statement, as have other top commanders of the Second Chimurenga; while the Welfare Services for War Veterans, War Collaborators, Former Political Detainees and Restrictees Ministry has reaffirmed veterans' loyalty to the President.
Zanu-PF has also made it clear that it will not tolerate such dissent. The ZNLWVA is an affiliate of the ruling party. And yesterday VP Mnangagwa weighed in saying all war veterans should remain loyal to their Commander-in-Chief, President Mugabe.
"I watched ZBCtv (on Friday and learnt) that they made a statement, but I haven't read it. If they said the President must resign, then that is nonsensical. If they are true war veterans, the President is their Commander-in-Chief and they must be loyal and committed.
"I don't think those who say such things are loyal or genuine war veterans. They must be loyal," the VP said.
In recent months, some war veterans have claimed they are campaigning for VP Mnangagwa to assume the highest office in the land. VP Mnangagwa trashed such claims saying: "That's nonsense, absolute nonsense."
Information gathered by The Sunday Mail suggests the said communique was prepared before the Thursday meeting and had nothing to do with the welfare issues discussed on the day.
The country's security agencies are now conducting investigations to determine the source of the document. Yesterday, ZNLWVA secretary for information Cde Douglas Mahiya told The Sunday Mail that the association was also carrying out its own investigations.
"As war veterans, we are also trying to find out the origins of that document. But (secretary-general) Victor Matemadanda will be in a better position to give you more information about that," he said.
Contacted for comment, Cde Matemadanda told us to call him again after 30 minutes, but subsequent efforts to reach him were futile as his cellphone was no longer reachable. Sources said Cde Headman Moyo, who chaired the Thursday meeting, had distanced himself from the document.
"Most of those we have talked to so far say they had nothing to do with the communique. They are suggesting that the document was authored before the meeting and then presented there to try and legitimise it.
"What makes us angry is that if there are people who have taken positions on certain matters, they should at least have the spine to stand by those positions instead of hiding behind the association and tarnishing all war veterans in the process," he said.
The Commander of Chimoio Camp during the Second Chimurenga, Cde Midson Gomba Mupasu alias Norman Bethune, said war veterans should be disciplined.
"I can't have freedom of speech to attack my President; my commander. If a commander is angry about a mishap in a war, he/she should find better ways of solving the situation. A commander has to be tactful and quick in making decisions."
Zanu-PF national political commissar Cde Saviour Kasukuwere added: "The message has been very clear and investigations have been set in motion. We should distinguish what the general war veterans would want to see and the individuals who want to use the war veterans' association as an umbrella body against the President.
"The party is solid. The party supports President Mugabe and we have said any future leader of the party will come from the people through proper channels. We respect the veterans who fought for the independence of the country, but not individuals who want to incite or who want to turn the body politic of the war veterans against the leadership of the party.
"That is unacceptable and we will have to flush out these elements. We will not allow this kind of indiscipline to take root in the party. We must allow the President to do his work. He was voted for to run the country and genuine war veterans know that."
Cde Kasukuwere continued: "He is the man who is needed by the people of this country, not individuals simply saying 'I think I must author a document surreptitiously to undermine the system'. No. We need to allow the President to focus on the economy. We want to get our farmers to succeed.
"The President has led us as a nation and as a people to greater heights and what is left is for us, who have been given the opportunity, land, to utilise it and to get the economy to work; local leadership to get service delivery to be achieved.
"If you look at the statement, it shows someone typed it. There is a computer that was used to type the statement and there is a certain type of wording that we know real war veterans would not use."
The commissar also said, "We need to get to the bottom of this matter. It is a serious matter; it is not a jocking matter. We can't accept this because we have always known that some individuals were trying to get to the President, but they should know that the President is not there because he wants to be there, but because he was elected by the people to be there.
"There is a Constitution in this country that recognises that there should be a President, and we reiterate what we have said before that any attempt to undermine the President will be met equally and we will not let it succeed.
"Rest assured that President Mugabe will succeed in his term and win the next election comfortably. We are going to see our economy turnaround with him at the helm. We are not going to allow anybody to divert the attention of our leader from ensuring the people of Zimbabwe attain the economic liberation that he fought for."
He went on: "Real war veterans are within the party and we should not bunch them with some misguided elements who are running a parallel project pretending to be war veterans.
"I am very cautious in using the term 'war veterans'. Those we are seeing are a rebellion and we cannot allow it to end up confusing genuine war veterans who are revered in this country, who are respected and whom we know sacrificed for this country to be where it is."
Zanu-PF deputy secretary for youth Cde Kudzanai Chipanga said: "President Mugabe was voted for by an elective congress of the party first, and secondly, by the entire nation in 2013.
"There are some fringe elements who are intentionally hurting the credibility of the party and Government with irresponsible utterances that President Mugabe must go. Go where? Forget it. He is not going anywhere as he still has a Constitutional mandate to fulfill.
"These are statements uttered by comrades who have lost the path. They think their utterances have potential to induce hatred and stoke chaos. Zimbabweans are not foolish, they cannot be swayed by ill-advised utterances that border on gutter politics and lack of good sense."
On Friday, Secretary for War Veterans Brigadier-General (Retired) Walter Tapfumaneyi said patriotic freedom fighters were loyal to the President, and those behind the communique were traitorous and treasonous.
He too said the war veterans leadership steering Thursday's executive meeting had distanced themselves from the document. War Veterans Minister Colonel (Retired) Tshinga Dube said any liberation fighters with gripes should follow laid down procedure to seek redress.