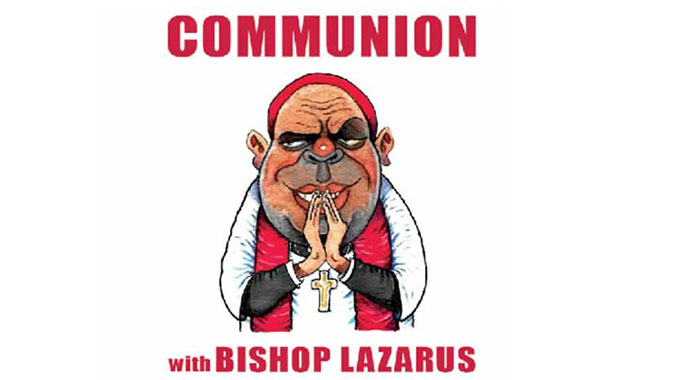 The Sunday Mail
WHEN facing epic battles in our lives, a healthy dose of self-promotion, self-belief and self-adulation will not hurt, as it often helps muster the chutzpah needed to be victorious.
However, this should be within the limits of rationality.
There is always a danger that sometimes the obsession with self-promotion and self-adulation can become so psychotic that it clouds judgement and leads to irrational decisions that are potentially fatal, particularly in the high-stakes world of politics.
Bishop Lazi recently came across the insightful work of Professor Adam Grant, an American organisational psychologist who authored a masterpiece called "Think Again: The Power of Knowing What You Don't Know" in 2021.
It is a powerful treatise that is premised on the observation that most people are slaves to their prejudices, biases and bigoted views to such an extent that they are likely to close-mindedly cling to beliefs and assumptions that no longer serve them well.
They would rather listen to opinions that make them feel better rather than those that make sense.
They also surround themselves with people who agree with their assumptions, beliefs and conclusions rather than those who challenge their thought processes.
As a result, they ultimately condemn themselves to a continual state of confirmation bias, which essentially is a tendency to interpret and align information to bigoted existing beliefs. And, according to Prof Grant, supposedly intelligent people are likely to fall into the trap of weaponising their intelligence to support beliefs that might not be true or factual.
"We are swift to recognise when other people need to think again," says Prof Grant in his book.
"We question the judgment of experts whenever we seek out a second opinion on a medical diagnosis. Unfortunately, when it comes to our own knowledge and opinions, we often favour feeling right over being right. In everyday life, we make many diagnoses of our own, ranging from whom we hire to whom we marry.
"We need to develop the habit of forming our own second opinions."
So, feeling right does not necessarily mean being right, while inflexibly holding on to prejudices and biases is antithetical to quality decision-making and strategic planning, which invariably leads to bad outcomes.
Proverbs 1:1-7 is instructive: "The proverbs of Solomon son of David, king of Israel: for gaining wisdom and instruction; for understanding words of insight; for receiving instruction in prudent behaviour, doing what is right and just and fair; for giving prudence to those who are simple, knowledge and discretion to the young — let the wise listen and add to their learning, and let the discerning get guidance — for understanding proverbs and parables, the sayings and riddles of the wise. The fear of the Lord is the beginning of knowledge, but fools despise wisdom and instruction."
Cold, hard facts
Last week, the Bishop promised you cold, hard facts on how the 2023 elections — which will unquestionably have a profound effect and impact on our lives — are likely to pan out.
One thing is certain: Data, statistics and empiricism are undeniably more reliable than hare-brained theories and assumptions.  All that we need to do is to dispassionately look at the science and numbers.
The Bishop knows that some people become dyslexic when they see numbers or anything related to mathematics, but, please, bear with him. Kikikiki.
As stated last week, it will take nothing short of a statistical miracle for the opposition to dislodge the ruling party, ZANU PF, considering the way the latter bossed the elections in 2018.
ZANU PF was particularly dominant in six provinces — Mashonaland West, Mashonaland Central, Mashonaland East, Masvingo, Midlands and Matabeleland South — where it almost had a clean sweep.
In Mash Central, it claimed all 18 National Assembly seats. In Mash West, it garnered 18 of the 22 seats, and amassed 21 out of 23 seats in Mash East.
In addition, it won 25 of 26 seats in Masvingo, 12 of 13 in Mat South, and 22 of the 27 seats on offer in the Midlands province.
Overall, it won 116 seats in the six provinces compared to a pitiable 14 notched by opposition parties, which include the MDC-A, a political monstrosity fronted by a motley crew of overly ambitious politicians; the National Patriotic Front (NPF), a political deathbed of the vanquished G40; and so-called independent candidates, who were nothing, but bitter rejects of other political parties. Kikikiki.
So, this is why the Bishop finds it both fatuous and nonsensical that ZANU PF would unleash violent political shock troops in Murewa North to bludgeon elderly men and women ostensibly to shore up support, especially in a constituency that it considers its political den.
It does not add up.
In rural areas, ZANU PF has an organic link with the populace and it is more than a religion.
It is actually a lifestyle.
This is why political party programmes are inextricably linked with day-to-day activities.The Bishop almost died from guffaws of laughter when he heard the callow CCC spokesperson, Fadzayi Mahere, claiming in a newspaper article in one of the struggling weeklies that the opposition is now the dominant party in the countryside.
"The violence (in Murewa) is confirmation that (ZANU PF's) backs are against the wall," she said.
"It is a myth that rural areas and the elderly are ZANU PF strongholds. We have penetrated rural areas in all provinces and they are running scared . . ." Kikikikikiki.
You cannot make this stuff up.
The Bishop, however, gets it: She is obviously trying to spin a political yarn for a credulous audience — and there is nothing wrong with that — but, in this case, it seems she actually believes her own yarn so much that it is becoming a self-deluding fantasy.
It will end in tears.
Just for perspective: During the last elections in Murewa North, the ruling party's candidate, Daniel Garwe, now the party's provincial tsar, had close to 17 000 votes compared to MDC-A's Golden Mutize, who only managed a little below 5 000.
Looked at differently, it simply means the opposition will need to find another 12 000 votes somewhere to upstage ZANU PF.
It is an impossible — if not wishful — task. The trend from by-elections held in the past five years is equally quite telling and ominous.
ZANU PF ate into the opposition's territory, wresting two constituencies — Epworth and Mutasa South — from CCC in the process.
The winning margins in rural areas are widening, while the gap in towns is narrowing.
Therefore, the biggest threat to the opposition are the silent and unassuming voters, who, despite being exposed to the unrelenting cynicism from urbanites, are seeing both the remarkable progress being made by ED and the woeful job being done by the opposition.
Party dynamics
An analysis of internal party dynamics also tells a tale of a disaster waiting to happen in the opposition. It would be disingenuous, naïve and foolhardy not to concede that the fallout from the seismic shift in political power in the ruling party in 2017 somewhat affected ZANU PF's performance in the 2018 elections. However, in the intervening period from then to now, ED, a grandmaster in politics, has assiduously worked to heal the wounds and unite the party into a formidable movement it once was, and is.
Over the past six decades, ZANU PF has showed the admirable ability to regenerate itself at critical epochs and evolve.
The ebullient JB (Jabulani Sibanda) is now back in the fold after sitting it out in 2017; so, too, are other cadres such as Miriam Chikukwa, Nicholas Goche, Aaron Maboyi Ncube and James Makamba.
They are now part of one happy big family that also has a good story to tell.
This is the hallmark of focused and visionary leadership.
Organisationally, ZANU PF is now a mean machine raring to go.
It will be a different creature than the one that participated in the 2018 elections.
Conversely, in the opposition, CCC's Nelson Chamisa has been behaving like a petulant toddler throwing toys out of the pram.
Under his watch, opposition politics has turned into a treacherous, murky and cloak-and-dagger enterprise riven by suspicion.
The former alliance that Morgan Tsvangirai stitched together has split asunder.
Just last week, one of CCC's spokespersons, Ostallos Siziba, was having a public spat with the erratic Jacob Ngarivhume, a member of the alliance in 2018.
A seething Jacob Sikhala has also become disenchanted with the leadership, which he accuses of betrayal, while other leaders — Tendai Biti and Welshman Ncube — are increasingly wary of Chamisa's next moves, especially in the wake of rumours of an active plot to either sideline or jettison them from the party.
It is a mess!
So, it will be extraordinarily difficult for the opposition to upstage ZANU PF, which is now stronger, bolder and has a convincing message to sell after the reforms and developments of the past five years.
There is a lesson to be learnt from the late Tanzanian President John Magufuli (may his dear Pan-African and revolutionary soul rest in peace!)
As a new candidate for Chama Cha Mapinduzi in 2015, he squeezed through with 58 percent of the vote, but after breath-taking reforms that changed the landscape of the East African country, he triumphed with 84 percent of the vote in 2020.
Read whatever you want from this anecdote, but the Bishop would hazard to say, in light of these various dynamics, what the opposition is seeing as light at the end of the tunnel is actually an oncoming ZANU PF train.
Bishop out!