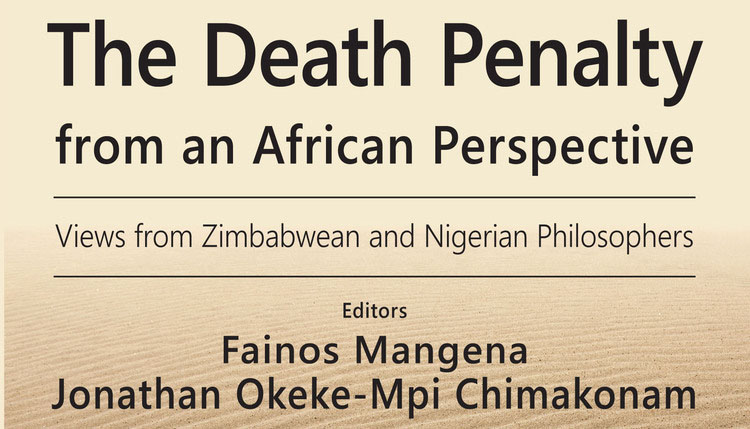 The Sunday Mail
DEATH penalty is a contentious issue for an assortment of reasons not only in Zimbabwe but in most nations across the globe.
Fainos Mangena and Jonathan O. Chimakonam's book, "The Death Penalty from an African Perspective", seeks to explore this subject, fusing views from Zimbabwean and Nigerian philosophers.
The issue of moral propriety or otherwise of the death penalty is one of the most perplexing questions that has divided scholars into theoretical camps in Western philosophy and in this book, African philosophers are no less in consensus on their cultural perceptions and arguments.
The Zimbabwean and the Nigerian perspectives presented in this book reflect not only the voices of the authors, the nuances of their cultural worldviews such as the Igbo, the Yoruba, the Shona, and the Zulu, but also the existing views of stakeholders in several other African countries on the death penalty.
In introduction, Mangena highlights that death penalty is a prickly issue.
This, he argues, is because opinion is divided when it comes to whether this form of punishment deals decisively with the crime of murder.
"Recent developments from around the globe seem to point towards the direction of the total abolition of the death penalty," he says.
He further states that in Zimbabwe and Nigeria, human rights organisations such as Amnesty International have done a lot of advocacy to have the death penalty removed from the constitutions of these two countries.
Some of the reasons cited include the observation that most progressive nations have abolished the death penalty at law and in practice with Zimbabwe and Nigeria being among the few African nations left with it.
In the chapter that explores the issue from the Zimbabwean perspective, a collaborative effort between Mangena and Francis Machingura, the writers try to demonstrate that the death penalty is not relevant to the interests and aspirations of Africans in general.
The views are from various stakeholders, including the Christian community, civil society, academics, the legislature and traditional leaders.
The writers argue there are other means to deliver justice to wrong doers.
"We also argue that death penalty has no place in Zimbabwe because it is not a product of African law, which allows for the settling of disputes through restorative arrangements that are both communal and spiritual and are focused on benefitting both the perpetrator of murder and the victim," goes the text.
This particular chapter points out that the majority view from various sections saw no value in the retention of the death penalty in Zimbabwe's Constitution as it was a violation of cultural values as well as the right to life.
There are many other theories brought up in the book that will give readers a better understanding of the subject matter.
While this might not be everybody's cup of tea, those who practice law or are in the Social Sciences department will find it helpful.