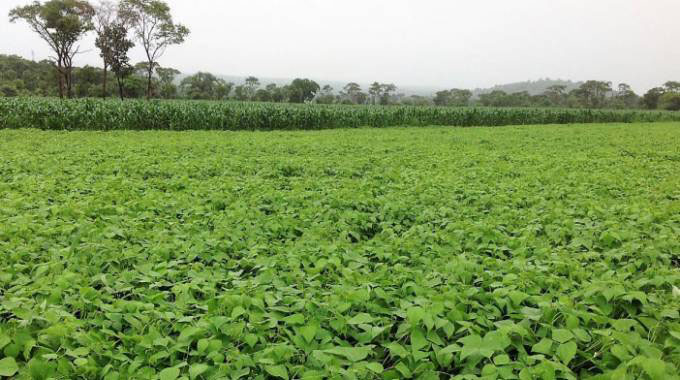 The Sunday Mail
Sunday Mail Reporters
The crop situation in most parts of the country has been improving over the last fortnight following the recent countrywide rains that have raised hopes of modest harvests.
Most crops had been adversely affected by moisture stress owing to a prolonged dry spell experienced between November and the first week of January. In recent weeks, however, crops have started showing signs of recovery amid downpours that have hit most parts of the country.
Experts are, however, cautioning against a potentially devastating mid-season dry spell that could wreak further damage to the crops.
The Meteorological Services Department (MSD) has forecast rainfall accompanied by thunderstorms in most parts of the country over this weekend up to Tuesday.
Experts who spoke to The Sunday Mail said there was noticeable improvement in the state of most crops, which had been hit hard by moisture stress. Zimbabwe Farmers' Union executive director Mr Paul Zakariya said most crops had recovered, but hoped there would not be a mid-season dry spell.
He said farmers should expect marginally low yields per hectare.
"There has been noticeable change with the coming of rains in some parts of the country," said Mr Zakariya.
"Much of the crop that had been stressed has now been revived, but the dry spell we had has the potential to reduce yields. We are, however, not sure to what extent the yields would be affected. We only hope that the rains continue consistently throughout the summer season.
"From what we have seen some areas have not received so much rain, some areas recorded only as little as 15mm, but areas in the north have received significant rainfall.
"We cannot guarantee that the rainfall trend will continue, but can only continue to hope."
Mr Zakariya said there was also an improvement in the amount and quality of pasture for livestock. Thousands of livestock, particularly cattle, have died owing to depleted pastures.
"The downside has been that the rains have washed away the top soil and this has led to outbreaks of anthrax in some areas," he said.
"We have reports of hundreds of cattle being affected and many are dying as a result of anthrax. But that is normal around this time of the year.
"The cash crops situation has also improved significantly that is for the rain-fed farms.
"But the irrigated crops are faring far much better."
In Masvingo, agronomist Mr Bright Musakanda said late planted crops were showing signs of recovery. He also said there was recovery in terms of pasture.
"We have noted that in places such as Chivi and Mwenezi 70 percent of farmers had not yet planted and of those that had planted the crops are fair," said Mr Musakanda.
"In areas such as Bikita and Gutu 30 percent of crops are improving while 70 percent of crops wilted."
In Manicaland, agronomist, Mr Clemence Mucharedzeyi said although crops were showing signs of recovery, yields were expected to decrease significantly.
"In areas such as Nyanga, Chipinge and Mutasa the crops have recovered. However, yields are expected to decrease significantly following the long dry spell experienced November and January," said Mr Mucharedzeyi.
Mashonaland West Seed Co agronomist, Mr Godwill Macherera said crops were showing signs of recovery although some had been affected.
"Following the recent rain falls, some early crops in Mashonaland West reached tasselling stage at an early stage. However, it was noted that most late planted crops were recovering well and can bring a better yield if the rains continue," he said.
Mashonaland East agronomist Mr Kazembe Maocha indicated that although crops were showing signs of recovery, yield would decline.
Seed Co Matabeleland North agronomist Mr Wallace Banda said: "The crop situation is still not looking good because most of the crop which was planted early had reached permanent wilt due to severe moisture stress.
"The farmers are actually in the middle of replanting, but even those who want to plant have not had an opportunity to do so because the rains have been too much especially in the Hwange area. What we now encourage farmers is to plant early maturity varieties or other crops such as sugar beans."
Government will at the end of this month embark on the first round of nationwide crop and livestock assessment.
The assessment seeks to establish disease prevalence, state of pastures and water supply.