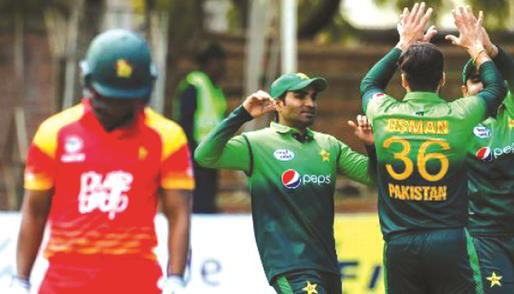 The Sunday Mail
THE lads who have been masquerading as the Zimbabwe national cricket team are back at Queens Sports Club for the fifth and final ODI against Pakistan this morning.
Trailing 0-4 the temptation will be to say the Chevrons have nothing but pride to play for.
However, the way they have been poor during this series has led many into questioning whether these guys have respect for the national team shirt, respect for the badge.
Pakistan, who also won the T20 tri nation series which featured Australia, were always going to be the favourites against a Zimbabwean side missing its senior players.
But even the tourists must be surprised by how easy this one has been.
Pakistan won the first ODI by 201 runs, the second and third ones by 9 wickets and the fourth one by 204 runs.
They should be fancying another record breaking outing against a Zimbabwean side that has been abysmal with the bat, wild with their bowling and pourous in the field.
Never has Zimbabwe been represented by such a spineless team, one that looks beaten even before the first ball is bowled!
Granted several of the lads who are in the team are in the dressing room by default, the unavailability of senior players such as Brendon Taylor, Sean Williams, Sikandar Raza, Graeme Cremer, and Craig Ervine opening the door for them.
Zimbabwe Cricket's reluctance to recognise a player's union and commit to paying outstanding allowances has seen the senior guys making themselves unavailable.
Injuries to Solomon Mire and Kylie Jarvis have further depleted the squad, forcing the selectors to turn to rookies such as Liam Roche, Tinashe Kamunhukamwe and Ryan Murray.
While clearly short on experience Zimbabwe, playing at home, needed to show some fight and remind Pakistan than they are not here for holiday.
Sadly that has not happened and the smart money is on the Asians completing a series whitewash.
Some will argue, maybe rightly so, that the way Zimbabwe have been pathetic is reflective of how the game is being mismanaged by ZC chairman Tawanda Mukhulani and his crew.
Certainly an organisation that seems obsessed sidelining its senior players and threatens to withdraw accreditation of journalists who are critical of it deserves little sympathy.
An organisation that fires the entire technical team, following a doomed World Cup qualifying campaign, but then fails to get a permanent replacement is at best a joke.
But that's a bone that can be chewed into another day, one that can be indulged in as soon as the game at Queen Sports Club ends.
For today all we can do is hope that our team will not get another chastening. Hope that Hamilton Masakadza, who overtook Grant Flower as Zimbabwe's most capped international player when he played his 289th match on Friday, can put together a skipper's knock.
Hope that Elton Chigumbura plays like a veteran who has been given a second chance.
Hope that our bowlers will take some wickets.
Hope that the real Zimbabwe cricket team, and not the fraudsters we saw during the first four ODI's, will pitch up at Queens Sports Club.