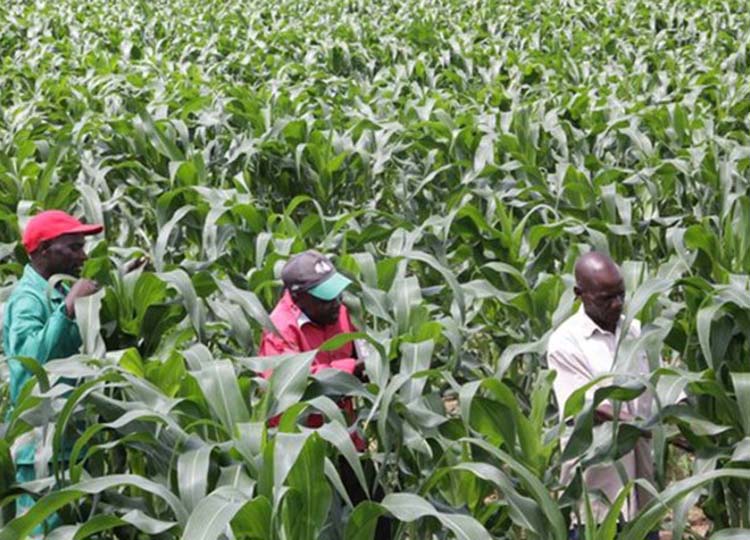 The Sunday Mail
Sunday Mail Reporter
Government's Command Agriculture Scheme presents Zimbabwe with the realistic opportunity of achieving national food self-sufficiency and regaining its status as the breadbasket of Southern Africa, Acting President Emmerson Mnangagwa has said.Addressing mourners at the burial of Cde Peter Chanetsa at the National Heroes Acre in Harare yesterday, the Acting President said the good rains being received across the country paved the way for a good harvest.
Command Agriculture was unveiled in July 2016 following a drought the previous summer cropping season which saw Zimbabwe and most Sadc countries having to rely on imports to supplement grain harvests.
Under the scheme, farmers with 100 hectares of land, large water bodies and a minimum of five years' farming experience have been contracted by Government to produce at least 1 000 tonnes of grain each.
Around 400 000 hectares were earmarked for the scheme, guaranteeing two million tonnes of maize. Participating farmers are required to commit five tonnes per hectare towards repayment of the loans, with the farmer retaining all surplus for personal use.
Zimbabwe requires 2,4 million metric tonnes of grain annually for human and livestock consumption. Acting President Mnangagwa said success of the programme would set Zimbabwe on the path to economic recovery.
He said: "This agricultural season saw Government rolling out our Command Agriculture Programme whose key objectives are to ensure food security and economic recovery. This three-year programme should see us regain and reassert our status as the breadbasket of Southern Africa.
"The rains are good, the vital support from Government has been forthcoming. Therefore, for those of us who are on the land which Cde Peter Chanetsa had delivered to us, let there be no excuse for non utilisation of the land."
He said it was incumbent upon all those who benefitted from the programme to meet their end of the bargain.
"We need you to account for the inputs you drew from the programme. Above all, the nation expects you to justify your continued occupancy of the piece of land apportioned to you ahead of all other Zimbabweans.
"We are currently receiving good rains which are conducive to a good harvest. Let us not miss this opportunity."
Acting President Mnangagwa said authorities were drawing up a mechanism to scientifically audit individual farmers' performance.
"Government will come up with a mechanism for a scientific land audit based on each individual farmer's performance," he said.
'Our ultimate goal as Government is to attain food self sufficiency, as we strive towards strengthening our home grown economy which is largely agro-based.
"That way we teach posterity that the land we liberated and sacrificed for should be utilised for the benefit and prosperity of our people to ensure food self-sufficiency."
Government has put in place the Zimbabwe Land Commission to carry out an audit and eventual rationalisation of farm sizes.