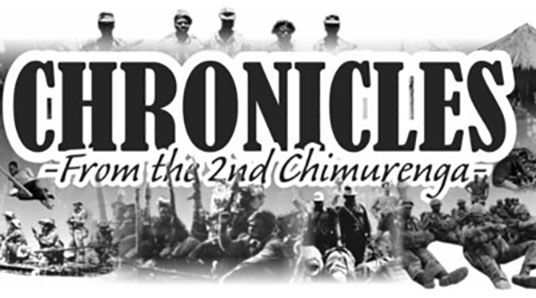 The Sunday Mail
ON a day that changed the course of his life in 1978, Cde Morgan Maondo, whose Chimurenga name was Baraka Toughguy, was shot at point-blank range. One of the bullets hit the upper part of his arm, exiting through the shoulder blade before crashing into his jaw.
Ever since that fateful day, the former freedom fighter has lived with a permanent disfigurement to his face and body, and chronic pain. Operating in the Zimunya/Marange areas in Manicaland, Cde Baraka took part in some of the fiercest battles that were fought in these areas, among them the Zimunya battle which claimed the life of Cde Soul Sadza, a member of Zanu's High Command. Read on as CDE MAONDO, narrates to our Senior Reporter, TENDAI CHARA, the journey he took when he sacrificed his life for the independence of his motherland.
TC: Cde, as is the norm on this platform, kindly introduce yourself.
MM: Thank you, my name is Morgan Maondo and I was born on June 28, 1948. I was born at Dzobo Primary School in Zimunya, where my father was a teacher.
I attended Gwese Primary School in Zimunya before doing my Standard Four at Sakubva Primary School in Mutare.
I did my Junior Certificate (JC) at Sakubva Secondary in 1969.
After that I then taught at a farm school in Karoi, Mashonaland West province. I taught for a year before returning to Mutare where I got a job as a bus conductor.
I was employed by Chingaira Buses and we were plying the Mutare-Katiyo Estates route.
In 1975, Mozambique became independent and in Katiyo, which is located right at the border with Mozambique, we often mixed and mingled with Frelimo soldiers.
During our interactions, the Frelimo soldiers often teased us, calling us cowards who were constantly harassed by white Rhodesians without retaliating. The Frelimo soldiers often boasted about how they had chased the Portuguese out of their country.
Most youths, especially those residing in Mutare, decided to go to Mozambique to join the war after interacting with the Frelimo soldiers. The youths discussed among themselves how the Mozambicans chased the Portuguese away and how they were also capable of chasing the Rhodesians away. The spirit of the war had engulfed the youths.
TC: How did you become a freedom fighter?
MM: I can say that I was literally forced to join the war. Circumstances beyond my control forced me to cross the border into Mozambique.
Like I said earlier, I was a bus conductor and Katiyo was on the border with Mozambique.
So many people were using our bus to go to Mozambique to join the war. Since I was sympathetic to the liberation cause, I would often give free rides to youngsters that were going for training.
What then happened was that some of the youngsters that I had offered free transport to Katiyo reached Mozambique and were not impressed by the living conditions in that country. They decided to return home.
On their way back from Mozambique, they were arrested at Ruda police station. They were then subsequently taken to Mutare Central Police Station where they were brutally tortured.
They then spilled the beans, telling the Rhodesian police that I was the one who had given them free transport to Katiyo. I instantly became one of the most wanted people in Mutare.
The Rhodesians had concluded that I was responsible for recruiting freedom fighters.
When the youngsters that I had helped were arrested and detained, I was in Katiyo. On my way back to Mutare from Katiyo, I was warned that the Rhodesian police were hunting for me.
Actually, I later learnt that armed soldiers had mounted a roadblock at Penhalonga in anticipation of my passing through the area. After getting the tip-off, I surrendered the cash to the bus driver and hitch-hiked to Mutare using a different route.
When I got home, my house had been ransacked by the police who were searching for incriminating evidence.
My wife was also severely assaulted.
The Rhodesians suspected that I was harbouring freedom fighters.
When I arrived home, my wife advised me to immediately leave and go wherever I could.
The Rhodesian police were hot on my heels and were determined to get me. I had to leave immediately. I had no choice.
I rushed to Sakubva Bus Terminus and jumped into a Chipinge-bound bus. That was in 1975.
I had on me a small bag with a few personal belongings.
The bus then took me to Mt Selinda in Chipinge. When I arrived at Mt Selinda, I was stranded.
I did not know what to do because I did not know the way that would take me to Mozambique.
I then devised a plan and went to Mt Selinda High School and lied to pupils there that I was a trained freedom fighter and that I was on a recruiting mission. I lied because I wanted some people who would accompany me to Mozambique since I did not know how to get to there.
Twelve pupils joined me and we crossed the border and arrived at Espungabera.
The Frelimo soldiers at Espungabera told us that we had to wait before proceeding further to Chimoio.
This was during the transitional period after Mozambique had just got independent.
We bluntly told the Frelimo soldiers that we were not going back to our homes.
The Frelimo soldiers then decided to detain us.
We spent almost a month in detention.
TC: What then happened?
MM: After the end of Mozambique's transitional period, we were then taken to a Frelimo camp at Machazi, which was located further into Mozambique.
After a brief stay at Machazi, I decided to abandon the camp since I was yearning for training.
At Machazi, we were idle.
I  convinced one of the youngsters that I had befriended to leave this camp and go for training in Chimoio.
One day, we woke up in the middle of the night, slipped out of camp and walked towards Buzi on our way to Chimoio.
We walked for two days with the locals giving us directions to Chimoio.
We, however, got stuck when we arrived at the flooded Buzi River.
The river was not only very wide and flooded, it was also crocodile-infested, making it impossible for us to cross.
While we were pondering our next move, we were arrested and detained by Frelimo soldiers on patrol.
We told them of our mission to go to Chimoio for training, but they were not impressed.
An opportunity for us to go to Chimoio, however, presented itself when the soldiers changed their working shifts.
After the soldiers that had arrested us had gone, we lied to their replacements that we had been cleared to proceed to Chimoio. We told them that all we were waiting for was transport to Chimoio.
We were then ferried to Chimoio in a lorry. We were taken to a base called Zhunda, which was on the outskirts of Chimoio town.
At Zhunda, we interacted with liberation war luminaries such as the late former President Mugabe, the late Moses Mvenge and Edgar Tekere. Cde Mugabe shared the same bunk bed with Cde Tekere.
During our stay at Zhunda, the number of new recruits began to swell and it was decided that another base be formed. This decision gave birth to the Nyadzonia camp where I was later trained.
 In our next instalment, Cde Baraka will narrate about his training at Nyadzonia and his subsequent deployment to the war front.