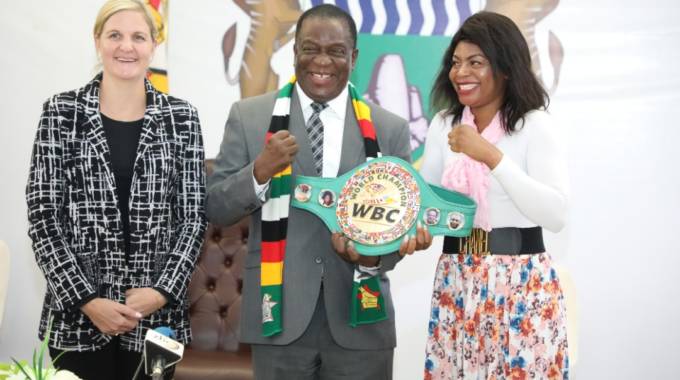 The Sunday Mail
Sports Reporter
AT least now she can do what she always dreamt of and even her parents are reaping the rewards of her boxing talent.
Soon after receiving the US$15 000 congratulatory gift from President Mnangagwa at State House on Monday, boxing champion Kudakwashe "Take Money" Chiwandire wasted no time as she immediately put in motion a project she always had at the back of her mind.
The World Boxing Council (WBC) interim Super Bantamweight female champion is finishing off her parents' house in Dzivarasekwa Extension in Harare.
Chiwandire was honoured for winning the WBC title.
She won on points against pre-bout favourite Catherine Phiri of Zambia in Lusaka on February 26.
The 26-year-old is now the top-ranked female boxer on the continent and is the first Zimbabwean female pugilist to clinch a WBC belt.
She is now set to defend her title in Harare in August.
Her handlers, Delta Force Academy, are negotiating with potential opponents from Canada and Mexico.
But, for now, Chiwandire, who almost quit boxing out of frustration recently, can enjoy her rich pickings.
Delta Force Academy director and trainer Clyde Musonda thanked President Mnangagwa for his magnanimity.
"What the President did should be applauded,'' said Musonda.
"If you remember very well, Kuda (Chiwandire) was frustrated by the lack of recognition even after winning a belt of this magnitude, so the President's timely intervention should be lauded.
"So, what we have done as her management is that we sat down with the boxer and her parents.
"We have encouraged them to look at ways in which they can finish up their house in Dzivarasekwa Extension.
"It's important to have some place you can call your own and I am happy that some progress has been made at the house.
"I actually went there and witnessed some renovations taking place."
Chiwandire is a multi-talented sportsperson who has also won accolades in athletics, football and karate.
She rose to national prominence after a stunning points victory over WBC world champion, Phiri, in her own backyard.
What made the victory even sweeter was that it was achieved on the back of less-than-ideal preparations due to financial constraints.
Chiwandire and Musonda almost travelled to Zambia by bus before funeral assurance firm Doves intervened and bought return air tickets for the duo.
It was ironic though that on her return home after victory in Zambia, there was a near stampede at Robert Gabriel Mugabe International Airport as people jostled to have a Kodak moment with the champion.
But the euphoria also quickly died down and Chiwandire was back to vending.
She even contemplated quitting and abandoning the prestigious belt, which qualifies her as the mandatory challenger for Mexican Yamileth Mercado's gold title.
"I am still living the same kind of life I endured before I won this WBC belt. Nothing has changed," Chiwandire told The Sunday Mail Sport earlier last month.
"Winning the belt does not mean that I now have the money; it doesn't mean my life has changed.
"Sometimes I feel like going back to the streets and do what I used to do.
"If there was that opportunity I would definitely go back and do vending and hairdressing hustles that I used to do in the CBD," she lamented then.
All that changed as President Mnangagwa had a pleasant surprise for her when he handed the boxer a cool US$15 000 on Monday.
It is not the first time the President has rewarded excelling athletes.
Last year, he gave Charles Manyuchi US$10 000 after the boxer successfully defended his World Boxing Federation title in Masvingo.