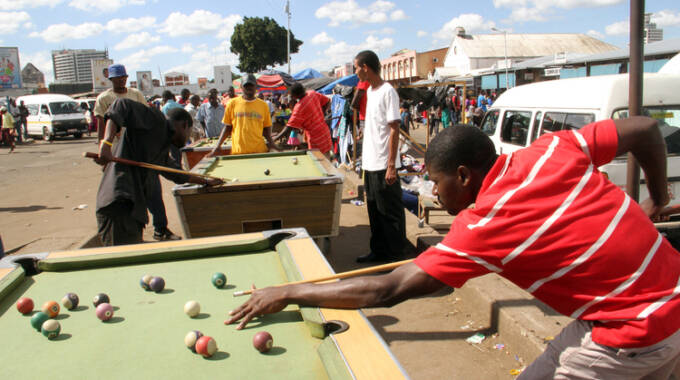 The Sunday Mail
Online Reporter
THE game of pool is growing in popularity across the country, and Chitungwiza has emerged as a powerhouse of the sport.
It has dominated the local competition during the last five years, providing three winners of the National Championship since 2018.
This includes reigning champions Tigers of Zengeza, who beat Small Stones of St Mary's in the final of the 2023 edition in Mutare last weekend.
Grillmasters, who came fourth, are also from the dormitory town.
Padombo, who also hails from Zengeza, won the championship in 2019 after beating Tigers in the final.
Reigning Carling Black Label (CBL) national tournament champion Pearson "Zozo" Nyasha plays his game at Grillmasters in Zengeza, Chitungwiza.
Two-time CBL champion Tendai "Inspector" Mubaiwa was also born and bred in Chitungwiza, and he won the nationals in 2018 and 2019.
Erica Manyangadze, who came second at last year's female CBL national tournament, also plays for Grillmasters.
"It's not by coincidence that Chitungwiza is dominating national pool tournaments, rather it's by design," said Isaac Tichareva, Tigers' Pool Club chairperson.
"We have put in place systems that ensure continuity."
Tigers have won the United Chitungwiza Pool League title for the past five consecutive seasons, and have a deliberate strategy to recruit young players.
Tichareva says one of their targets is to fight drug abuse among the youth.
"We train almost every day and when we play games, it usually takes the whole day, so our players are occupied.
"They do not have time to engage in drug abuse or any other criminal activities.
"Our main worry though is that the venues are still confined to drinking places," he said.
"It's a challenge to our young players, but very soon we will start advocating for pool arcades.
"It's unfortunate that some sponsors still insist on bars as venues, and this is largely due to the fact that this is where they get the most mileage."
Tigers Pool Club patron Munhuwaishe Ndanga thinks Chitungwiza is primed for success and this is largely due to the structures in the dormitory town.
"Our policy is to headhunt good talent, even from as far as Bulawayo if necessary.
"We also emphasise discipline, hence we discourage our players from engaging in drug abuse," he said.
"Chitungwiza, unlike Harare or Bulawayo, has a small nucleus.
"When a tournament is being held in Chitungwiza, players can easily travel to venues because it's a small area.
"So, you will have all the best players participating," he said.
Grillmasters chairperson Jameson Runganga hopes for the day when pool benefits many youths.
"It's good that pool is gaining ground as a sport in this country.
"With time, the sport can grow into an industry that can offer good opportunities to both the old and the young."