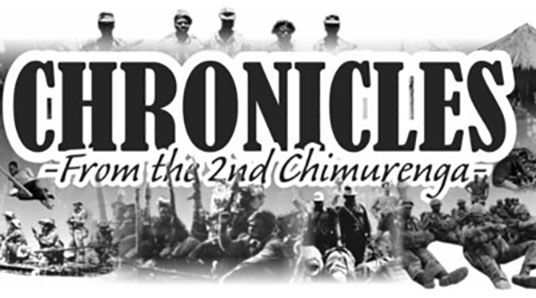 The Sunday Mail
THIS is our third instalment of The Sunday Mail's Tendai Chara's discussion with Cde Jacqueline Mukanganyama Tutani, who, as a young woman, was a fighter, war materials courier and a medical officer during the war of liberation. Last week, we ended our discussion as she narrated how she missed death by a whisker when she had a dream that saved her life by warning her not to go on an assignment that later resulted in the death of 10 of her colleagues.
********
TC: Cde, if we can carry on from where we left off. Last week, we ended our discussion as you were narrating to us your deployment from Manica province in northern Mozambique to Gaza province, further in the south of Mozambique. Kindly continue from where you left off.
JT: Thank you. Like I said last week, the mission to transport war materials from our operational zone were temporarily suspended after many young women were either killed, maimed or captured by the Rhodesian forces. I was redeployed to Chimoio where I stayed briefly. As a medical officer, I was given the dangerous task of accompanying the injured comrades from the front to the rear for treatment. Apart from taking care of the injured, I also had to carry the war materials to the front. In Gaza province, our first port of call was the Xai Xai base, which was on the Mozambique side of the border. From Xai Xai, we were then moved to Baraji and subsequently to a base called Misawu. Of the three bases, Misawu, which was nearer to the border, was always under occasional attacks from the Rhodesian forces.
A lot of fierce battles were fought at Misawu. I am sure from your earlier interactions with other liberation war fighters, you gathered that the majority of the major battles during the war of liberation were fought in Gaza province. When we were at Misawu, we discovered that we were now in a serious war situation as compared to what we experienced earlier on in Manica province.
 TC: How did you travel from Chimoio to Xai Xai?
JT: We were ferried by lorries. We had the Dodges and Scania trucks. Like I said, the lorries would take us to bases inside Mozambique and we would cross the border into the war zone on foot. During our brief stay at Xai Xai, we were joined by another group of trained cadres who were coming from Tanzania.
I remember my first assignment when we were at Misawu. I was among a group of 50, the majority of whom were female combatants. Transporting war materials was mostly done by female combatants, with a few male fighters accompanying us as security details. Male fighters were concentrated mostly at the war front. From the rear, we would take the war materials to the border and sometimes we would go deeper into the actual war zone.
TC: So apart from being a courier, you were also a medical officer. Tell us more about your experiences as a medical officer.
JT: We sometimes had very serious injuries. It was very common to have fighters who would have their legs blown off. At Misawu, for example, we were once bombarded, resulting in heavy casualties on our side. The Rhodesian army deployed the Mirage fighter jets and pummelled us as we were about to leave for our mission to deliver war materials to the Gonarezhou area. So imagine us trying to flee or fight back when we were carrying those heavy war materials. After the first shots were fired, we scattered in different directions. We were routed as we later gathered that 40 of our combatants lost their lives during that surprise attack. When we later regrouped, I treated cadres who had varying degrees of injuries. Some had their limbs blown off.
Others had all sorts of injuries. By then, I had been promoted to the post of detachment medical officer. As a result, I was given the responsibilities of taking care of the injured cadres.
TC: Tell us about the horrific injuries that you attended to during the course of your duties.
JT: I was badly injured myself. As you can see, I still have the scars. I sustained a deep cut on my leg during the Misawu battle. I do not know what hit me. A missile had been dropped on us and I was hit by shrapnel. After the attack, the base was a sorry sight. I remember attending to a cadre who had been shot right in the chest. The cadre cried and begged me to help her. She died, as several other seriously injured cadres did, in my hands.
After the death of a cadre, we would then take the deceased's gun and do certain rituals as we bade farewell to our dearly departed.  We were compelled never to leave the gun of a dead fighter behind. Leaving behind a deceased cadre's gun was considered selling-out and one would be severely punished for that.
TC: Who was the commander of the Misawu base?
JT: We had Cdes Watson Juru and Stopper Chiridza. Cde Sando Kano was also there as a logistical officer, if my memory serves me right.
TC: You can continue with the narration.
JT: After my wounds healed, it was now time for me to go back to the war zone and deliver the war material and treat the injured.
My injuries healed very fast. I was very young then and young people's wounds heal faster than the elderly. So there I was, I was redeployed to the dangerous and war ravaged Gonarezhou area. My group was once again ambushed by the Rhodesians whilst we were in the midst of the Gonarezhou National Park. We were headed for Gezani Village, near Chiredzi. Coming under heavy attack in Gonarezhou proved to be a stern test as finding your way out of the jungle was mostly by mere luck.
Our ancestral spirits often guided us out, otherwise we would have all perished.
As fighters, we went through a lot of traumatising experiences during the war. That is why some of the former freedom fighters today sometimes behave as if they are crazy. These are the effects of the war.
Imagine stepping on dead bodies, witnessing the death of a dear colleague and burying the comrades. You reminded me of a traumatising incident which happened as I was accompanying an injured comrade from Tembwe to Bataliao. I was in the back of a truck with the injured fighter and upon realising that he was not going to make it, he thanked me, bade me farewell and breathe his last as I was holding him.
We witnessed a lot of bad things especially at Misawu and in the Gonarezhou National Park where the Rhodesian army often planted landmines. Many fighters had their legs blown to pieces. I personally witnessed several freedom fighters losing their legs after stepping on anti-personnel landmines. The masses, especially those from the Mozambican side of the border, often sold us out.
They were tired of a war which was not theirs. The Rhodesian army also often harassed them. During the war, we were also exposed to strange diseases. There was this disease that we called the Hurricane. We also had Matekenya (jiggers), a parasitic infection which causes severe itching and swelling of legs.
Don't miss our next instalment with Cde Pirai.