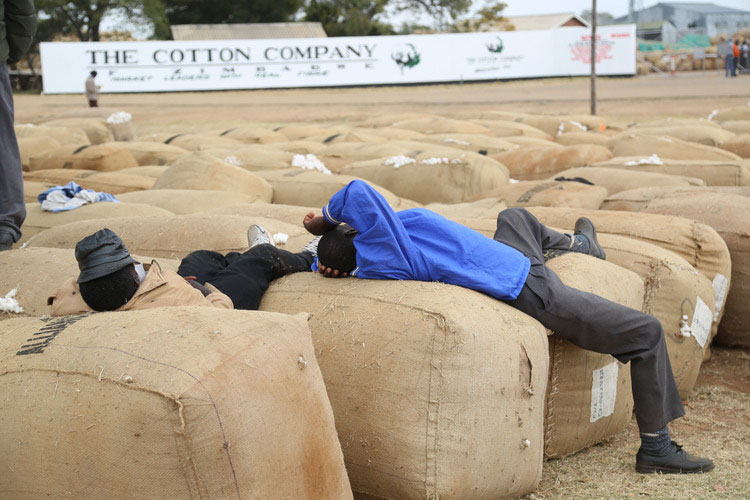 The Sunday Mail
The impact of Government's subsidies is now telling after State-controlled cotton processing and marketing firm Cottco advised in July that, in addition to hiring more than 2 400 workers to cope with increased deliveries of the crop, it expects lint exports to top $53 million this year.
It is a marked recovery for a sector that was doddering on the precipice not so long ago, with output hitting a two-decade nadir of 32 000 tonnes in 2016.
At its peak in 2000, cotton production stood at 353 000 tonnes.
Government changed the script through the 2016 National Budget when it unveiled a three-year free input support scheme — administered by Cottco with the aid of financial support from the Reserve Bank of Zimbabwe — for the cotton industry.
The facility was also complemented by contract farming schemes from seven private sector companies.
And dividends are beginning to accrue to the industry. This year, farmers are expected to produce more than 100 000 tonnes.
Cottco is targeting a 110 000-tonne haul of the white gold, of which 31 500 tonnes of lint is earmarked for export.
The company's acting managing director, Mr Pious Manamike, said that the company — whose staff complement has risen by 133 percent from 1 500 — will continue employing more workers to cope with soaring deliveries at buying points and ginneries.
"Our staff complement, including seasonal workers, has gone up to about 3 500 and we have bought 23 000 tonnes as at 5 July 2017, and of that, 13 300 tonnes is from Gokwe. Our targeted intake is 110 000 tonnes," noted Mr Manamike.
Zimbabwe's cooking oil industry, which imports most of its raw materials, is projected to save over $14 million through supplies of ginned seed from Cottco.
Local edible oil producers, buoyed by import restrictions introduced through Statutory Instrument 64 of 2016, are now operating at between 50 and 60 percent capacity.
"We expect to get 45 000 tonnes of lint of which 70 percent will be exported to earn the country $53 million in foreign currency. Ginned seed of 50 000 tonnes will be sold to the local cooking oil industry and this will save the nation $14 million in foreign currency," added Mr Manamike.
Cottco has reopened six ginneries in Gokwe, Sanyati, Kadoma, Chiredzi, Chinhoyi and Muzarabani from which it expects 45 000 tonnes of lint.
At full throttle, the six ginneries have combined capacity of 130 000 tonnes yearly.
The current favourable conditions in the industry represent a sea change from the trend over the past 16 years.
In 2015, production at 84 000 tonnes had declined from 143 000 tonnes in 2014. It further fell to 32 000 tonnes in 2016. Overall, output tumbled by more than 91 percent in the past 16 years.
Success is, however, not limited to Cottco.
Sources say one of the country's largest private cotton contractor, Olam, has also been receiving significant deliveries, and is expected to employ at least 200 additional workers at its Gokwe North ginnery.
Though successive drought periods have been blamed for declining activity in the cotton sector, the rise of synthetic fabrics and low prices on the international market have also discouraged farmers from planting white gold.
Over the past four years, cotton prices have averaged USc30 per kg, largely owing to excess stock being dumped on international markets by China, the world's biggest producer of the crop.
Side marketing of contracted crop has emerged as one of the major challenges to recovering Government's investment in the sector, and Cottco has responded by increasing its buying points to 433 this year from 106 in 2016.
Also, according to Reserve Bank Governor Dr John Mangudya, Cottco has secured five international buyers who will take delivery of a large chunk of the yield.
About 13 500 tonnes will be set aside for needs of the local textile industry.
As the first African country to re-distribute land at such a large scale in the post-colonial era, Zimbabwe — guided by its economic blueprint Zim-Asset — is investing resources to unlock value from local land holdings.
Government, through the 2016 National Budget, set aside $1 billion for financing crop and livestock production through banks. About US$35 million of the amount was reserved for cotton production.
To smoothen some of the structural challenges affecting the sector, Government also restructured Cottco's balance sheet.
The reforms included takeover of a $53 million debt and conversion of debt into equity.
The three-year free inputs scheme was established, and private contractors — Olam, Alliance Ginneries, China Africa, Chinatex, ETG Parrogate, Grafax and SinoZim — were roped in to support 157 500 growers.
Not only has the Presidential Inputs Schemes allowed farmers to increase output from four to 10 bales per hectare, it has also enabled farmers to increase the hectarage under production.
A hectare usually produces 250kg of cotton.
At its peak, cotton production was the major source of incomes and livelihoods for rural communities in and around the Gokwe, Sanyati, Rushinga and Checheche areas.
It also accounted for close to a fifth of agricultural exports.
This story first appeared in The Sunday Mail, July 9 2017