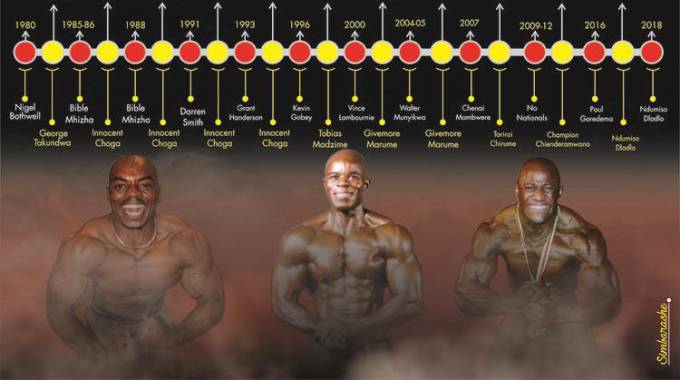 The Sunday Mail
Quiet Shangai
For 12 months now, the nation has  patiently waited, anxiously for that matter; but now the time for talk and sizing up the competition is over, as all roads lead to the 7 Arts Theatre for the 2019 Zimbabwe National Bodybuilding Championships this weekend.
There is a lot of cheer about this year's competition as many old and new promising faces have all thrown their names in the hat and confirmed their participation.
Zimpapers, Mokuba, Royal Flair Events, Kopje Spares, Senchem, Guard Alert, Crystal Candy and more have come on-board to partner the National Federation of Zimbabwe BodyBuilding Fitness to help make this year's edition one of the most glamorous events in the sport's history.
One of the most exciting aspects about the nationals is usually "the unpredictability" of it all, especially this year's event.
Innocent Fungai Choga, Givemore Marume and Bible Mhizha remain the only bodybuilders, who have won the nationals after fighting back from previous failure.
And this year, the only senior men bodybuilder to have struck gold before, at this level, is Ndumiso Dlodlo.
The rest are aiming for a first overall title, which makes for some pretty favourable odds that we could indeed crown a fresh champion. This is not to say that I, myself, am a betting man.
Fireworks are expected in Men's Physique division, where Marvelous Ganda and Pritchard Hoko are likely to wrestle for the title in the short class, while Blessing Itai Sithole, Tinotenda Ryan Gumbo and Lance are going to complicate things in the tall division. Women Bikini fitness is as unpredictable as it will ever get, with way too many good first timers like Lynette Thom and Kylie Mcdonald showing signs of seriousness.
However, it is the usual culprits; Shantel Greenland, Sharaine Rama, Demmi Ferreira, Wendy Du Cladier de Currac and Diane Meller among others who are expected to make the most noise.
I have always believed that the stiffest competition in senior men's bodybuilding is in the middleweight class, but it has since come to my attention that this might not be the case this time around.
Light heavyweight division is the one to watch out for this year.
There is Nigel Maphosa, Ndumiso Dlodlo, Simbarashe Nyamukondiwa, Blessing Nyapimbi and possibly Gideon Teguru making up the tight line up, that has the possibility of recruiting Issac Chimuchenga and the man of the moment, Edward "Gearbox" Mutero as well.
The above mentioned athletes have dominated many competitions and on a good day run circles against lesser men, and this, without even breaking a sweat.
I personally will not like to be the responsible assessor when Zibusiso Khumalo, Gerald Woodend, Ngonidzashe Gwama and Paradzai clash in the Junior men's category.
Will Ndumiso finally lose?
Will C.C. Banks test defeat for the first time in two years?
Who will be the first ever winner of classic bodybuilding?
Is there anyone who can dethrone Charity Juma?
Will we ever witness the defeat of Marko Mwale? These and many other potent questions will be answered come September 28, at the 7 Arts theatre.
Gates open at 1000hrs.